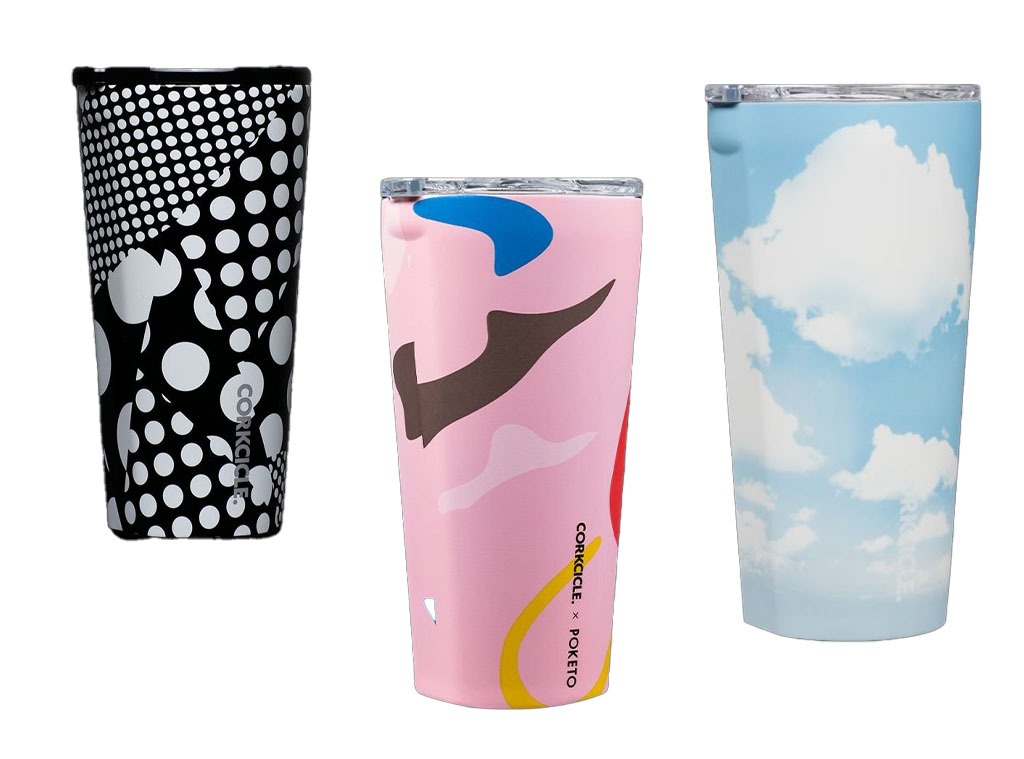 The brands featured in this article are partners of NBCUniversal Checkout. E! makes a commission on your purchase. Prices are accurate as of publish time. Items are sold by retailer, not E!.
You might not think that one brand can create cute, practical, and affordable drinkware and accessories. But you'd be wrong. Not only does Corkcicle do all of that, but the company also frequently partners with much-beloved brands like Marvel, Vineyard Vines, and Rifle Paper Co. to add an extra-personalized touch to their bestselling products.
Say you're readjusting to the morning commute life, and your go-to coffee mug isn't going to last the drive. Or maybe you have plans to spend a last gasp of at the beach, but have been stumped on how to make sure your diet sodas stay cold between the rental house and your designated spot. 
Corkcicle makes something for everyone to enjoy, regardless of schedule, style, and temperature preference. Their range of expertly-crafted products are designed to suit your lifestyle throughout the day and well into the night.
Mugs, to-go cups, cooling accessories, tumblers, sport canteens....they really do it all. So sit back, take a sip of your favorite drink, and get ready to shop for a few of your new best friends. Cheers!
Corkcicle Monodot Tumbler
Featuring "an abstract take on a classic polka dot print," this black-and-white cup "adds a sleek, modern statement to every sip."
Corkcicle Poketo Tumbler
Here, you get the ideal combination of Poketo's "art for the every day" with Corkcicle's signature hot-cold technology. An ideal commute companion year-round.
Corkcicle Origins Arctican
I'll let the brand take it from here. Their "best-selling slim can cooler has been elongated to snugly fit your favorite seltzers, specialty beers, and other beverages. Simply freeze the cooling core base, twist it on, drop in a cold 12 oz. canned beverage and enjoy ice cold drinks, anytime." Smaller cans aren't left out of the fun, though, because "Corkcicle's Slim Arctican comes with a felt sleeve and easy-slide spacer. Simply wrap the sleeve around your 8.4 oz. can, insert the spacer into the slim can cooler's base," and get ready to "sip in style."
Corkcicle x Vineyard Vines Arctican
If you like your accessories cheerful and preppy, then this Artican from Corkcicle x Vineyard Vines is the one for you.
Corkcicle x Rifle Paper Co. Sport Canteen
Rifle Paper Co.'s collaboration with Corkcicle ensures every sip is infused with feminine whimsy.
Corkcicle 16oz Insulated Mug with Lid
Return to office policies got you feeling blue? This to-go mug will at least keep your favorite beverages hot (or hold) along the way. Plus, it has an easy-to-hold handle, and yes: A lid to prevent splashing, too.
Corkcicle Coastal Swirl Tumbler
Pastel tie-dye brings a seaside-inspired charm to this everyday tumbler.
Corkcicle Daydream Tumbler
Equal parts charming and calming, this blue-skies-and-clouds-printed tumbler makes waking up for morning coffee a much more pleasant experience.
Corkcicle x Marvel Thor + Loki Gift Set
If you can't make it to Comic-Con, this collaboration between Corkcicle and Marvel will bring the fandom home to you.
Corkcicle x Star Wars Ice Bucket
May the force of a relaxing beverage after a long day be with you.