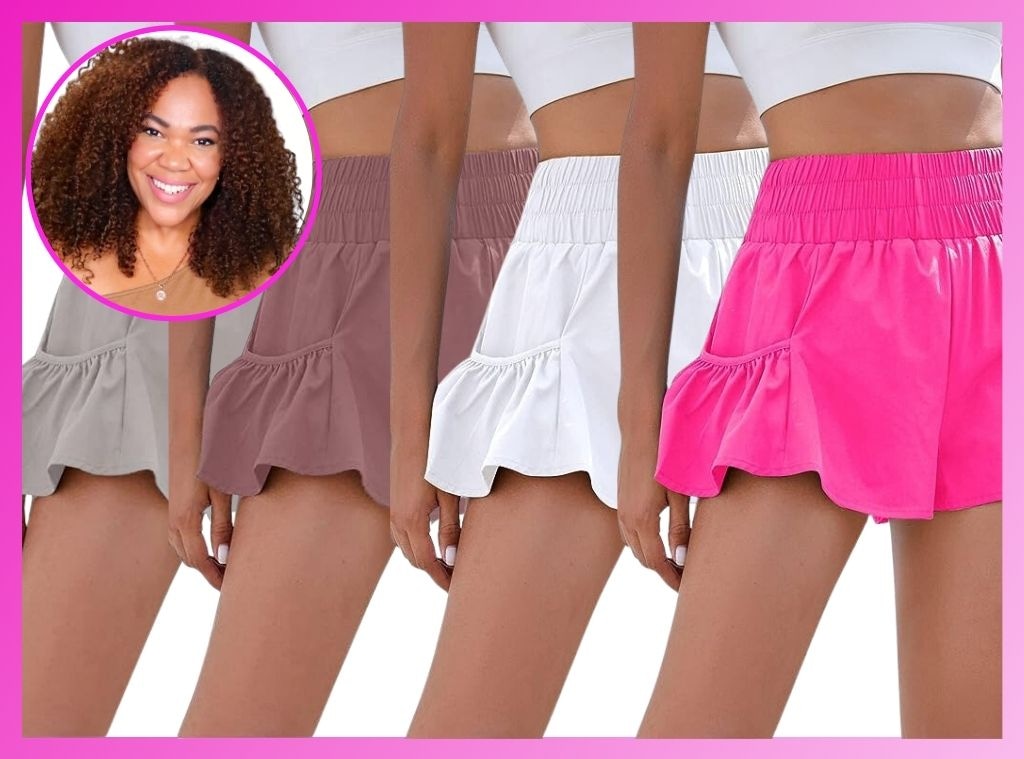 We interviewed Vivian Rodriguez because we think you'll like her picks. Viv is a paid spokesperson for the Amazon Influencer Program. E! has affiliate relationships, so we may get a commission if you purchase something through our links. Items are sold by the retailer, not E!. Prices are accurate as of publish time.
During this transitional season between summer and fall, I started thinking about clothing. Then again, when am I not thinking about clothes? It's still too hot in LA to layer up, but there's nothing I love more than function and efficiency, so why not incorporate that with fashion? If tennis dresses were in your Amazon haul this summer, let us introduce you to the just-as-sporty, fall transition item. 
Enter the Flowy Shorts! We've been calling them butterfly shorts here at the office, because, well, cute! We know athleisure is here to stay, but these shorts give a flare to your everyday workout apparel. After a gym sesh, I don't necessarily need to go home before hitting a casual lunch or running errands.
Amazon Influencer Vivian Rodriguez (@livbyviv on instagram and TikTok) recommends these quick dry flowy shorts because of their high-waisted feature.
As a curvy girl myself, any extra support is much appreciated. Showcasing the ruffled hem with an oversized sweatshirt after a workout is low-maintenance, high chic. Followed up with the slicked bun and puffer bag — we'll get to that shortly — I feel like a Plaza Girl.
So, in the name of minimizing effort and maximizing functionality, here are transitional fitspo items we and Viv love for a workout or running errands (and by errands, I mean strolling target with a coffee shopping for nothing in particular).
Quick Dry Flowy Shorts with Pockets
Viv recommends these Amazon flowy shorts and says they are "gym shorts for curves that actually fit!" They come in 12 different colors and range from sizes XS-XL.
Qinsen Workout Outfits for Women 2 Piece Ribbed Seamless Crop Tank High Waist Yoga Leggings Sets
When I love something, I'm buying it in every color. This set has 22 different colors to choose from and range from sizes XS-L.
Stanley Stainless Steel Vacuum Insulated Tumbler
Vivian's go-to water bottle? The Stanley, of course! She says she takes hers everywhere with her. Choose from 20 different colors and 5 different sizes.
Yogalicious High Waist Squat Proof Side Pocket Biker Shorts
Another curvy girl staple in Viv's closet are high waisted, tummy control biker shorts. These Amazon finds come in 43 different colors and range from sizes XS-XXL
Running Girl Criss-Cross Back Sports Bras
Viv says this is a fitness essential for all curvy women. The sports bra has a 4.4 Amazon rating with over 38K reviews. Amazon offers 43 different colors and ranges from XS-XXXL.
Women's Quilted Shoulder Bag
Vivian is a trendsetter and mentioned she uses this quilted shoulder bag as a gym bag. There are eight different colors to choose from.
Flare Leggings with Tummy Control, High-Waisted and Wide Leg
Where are my tall ladies? These flare yoga pants have three different inseam lengths to choose from and run from XS-XXL.