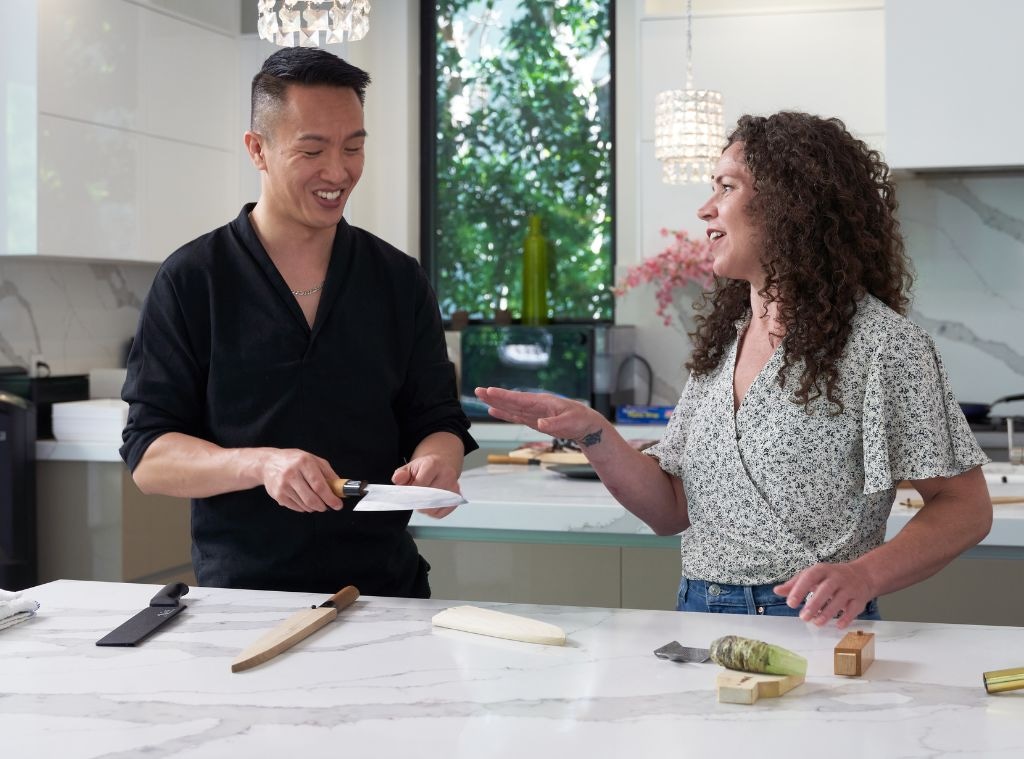 Tastemade
We interviewed Stephanie Izard because we think you'll like her picks. Some of the products shown are from Stephanie's own product line and some are from a brand she is paid to promote. If you buy something through links, E! may make a commission on your purchase. Prices are accurate as of publish time. Items are sold by retailer, not E!.
If there's one person whose kitchen recommendations we trust, it's Stephanie Izard. Not only is she first female winner of Bravo's Top Chef, she has expanded her Girl and the Goat restaurant to an empire of five other highly rated eateries as well as the super cute This Little Goat shop.
Now, the world-renowned chef's hit Tastemade series The Curious Chef is back for season two. From home cooks with killer dishes to hidden gem street stalls, popups and secret restaurants, Stephanie is chasing flavors from every kind of chef she can find. The new season shows viewers how exploring your local food scene in unexpected ways can connect you with captivating characters, incredible eats and surprising adventures.
"[The kitchen] is in the center of my home and opens up to the rest of the house with a direct view to my backyard," Stephanie tells E! News. "Everyone always gathers there and it's where start and end our day. My team is always over filming content, so it's a bustling fun place to be and there's almost always something yummy being cooked."
Curious about what the culinary star keeps in her own kitchen? Read on for her essentials, including an $11 find she uses daily.
Instant Vortex Plus 6-Quart, 6-in-1 Air Fryer Oven
"This appliance has been a real game changer in my home kitchen," Stehanie says. "It preheats so quickly — I can now make bacon in 5 minutes from the time I plug it in to when I put the bacon on a plate. I also really like baking small batches in it — it's perfect for two people. I make my son, Ernie, and I fresh scones most mornings and because it's smaller it bakes things really evenly, unlike the different areas in a larger oven. It's perfect for holding constant heat over a long period of time too — I just made an amazing pork roast that cooked for 2 hours. It's definitely versatile!"
Deiss PRO Mircoplane
"I use my microplane for garlic, ginger, or parmesan almost daily," the chef shares. Amazon reviewers love this one that's only $11!
Cuisinart Professional Series 13 Piece Stainless Steel Cookware Set
"High-end pots and pans can be super expensive," Stephanie notes. "So it's always best to wait for a sale!" Look no further than this 13-piece Cuisinart set that's oven safe with cool touch handles, non-stick, metal utensil safe, dishwasher safe and induction compatible—and 64% off. You can also score the 11-piece set for $214.
Made In Blue Carbon Steel Wok
"One of my go-to products for years has been my Made In wok. It's carbon steel, so it's light, heats up quickly, and stays hot. It's great for stir fries and the normal things you would cook in a wok, but I find that I use it for most things on the stovetop. It's really awesome for a quick deep fry too."
Pyrex Smart Essentials 3-Piece Prepware Mixing Bowl Set
"One of my tried and true kitchen favorites are my Pyrex bowls. I bet if I looked in my dad's kitchen he would still have the same ones we've had since the '70s. They're classic and timeless and still make for the best storage! I've also had my Pyrex measuring cup for ages."
Ozeri Pronto Digital Multifunction Kitchen and Food Scale
"Digital scales are a great tool for precise cooking/baking. I just used mine trying out some new noodle recipes!" Amazon shoppers swear by this affordable option.
This Little Goat Chili Crunch Variety Pack
Kewpie Mayonnaise 2-Pack
"Kewpie Mayo is a result of many blind taste tests — it just can't be beat! I love mixing it with Chili Crunch for a perfect savory dipping sauce."
Now that your mouth is watering, take a look at the kitchen essential Food Network's Damaris Phillips says she'll never stop buying.