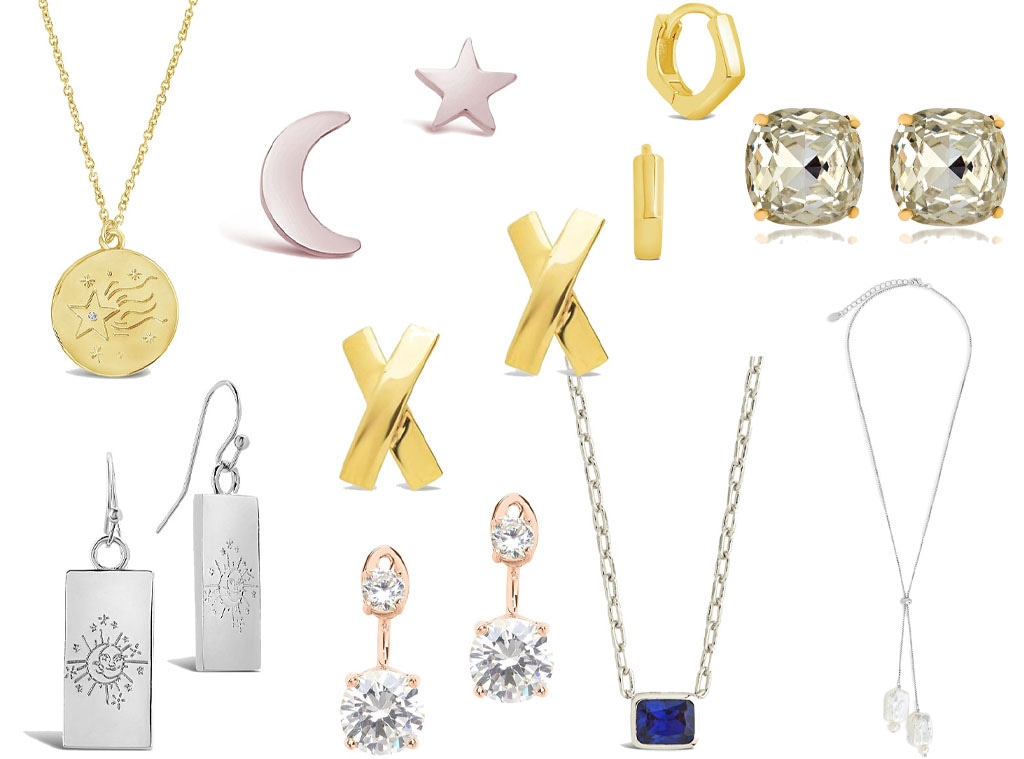 The brands featured in this article are partners of NBCUniversal Checkout. E! make a commission on your purchase. Prices are accurate as of publish time. Items are sold by retailer, not E!.
Some trends are new and exciting. "Pearlcore," for example. Some, like chunky chain links, go in and out. Then some, like delicate jewelry, are eternal; fashion-forward mainstays that designers like Sterling Forever continually find ways to restyle and innovate.
That's why, season after season, they offer a fresh twist on delicate jewelry you'll love. Plus, their selection instantly enhances any ensemble. You can use your new favorite pieces to dress up or casual down (that's an expression, right?) any outfit, at any time. 
As a shopping editor, it is my sworn duty to keep everyone up to date on all things en vogue. As such, I've pulled together this diverse list of delicate items you'll absolutely want in your permanent rotation.
There's pre-layered. There's pairs. There's mix-and-match minimalism. There's silver-toned, gold-plated, elegant, sophisticated, boho-chic...What I'm saying is, whatever your style preference, you'll find something in this list of delicate jewelry to love. Perhaps even a few things.
So, sit back, scroll on, and in the words of a movie I know I don't need to mention by name: Frost yourselves. Just, you know, sans diamonds. But hey, those aren't really an everyday thing to begin with.
Sterling Forever Moon Phase Hanging Bar Necklace
As Sterling Forever says, "Just like the phases of the moon, your look always changes — but it never becomes any less beautiful."
Sterling Forever Shooting Star Pendant
A hint of sparkle adds flair to this twinkling star necklace.
Sterling Forever Sterling Silver Crescent & Star Asymmetrical Studs
Infuse any outfit with a hint of the cosmos thanks to this stylishly mismatched pair.
Sterling Forever Maya Evil Eye Layered Necklace
The evil eye is an ancient symbol thought to protect the wearer from unwanted energies. Also? It looks really cute on this delicately layered chain.
Sterling Forever Tarot Card Dangle Earrings
There's always one friend in the group that's known for her expert tarot reads. This versatile pair of earrings makes the ideal gift for her.
Sterling Forever Polished Geo Micro Hoops
Simple yet structured, this geometric pair of teeny hoops completes any desk-to-dinner outfit.
Shine By Sterling Forever Polaris Disk Pendant Necklace
Whether you're your own North Star or are in need of reminder to follow one, this pendant necklace — twinkle of cubic zirconia and all — will inspire you to always find your way.
Sterling Forever Joan Of Arc Studs
Draw strength from the legendary Joan of Arc courtesy of these artful earrings.
Shine By Sterling Forever X Stud Earrings
Part-sophistication, part-punk, these gold-plated sterling silver earrings make any look instantly edgy-chic.
Sterling Forever Sapphire Cushion-Cut Bezel Pendant Necklace
This sparkling strand proves you don't need to splash out on big price tags for iconic gemstone jewelry.
Sterling Forever Geometric Anchor Chain Link Stud Set Of 2
Whether you're wearing two pairs at once or mixing and matching, this of-the-moment duo always looks cool.
Sterling Forever Stud Jacket Earrings
No one will ever believe that you copped this heirloom-worthy pair for under $20.
Sterling Forever Anchor Chain Drop Studs
Ahoy, matey! Is that a pair of preppy, nautical-inspired, chain-link anchor earrings you're rocking? Why, yes. Yes it is.
Sterling Forever Flickers Of Light Square Stud Earrings
Big, bold, and sparkly, these square studs look great with literally everything.
It's definitely time to shop these early holiday gifts, especially because they're all under $50.