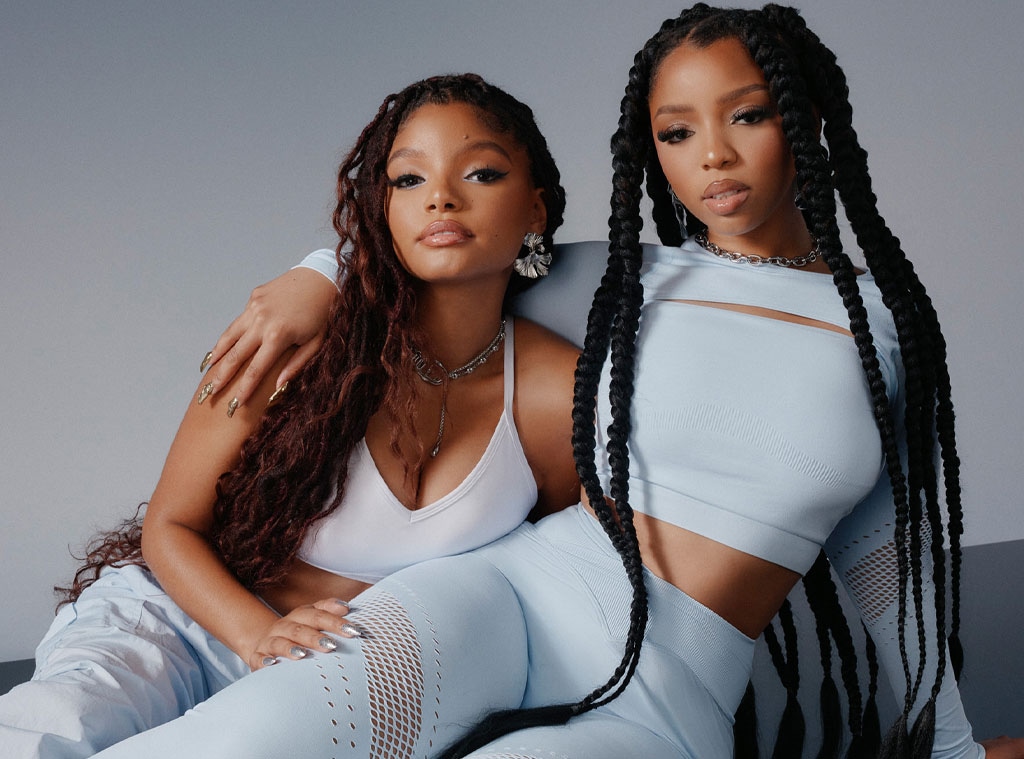 Courtesy of PINK
We interviewed Chlöe Bailey and Halle Bailey because we think you'll like their picks at these prices. Chlöe and Halle are paid spokespeople for PINK. E! has affiliate relationships, so we may get a commission if you purchase something through our links. Items are sold by the retailer, not E!. Prices are accurate as of publish time.
If you are looking for some fashion inspiration, Chlöe and Halle Bailey always come through with head-turning looks whether they're dressing up or chilling out. The sisters collaborated with PINK for a collection full of versatile pieces that work for hitting the gym, hitting the town, and everything in between. It just depends on how you style them. 
Chlöe told E!, "What I love most right now is that I can literally walk into the store and see our collection. That's my favorite thing about shopping at PINK." Halle reflected, "It was wonderful for us to be able to collaborate and do this together. Our styles are very different, but the mix can appeal to a lot of women. There are a lot of options for people to choose something they love."
In an exclusive interview, Chlöe and Halle dished on the pieces in their collection, shared styling tips, and shared the moments when they feel like their most confident selves.
E!: What are the times when you feel the most confident?
HB: I feel the most confident when I'm on stage or in the studio. I feel confident and unstoppable. When I'm on stage, I feel sexy and fearless. 
CB: I would have to agree with this. When I'm just in my element and making music that I love, I feel the most confident. 
E!: Do you have any favorite trends you're really into right now?
HB: I'm always into the cropped trend. I like a cropped top pair with some something baggy. I love parachute pants with cool vintage t-shirts. I've been super into that.
CB: I'm getting into the sexy look of everything after I broke my foot. I couldn't wear heels for a while. So now, I'm trying to figure out shoes I can wear since I can't wear too many heels.
E!: If I wanted to have a viral moment wearing something from this collection, what should I put on?
HB: Definitely the mesh top with a cute bra.
CB: A bra or no bra. It depends on how viral you are trying to go.
Chlöe X Halle Mesh Long-Sleeve Crop Top
"I love the mesh top. We love putting a sports bra or even a regular bra underneath to give it a little sex appeal. It would look really good with the parachute pants," Chloe remarked. 
This mesh top comes in three solid colors and one print.
The Chlöe X Halle Collection
Chlöe X Halle Cropped Puffer Jacket
"What I love about the cropped puffer jacket is that you kind of get the best of both worlds with one piece, since it's cropped and has a baggy vibe. You can show off your waist and feel a little sexy. I love the crop jacket because it will keep you warm and it's a little sexy," Chloe explained. 
This puffer comes in pink, black, and light blue.
Chlöe X Halle Parachute Pants
Halle shared, "These are definitely my favorite. I love them because they're baggy. They're so cute. I can dress them up and down. I sometimes wear a sports bra with the parachute pants. I like the pants with the puffer coat for a cold night."
The Chlöe X Halle Parachute Pants come in light blue, pink, black, and sand. 
Chlöe X Halle Seamless Mesh Long-Sleeve Crop Top and Chlöe X Halle Seamless High-Waist Full-Length Leggings
"I just love the leggings, which have these mesh holes in them, so they allow your legs to breathe, which is great," Halle said.
Chloe added, "I really love the long sleeve top that goes with the leggings. They both have a band that cinches your waistline a little bit, which I really love."
Chlöe X Halle Seamless Long-Sleeve Rib Midi Dress
Chloe explained,  "I love that this goes all the way down to your calf. It gives you that flattering Coke bottle kind of shape. There's a little slit in the back so your legs can move more freely. You know when a dress is too tight and you sort of feel like a penguin? We didn't want that. We structured this for cuteness and comfort for sure."
This dress comes in three stunning colorways.
Want to do more shopping inspired by the Bailey sisters? You'll love their gift picks.
(This interview has been edited and condensed for length and clarity.)