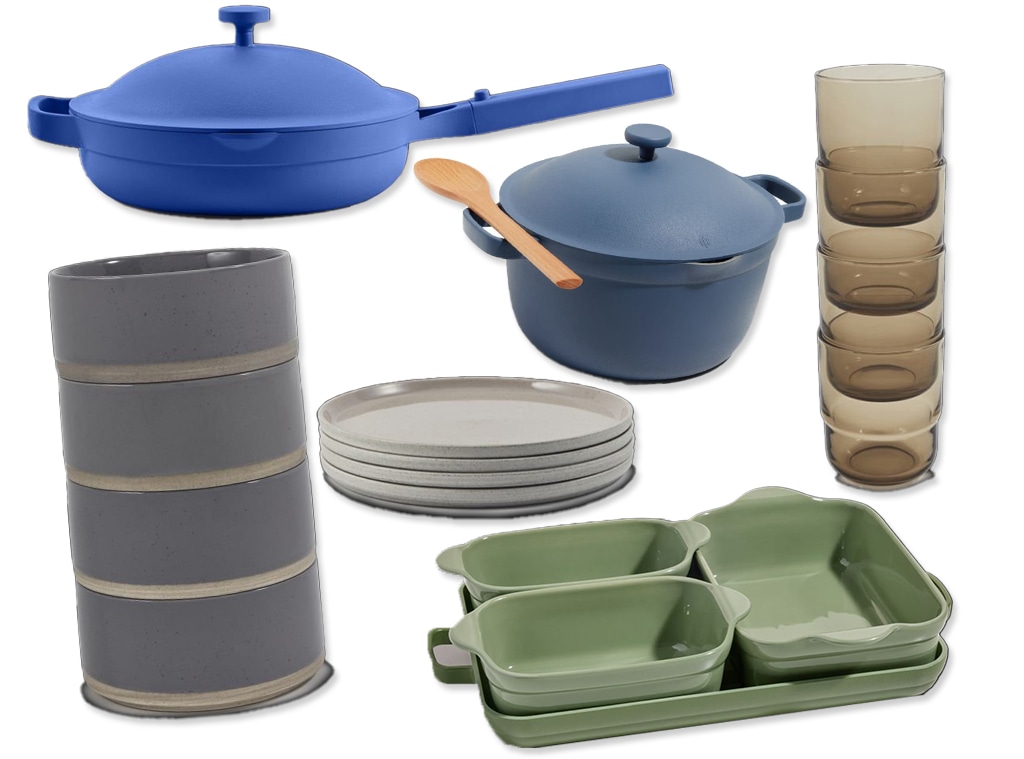 The brands featured in this article are partners of NBCUniversal Checkout. E! make a commission on your purchase. Prices are accurate as of publish time. Items are sold by retailer, not E!.
You know what's exhausting? Cooking. You know what's really exhausting? Cleaning. You know what almost never seems worth it? Shopping, prepping, cooking, and then spending the meal you made being anxious about having to do the dishes after.
Does this sound familiar? If it doesn't, well, congrats on having an in-home chef, or possibly being super-human. But for the rest of us, there's a brand to know about: Our Place. Their line of cookware, bakeware, and serveware may not be enormous, but it's all intentionally designed.
Each item is made with sustainably sourced, recycled, and/or handcrafted materials as often as possible. On top of that, the sets are designed to stack with themselves and anything else, which makes storing things in small places a breeze.
Most of Our Place's collections are microwave- and dishwasher-safe, which means reheating and cleaning super easy, too. For any items that are hand wash recommended, they cook so quickly and thoroughly and clean so easily that it's barely an inconvenience. (I can speak from experience. I treated myself to the Perfect Pot last year, and absolutely adore it.)
Below, meet a few of Our Place's most popular items — and in case I forgot to mention, they're all on sale!
Our Place Cast Iron Always Pan
"We took the multifunctionality that made the original nonstick Always Pan a sellout and created the first-ever 8-in-1 cast iron version," explains the brand. Our Place adds that it's made from "heirloom-quality, super-easy-to-care-for enameled cast iron," which means their "newest version of the Always Pan will change the way you cook at home!"
Our Place Everyday Chef's Knife
Our Place raves that this will be "your go-to do-it-all knife" that's "perfect for slicing, dicing, and mincing everything from dainty herbs to sturdy root vegetables." For the extra kitchen-savvy, here's what else you'll want to know: It has an "ultra-sharp full-tang blade made from premium German steel," as well as the brand's "proprietary grooved handle that guides your hand into the perfect pinch grip."
Our Place Side Plates
I'll let Our Place speak for itself here: The accompanying side plates are "stackable, scratch-resistant, and [have] a lip to keep any messy oils contained." On top of that, they're "handmade from a blend of recycled and virgin porcelain," which makes these little wonders "great on the eyes and on the planet."
Our Place Hot Grips
"Custom-designed to fit perfectly around the helper handles" of your Our Place cookware, these "soft, curved wraparound grips provide all the protection you need to be fearless in the kitchen," per the brand.
Our Place Drinking Glasses
Let's be real: These are so much more than just drinking glasses. Sure, you can serve craft cocktails in them, but you could also use them to sip coffee in the morning or indulge in ice cream from at night. A round of colorful and versatile glassware for all!
Our Place Knife Trio
This trio includes the Everyday Chef's Knife, a Serrated Slicing Knife, and a Precise Paring Knife. In other words, it includes the basics you need to cook, prep, and garnish a delicious meal.
Our Place Grill Press
I saw this and thought, "Panini time," but the brand has loftier goals for their Grill Press. "This genius cast iron add-on was designed especially for those super-seared, extra crispy cooking moments," Our Place writes, adding that you can "count on your handy new grill press for all things needing even heat distribution, golden browning, and rich flavor." Yum.
Our Place Main Plates
So many aesthetically pleasing brands have flooded the market as of late, which makes it tough to differentiate between what looks good and what is good. I can say from experience: These gorgeous (and sizable) plates are the latter. Per the brand, the main plates are "hand-painted, porcelain, [and] easy-stacking," and "have a lip to keep all the messy stuff where it belongs." They're dishwasher and microwave safe, too.
Our Place Perfect Pot
I moved into my new apartment in mid-December, and got this for myself as a housewarming gift. I have, and this is not an exaggeration, not used any other pot since. It can boil, bake, crisp, steam, and makes a lovely presentation (even if it's for myself). The interior is beyond smooth, and the exterior works well with my gas stove. On top of that, the lid offers two different steam release options, so you don't need to worry about letting too much air in or out.
Our Place Side Bowls
Hand-painted porcelain? Check. Super stackable to save space (and the hassle of storage)? Check. Deep enough to be ideal for soups, cereals, and ice cream alike? You know it. Honestly, what hasn't this brand thought of?
Our Place Ovenware Set
If your answer to my above question was "stuff that goes in the oven," think again! They've recently introduced an ovenware quintet that just might make you legitimately excited to cook. Per the brand, "The set includes an ultra-versatile oven pan for baking and roasting that also works as a stovetop griddle (!!!)," plus "The Bakers," which are "a trio of stoneware baking dishes," plus and a nontoxic, reusable oven mat to go with it. True to form, Our Place "designed all of it to fit neatly together to maximize storage. Now all you have to do is turn your oven on!"
Our Place Tiny Bowls
These teeny bowls are ideal for cooking prep, serving dips from, or just taking a small portion of snacks to the couch in for TV time.