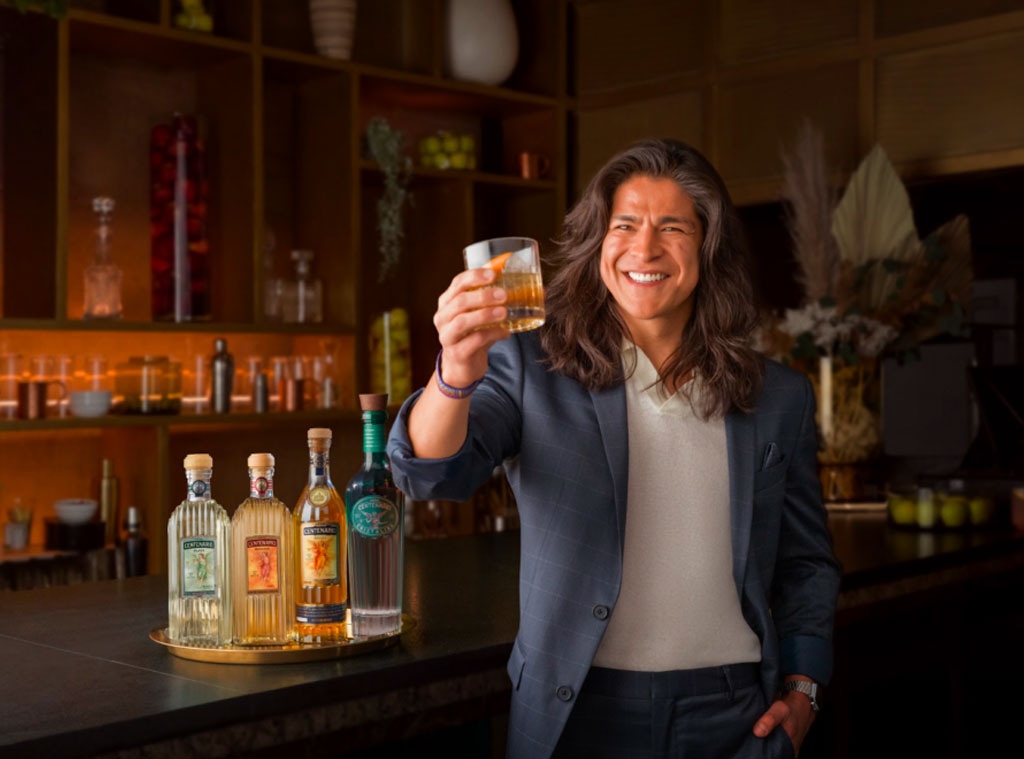 Courtesy of Gran Centenario
We interviewed Cristo Fernández because we think you'll like his picks at these prices. Cristo is a paid spokesperson for Gran Centenario Tequila. E! has affiliate relationships, so we may get a commission if you purchase something through our links. Items are sold by the retailer, not E!. Prices are accurate as of publish time.
If you're gearing up for your favorite sports game, and you're planning to host your fellow fans, it takes some preparation. If you need some hosting inspiration, Ted Lasso star Cristo Fernández is here with the ultimate game day hosting guide.
His game day drink of choice is Gran Centenario Tequila, telling E!, "Gran Centenario is a brand that embodies the true spirit of Mexico. We have a shared, deep-rooted connection to our home country and a passion for all things soccer and tequila, of course! The brand is an absolute staple in Mexico, and we are incredibly excited to introduce this piece of our culture to so many new U.S. fans."
in an exclusive E! interview, Cristo dished on his favorite tequila and more hosting must-haves including glassware, party games, and bartending tools.
E!: What are some great snacks that pair well with tequila?
CF: What pairs better with a classic like Gran Centenario Tequila than tortilla chips and guacamole?! I really love Chef Pati Jinich's Chunky Guacamole Recipe in particular, especially when enjoying Gran Centenario Reposado.
E!: Your hair is everything. Can you share what products you use to keep your locks so luscious?
CF: I get asked this question all the time. Honestly my secret, if any, is to have a healthy lifestyle. Plus, taking lots of Mexican sun and eating lots of fruits and vegetables and a good hair product that matches your hairstyle! AND i always thank my parents for the "good hair genes."
Loteria Don Clemente
E!: Are there any games that you recommend for a gathering?
CF: As a Mexican man, I really enjoy playing the Loteria board game, especially during "Navidad time" with the family. I've played it since I was a kid and now as an adult, even more! 
Mattel Games UNO Card Game
Cristo Fernández's Game Day Hosting Must-Haves
Gran Centenario Tequila
"Whether the celebration is big or small, I always make sure to have Mexico's #1 Tequila, Gran Centenario, on my bar cart. It is a staple not only in Guadalajara, but all of Mexico, and always used to celebrate life's memorable moments with family and friends!"
Crate & Barrel Fenton Bar Tool Set
"When serving cocktails like my Gran Copa Paloma, which is a twist on the classic Paloma cocktail, a good cocktail shaker tool set is a must."
"To make this cocktail, you need: 2 oz Gran Centenario Reposado Tequila, 1.5 oz Pink Grapefruit Soda, 1 oz Fresh Lime Juice, 0.5 oz Agave Syrup, and 2 dashes Orange Bitters. Combine all ingredients (except the soda) in a shaker with ice. Shake and strain over fresh ice into a rocks glass rimmed with Tajín and top with grapefruit soda. Lastly, garnish with a lime wedge and there you have it!"
Mixology Bartender Kit: 10-Piece Bar Tool Set with Mahogany Stand
If you are looking for a cocktail set at a lower price point, this one has 6,400+ 5-star Amazon reviews. The bundle includes a spoon, jigger, corkscrew, muddler, strainer, shaker, ice tongs, and liquid pourers.
Riedel Bar Ouverture Tequila Glass, Set of 2
"Although I always love a good cocktail, I also always serve tequila neat for those who like drinking it the way it's traditionally done in Mexico. When tasting Gran Centenario Tequila neat, it is best enjoyed in flutes that are shaped specifically for tequila."
These tequila flutes have 2,600+ 5-star Amazon reviews.
Mexican National Soccer Team Jerseys
"I love to watch the Mexican National Soccer Team play with friends and family. We always make sure to represent our team in the iconic jersey whether celebrating from the stadium or home!"
Williams-Sonoma Cyprus Reactive Glaze Mixing Bowls, Set of 3
"Good food is essential to any gathering. Serving bowls are essential for entertaining as they not only enhance the presentation of the food, but they also make it easy and convenient to share classic, game day dishes!"
This set also comes in white.
Hasense Large Mixing Bowls Set
If you love Cristo's pick and want something similar at a lower price point, this set is a great choice.