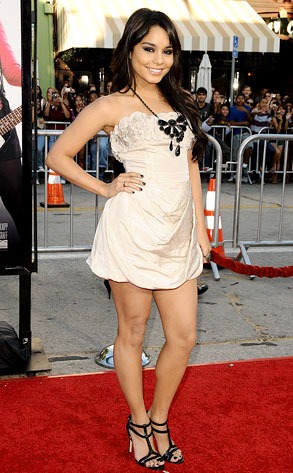 Jason LaVeris/Getty Images
Let's say your movie's red-carpet premiere is coming up. Let's say your drive for publicity is revving up.
Would you, say, leak naked photos of your leading lady about, oh, a day before the big to-do in trying to make it a bigger to-do?
Would you dare suggest that Summit Entertainment and Vanessa Hudgens were in cahoots to make a little movie called Bandslam a big, impossible-to-ignore part of your summer?
Would you?!
Then you are bad.
And you are just the type who's going to enjoy the following mostly made-up timeline of activity leading up to this past week's Bandslam gala:
• Early July: Summit bets big on Hudgens, and announces that it'll unveil an all-new trailer for the Twilight Saga's New Moon at Bandslam screenings.
• July 30-Aug. 2: Aliens in the Attic, a sci-fi comedy costarring Hudgens' friend and High School Musical costar Ashley Tisdale, bombs in its box office debut.
• Morning of Aug. 3: Someone at Summit points out that Bandslam could be eerily described as a "music drama costarring Tisdale friend and HSM costar Vanessa Hudgens." Major fretting over Bandslam's own box office future—if not the box office future of New Moon—ensues.
• Afternoon of Aug. 3: Someone else at Summit suggests that the studio fire a Twilight cast member in order to goose interest in the franchise, and, in turn, in Bandslam. Yet another someone else at Summit reminds that the studio already did fire a cast member. Major fretting continues.
• Morning of Aug. 4: A confidential studio white paper notes that "there were no nude pictures of Ashley Tisdale leaked via the Interweb prior to the release of Aliens in the Attic." The report concludes: "Let's not let this mistake happen to us!!!"
• Afternoon of Aug. 4: Calls are made. An actress is reminded she pledged to E! News to "show nudity in a film when the time is right." An actress reminds said reminder that a film premiere is not a film. An actress is reminded "Sneaker Nights" can be releaked to the media, and is asked, "Which would you rather have out there right now?"
• Aug. 5: E! Online columnist Marc Malkin reports that Hudgens, the source of nude pictures back in 2007, has been featured in "another batch of racy pics." A source tells Malkin the shots are old. Still, the news is new—and big.
• Aug. 6: Summit hosts its now much-anticipated Bandslam premiere in Los Angeles. Even though the subject of the new old nudes is declared off-limits, Hudgens is a sought-after soundbite.
• Aug. 7: Summit eagerly counts down the days until Bandslam's Aug. 14 release. Cue evil cackle.
Then again...
Maybe bad pictures just happen to good people. Maybe studios don't control the universe, or even try to.
In any case, the scandal looks to be a box office non-starter. Exhibitor Relations analyst Jeff Bock thinks Bandslam will fight to break through amid a slew of late-summer films. The New Moon trailer will definitely help, he says; the nude pictures won't. Says Bock: "The people who would be interested in those pictures wouldn't be interested in this movie."