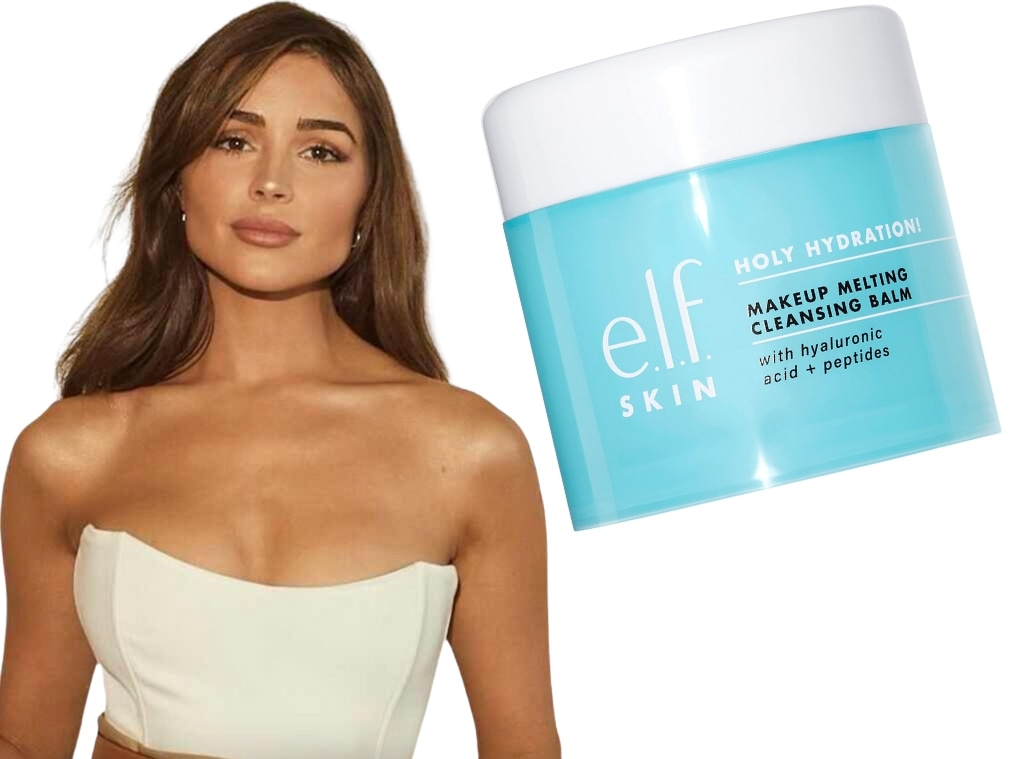 Courtesy of Olivia Culpo
The brand featured in this article are partners of Amazon's Creator Connections program, which means E! may make an increased commission on your purchase if you buy something through our links. Prices are accurate as of publish time. Items are sold by retailer, not E!.
I have spent so much money looking for long-lasting, smudge-proof makeup that I can rely on throughout a long day, especially when I'm sweating. Ironically, this also means that I've been on the hunt for effective makeup removal products. I have super reactive skin and I try to avoid harsh scrubbing. In April 2023, I interviewed Olivia Culpo about her sweat-proof beauty essentials ahead of festival season. She mentioned a cleansing balm that she uses to remove her makeup and I was intrigued, especially when I realized it's only $10.
During our interview, Olivia describe the e.l.f. Holy Hydration! Makeup Melting Cleansing Balm as a "great cleansing balm." She added, "I like a cleansing balm because they really help with taking off mascara." Of course, I had to try it for myself. Now, I'm converted. This cleanser removes my makeup completely and quickly without irritating my skin. Not only that, but my skin actually feels much softer when I use it.
If you've been struggling to remove long-lasting makeup, Olivia's recommendation is a great pick with 3,600+ five-star Amazon reviews.
e.l.f. Holy Hydration! Makeup Melting Cleansing Balm
The key to using this makeup remover is to apply it on dry skin. Massage it into your face, then add a little bit of water and continue to massage in circular motions. Your makeup will start to melt away without any harsh scrubbing. Just rinse with warm water and a damp washcloth.
Olivia isn't the only fan of this cleansing balm. Here are some of the 3,600+ five-star Amazon reviews.
e.l.f. Holy Hydration! Makeup Melting Cleansing Balm Reviews
A shopper gushed, "This stuff is nothing short of being holy grail in a jar. It's easy to use and removes make up very easily off your face. It feels very hydrating on your face and it doesn't leave a film. Love this stuff!!!!"
Another raved, "Best makeup remover ever! I've tried a lot of different melting balms and makeup removers, this one by far is the best one, and for the price, nothing can beat it, I always have at least 2 extras waiting to go so I never run out. Takes every bit of makeup off with little effort including waterproof mascara."
Someone declared, "Best Purchase. I use an waterproof eyeliner and wear a lot of makeup everyday, so I needed something that would help remove my makeup without irritation. This product is like a miracle, when I apply it to my makeup it immediately starts melting away! With one swipe it's all gone without any irritation to my skin! One of the best purchases ever!!"
A reviewer shared, "This is an amazing product and it's so magical how the makeup just melts away. Totally recommend it."
"Took my makeup off so fast. No traces of eye make up left behind. Left my face feeling so clean and hydrated. Will definitely buy again," a shopper wrote.
Want some more product recommendations from Olivia? You'll love her makeup and skincare picks for the summer heat and festival season.