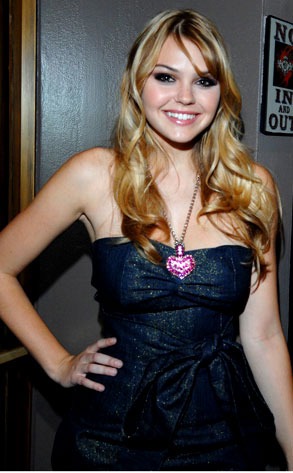 Amy Graves/ Getty Images
We know you're all still recovering from the announcement that Friday Night Lights won't be back for what seems like forever. But we do have some good news related to a favorite FNL castmember: We ran into FNL's Aimee Teegarden (who plays precocious young thing Julie Taylor) at NBC's Television Critics Association party, and while she couldn't tell us much about what's to come in Dillon, Texas, she did spill on some other exciting news.
"I'm going to New Zealand on Saturday to shoot a show called Legend of the Seeker," Teegarden told us exclusively. "It's a crazy-long episode. A lot goes on. My character ruins a lot of things, but she doesn't really mean to." 
 
Who is this mystery character? Keep reading to learn more about Aimee's feisty character and what she does to Richard and Kahlan's relationship:
"I'm playing one of the last Confessors, named Annabelle," Aimee spilled. According to a casting notice released mid-July, the character Annabelle, who first appears in episode four of season two, is "18, beautiful, innocent, like a princess in a fairy tale." In other words: Aimee Teegarden.
Aimee also told us Annabelle has been locked in a tower her whole life and isn't fully aware of her power as a Confessor. When she escapes she "goes a little crazy and starts confessing everyone around her," Aimee said. Because there are so few Confessors remaining, Kahlan does her best to protect Annabelle from harm. Meanwhile, Annabelle wants to run away with a boy named Flynn, whom she has confessed. Kahlan and Richard need Flynn to help them find a key, so Kahlan tries to stop Annabelle from fleeing with him, but the real drama begins when Annabelle retaliates against Kahlan...Well, we can't really tell you this part, but we promise you'll be blown away by the twist.
"It's so wrong!" Aimee said. "I can't tell you how it ends. But I'm telling you, there's so much going on in this episode, it's like a movie!"
Are you as excited as we are about our favorite little FNL cutie joining up with cult-fave Legend of the Seeker? Sound off in the comments below.