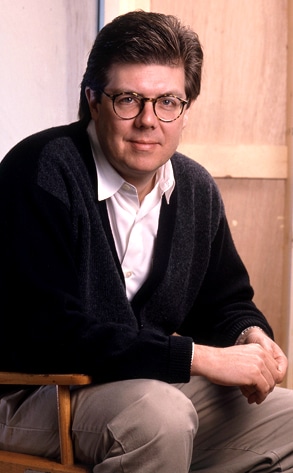 Paul Natkin/Getty Images
Odds are you didn't go to high school with John Hughes. Odds are it sure seemed like you did.
Hughes, the popular, almost-mythic filmmaker who made teen angst hurt so good in biting comedies such as Sixteen Candles only to leave Generation Xers largely on their own as the Molly Ringwald-ruled 1980s ended, died after suffering a sudden heart attack during a walk this morning in Manhattan. He was 59.
"Bueller? Bueller?…Anyone? Anyone?"
—Ferris Bueller's Day Off 
"John Hughes wrote some of the great outsider characters of all time," Judd Apatow, the currently hot filmmaker from the Hughes mold, told the Los Angeles Times last year.
It probably would be quicker to list the 1980s movies Hughes wasn't responsible for as either a writer, director or producer.
His credits included: Sixteen Candles, The Breakfast Club and Pretty in Pink, all starring Ringwald; Weird Science, Some Kind of Wonderful and She's Having a Baby, all quotable—and quoted—in their own right; and, Ferris Bueller's Day Off, the signature Matthew Broderick, if not Hughes, comedy.
Though most associated with the 1980s, the 1990s brought Hughes his biggest box-office hits via the Home Alone franchise. 
Hughes' quick mind and evidently even quicker typing fingers also produced the Michael Keaton hit Mr. Mom, the John Candy-Steve Martin hit Planes, Trains & Automobiles and the Chevy Chase blockbuster National Lampoon's Vacation.
"They think he's a righteous dude."
—Ferris Bueller's Day Off
The secret to Hughes' success, especially in the 1980s, might have been as simple as his novel outlook on an oft-maligned species: the American teenager. 
''I don't think of kids as a lower form of the human species,'' Hughes said in the New York Times in 1986.
Born in 1950 in Michigan, Hughes' writing career began in Chicago, the leafy suburbs of which served as future home to the Buellers, the Saturday-morning detention gang at Shermer High and nearly all his screenplay characters.
In 1979, the former ad copywriter and National Lampoon magazine staffer scored his first Hollywood credit on a short-lived sitcom spinoff of Animal House. Within five years, Hughes was in the director's chair on Sixteen Candles.
''I stumbled into this business, I didn't train for it," Hughes told Entertainment Weekly in 1994. "I yelled 'Action!' on my first two movies before the camera was turned on."
Actors whose careers were helped mightily by Hughes' allegedly accidental one include Jon Cryer, Anthony Michael Hall, Emilio Estevez, Ally Sheedy, Judd Nelson and Home Alone revelation Macaulay Culkin. Some, like Sheedy, Estevez and Nelson, became members of the unofficial 1980s film society known as the Brat Pack. Some, like Culkin, featured in the Candy-starring Uncle Buck, worked on multiple Hughes films.
No Hughes actor was more associated with Hughes than Ringwald.
"I can't believe this. They f--king forgot my birthday."
—Sixteen Candles
Ringwald was the teen queen to Hughes' king; the fresh-faced sayer of his tough truths. The two made three movies from 1984 to 1986. Some 25 years later, audiences were still waiting to attend their reunion. A Sixteen Candles sequel was talked about but never made.
"I would ordinarily not want to do something like that, but I think that Sixteen Candles lends itself to [a sequel]," Ringwald told AOL this year. "I mean, Breakfast Club is just so perfect as is. I guess Pretty in Pink is possible, but Sixteen Candles is really the one…It was such a Cinderella story. And I was interested to see what happened to this girl."
"Demented and sad, but social."
—The Breakfast Club
Hughes walked away from directing after the 1991 family film Curly Sue. And while he continued to produce and write (occasionally as Edmond Dantés, a pen name used on the Beethoven movies, Jennifer Lopez's Maid in Manhattan and the Apatow-produced Drillbit Tayor), he abdicated his angsty crown.
Wrote Variety of Hughes in 2008: He "doesn't give interviews, has no publicist and lives in Wisconsin."
Kevin Smith, one of the numerous writers and directors raised under the influence of the classic Hughes teen comedies, once called the filmmaker his generation's J.D. Salinger, after the reclusive Catcher in the Rye author.
In typical shrug-it-off fashion, Hughes refused to make his absence from directing, if not Hollywood, sound like a big deal, and certainly not like a mysterious deal.
"I don't like getting up early, and it takes a long time," Hughes told Ink 19 when asked if he'd direct again.
Survivors include Hughes' wife of 39 years, Nancy, and two sons, including the music producer John Hughes III.
"Life moves pretty fast. If you don't stop and look around once in a while, you could miss it."
—Ferris Bueller's Day Off

(Originally published Aug. 6, 2009 at 1:57 p.m. PT)