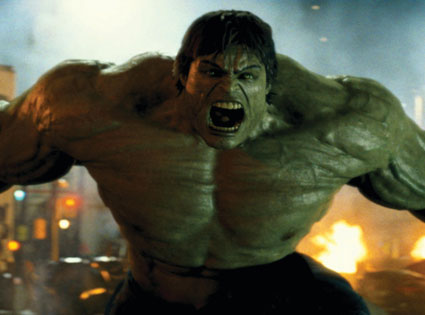 Universal Pictures
Perhaps The Hulk's troubles aren't so massive after all. Edward Norton, star of the would-be summer blockbuster
The Incredible Hulk
, is looking to refute the rampant rumors that a disagreement over the film's final cut has pitted him and director Louis Leterrier against Marvel Entertainment.
"Every good movie gets forged through collaboration, and different ideas among people who are all committed and respect the validity of each other's opinions is the heart of filmmaking," the Oscar-nominated actor said in a statement to Entertainment Weekly Wednesday.
"Regrettably, our healthy process, which is and should be a private matter, was misrepresented publicly as a 'dispute,' seized on by people looking for a good story and has been distorted to such a degree that it risks distracting from the film itself, which Marvel, Universal and I refuse to let happen."
In recent weeks, word had gotten out that Marvel, wanting a more wham-bam commercial cut, objected to Leterrier's more detailed, two hour-plus version of the film—a creative difference that had Norton seeing red, if not exactly turning green.
Leterrier recently told EW he regretted that Norton and Marvel "didn't come to an agreement where we could've all worked together."
''Everyone was exhausted; it was like a little burst,'' the French director, who's perhaps best known for helming the Transporter films, said. '''I'm angry with you!' 'No, I'm angry with you!' And me in the center saying 'Boys, calm down.' It didn't come to blows. It was just a remark here and there.''
Then it "became public," he said, adding that it was the press that "kept Edward and Marvel from talking to each other. [The purported feud] was nothing and then it became something big."
For his part, Norton maintains the tale of disquiet on the set has been blown way out of proportion.
"In every phase of production, including the editing, working with Louis Leterrier has been wonderful," his statement continued. "I've never had a better partner, and the collaboration with all the rest of the creative team has been terrific...
"It has always been my firm conviction that films should speak for themselves and that knowing too much about how they are made diminishes the magic of watching them. All of us believe The Incredible Hulk will excite old fans and create new ones and be a huge hit...Our focus has always been to deliver the Hulk that people have been waiting for and keep the worldwide love affair with the big green guy going strong.''
The production was a risky venture to begin with, considering Ang Lee's adaptation of the saga featuring the easily excitable Dr. Bruce Banner—the simply titled Hulk—was a flop as far as comics-inspired action extravaganzas are concerned, grossing only $132 million domestically.
But thanks to Marvel Comics' eventual decision to start breathing big-screen life into its own classic characters with its own studio shingle, the misunderstood green guy has another chance to find a cure for what ails him.
Leterrier's The Incredible Hulk, more a do-over than sequel to the 2003 film, begins with Norton's Banner hiding out in South America, where he's searching for an antidote to the gamma ray exposure that left him prone to what you might call rather intense fits of rage.
Liv Tyler, William Hurt and Tim Roth also star as love interest Betty Ross, Gen. Thaddeus Ross and villain Emil Blonsky, respectively. The film storms into wide release June 13.
Norton's characterization of the production's troubles as overblown should come as a relief to Hulk fans, who are hoping this film succeeds where its predecessor failed, although opinions are mixed as far as which running time would have been the better choice.
"[Lord of the Ring] sequels were sequels to hit movies. The first one was long and it worked. Godfather was long and it worked and was a hit. So the sequels were long too," wrote user DBZ2cool on one of the SuperheroHype.com boards devoted to the new film.
"Same cannot be said about hulk [sic]. hulk was [a] long, boring and really depressing movie."
Meanwhile, Bannerless Hulk wrote that the decision by Marvel to "axe character development in favor of commercial vitality runs squarely against their stated intent to do things the way [the very well-received] Batman Begins did. I don't see how 1:45 or less pulls off Batman Begins otherwise.
"Alas, the negative publicity just keeps trucking along. I can almost hear the general public laughing at the core fans, as we hope against all hope that the movie actually does well."