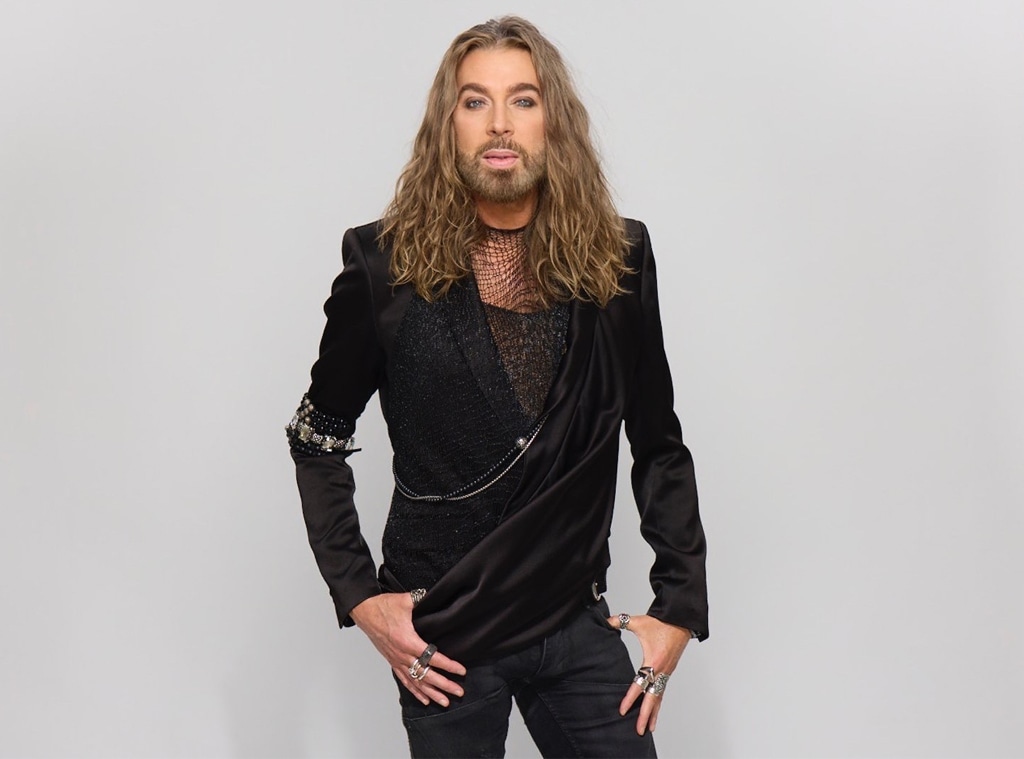 Ad
1. Chaz Dean: For over 25 years, Chaz Dean, celebrity hairstylist, and category innovator, has influenced the beauty world to push beyond traditional conventions and philosophies. With his patented groundbreaking WEN line of hair, bath, and body products, Chaz pushed beyond the boundaries of industry conventions and revolutionized how people care for their hair. Chaz's vision is graceful in its simplicity.  He believes firmly in the integrity of what is nurturing, healthy, and natural as the basis of achieving beauty.
Today, WEN spans over 700 products and has sold over 60 million Cleansing Conditioners, making it one of the largest beauty brands on QVC. The line has expanded into a full range of styling products, skincare, body care, lip care, fragrance, home, men's, kids, and pet care. In 2020, WEN secured seven prestigious QVC Beauty Award wins, including Best Shampoo, Best Hair Treatment, Best Hairspray, Best Body Lotion, Best Self Tanner, Best Men's Product and the QVC Icon Award.
Chaz's dedicated celebrity following reads like a who's who of Hollywood. Those who have trusted him with their hair are Brooke Shields, Nicolette Sheridan, Ming Na, Charlize Theron, Paula Abdul, Ben Foster, and countless others. His philosophy of respecting and maintaining the health and integrity of the hair has won him many loyal fans.
In Los Angeles, his Chaz Dean Studio is a Zen-like oasis tucked away in several charming 1920s craftsmen bungalows, surrounded by bamboo and filled with the scent of jasmine, citrus trees, eucalyptus and lavender, offering a secluded, intimate environment for his clients. The Chaz Dean Lifestyle boutique is beside the studio, offering the complete line of WEN products.  After much careful consideration and love, Chaz opened a New York City salon right in the heart of Greenwich Village. The salon is housed in an 1845 exquisite landmark building that has been passionately restored to create a high-end boutique atmosphere and brings his beloved west coast oasis to the east coast.
Dean enjoys yoga, Pilates, cycling, hiking with his dogs, spiritual meditation and cooking when not behind the chair.
2. Ryan Vandal: Growing up in New York, Ryan Vandal began his love for deejaying at the young age of 10. Ryan has played well over one thousand sets over the years. He is a seasoned open-format DJ and producer known for his spectacular performances and always keeping the dance floor full. He boasts an impressive resume on and off the screen—from celebrity clients to exclusive events—Richard Branson to New York Fashion Week. 
His passion for music and ability to set the right ambiance with his versatile mixing style makes him a well-established DJ in the industry. In addition to his achievements as a DJ, Ryan also produces his original songs that can be streamed on any streaming platform. Ryan is excited about new music releases this summer and the opportunity to get behind the camera and direct his upcoming music videos.
3. Ian Selmnonsky: Ian Selmonsky has always wanted to impact the health & fitness world, but in an effective way that genuinely shows results. He has had his hand in the world of wellness for years now, creating supplement lines, running gyms, and his latest business which covers all things wellness, in the form of a telehealth concierge company.  With years of knowledge and background in kinesiology, nutrition & pharmacology, Ian has become an expert in combining business with health optimization to produce a result that guarantees personalized care and positive results. Patients of Elite Living can receive such quality care because of Ian's first-hand involvement in perfecting the body from the inside out. Competing with and training other bodybuilders helped him develop a life-changing coaching style that has changed many lives. 
After seeing so many other companies treating their patients carelessly, Ian decided to be the change he wanted to see. That is where Elite Living comes in- A company that specializes in all things functional medicine, providing clients with in-depth lab results that help support hormone, autoimmune, thyroid & gut health- to name a few. Whether treating patients struggling with weight loss, metabolic health, or overall feelings of lacking that spark they once had, Ian's mission has always been to provide clients with the highest quality, personalized care. That includes in-home blood draws, anytime consults with top-tier physicians, and medication delivered directly to the client's door.
4. Iana Puninskaia: In an industry where each model is like one another, images blur, and consumers tune out. As a standout, with a unique look and striking image completely her own, Iana Puninskaia has demonstrated that she is memorable and essential in advancing a company's image and brand, leading to increased sales.
Her achievements as a model are reflected in the high demand for her services in our industry. She has worked for some of the most revered luxury brands/designers, such as L'Oreal, Yves Saint Laurent, Gucci, Maison Margiela, Gosha Rubchinskiy, Alexandra Bueno, Nordstrom, DKNY, Daniella Batlle, BALA, Badgley Mischka and been featured in distinguished publications.
5. Noble Lyfe: Noble Lyfe is a Brooklyn native who has lived in various parts of New York, curating his diverse and unique sound. After the release of Noble Lyfe's song "Dance Off," people started to show him some attention due to the unique mix of lyrics accompanied by a groovy funk-infused sound.
It is no secret that Noble is not afraid to be different and truly express his persona and message to those who listen. The sound is enough to make him stand out, but his attention to detail and diversity in singing and lyricism creates a strong sense of longevity and consistency, with no song sounding the same as the last. Noble Lyfe recently released Groovy Gangsta Music Vol. 1, which sounds exactly like its title.
5. Paola Diaz, Sabbina Morales and jessica Martinez: These three business women have successfully owned and operated an aesthetic spa called Verzé for a year. Verzé spa offers a wide range of services, including facials, massages, body treatments and beauty enhancements. With their combined expertise and passion for wellness, the trio has managed to create a thriving business that attracts a loyal clientele.
The business women have worked diligently to establish a strong reputation in the industry, providing exceptional customer service and ensuring that each client receives personalized attention and tailored treatments. They have also focused on creating a serene and relaxing atmosphere within the spa, with soothing music, aromatherapy, and comfortable amenities.
In addition to their commitment to customer satisfaction, the women have also prioritized staying up-to-date with the latest trends and technologies in the aesthetic industry. They regularly attend conferences, workshops and training sessions to enhance their skills and expand their service offerings. This dedication to continuous improvement has allowed them to stay ahead of the competition and attract new customers.
Throughout the year, the spa has experienced consistent growth, with a steady increase in both revenue and client base. The business women have implemented effective marketing strategies, utilizing social media platforms, local advertising, and word-of-mouth referrals to promote their spa. They have also formed partnerships with other local businesses to cross-promote services and reach a wider audience.
As they reflect on their first year of ownership, the business women are proud of their accomplishments and the positive impact they have made on their clients' well-being. They are excited to continue growing their spa and exploring new opportunities, such as introducing new treatments and expanding their team of skilled professionals. With their strong work ethic, entrepreneurial spirit, and dedication to excellence, these business women are poised for continued success in the aesthetic spa industry.
Follow their journey and Verzé spa here! 
7. Benard Ng: As a barber/stylist born and raised in New York City, Benard Ng feels deeply connect to the city's culture and history. Growing up, he always hung out after school at the salons his mother worked at. Benard knew from an early age that being in hair industry was what he wanted to do. He started in salons working with long haircuts to color and perms. After a couple of years, he went into barbering, honing his skills and building a loyal following. Benard and his partners and decided to open Cartel Hair Studio, fulfilling a certain aspect of Benard's career and personal life that he felt was missing. Cartel Hair Studio has become a gathering place for the community, like-minded clients, and barbers/stylists. They take pride in providing a welcoming and inclusive atmosphere for all.
As a small business owner, Benard tries to understand the challenges of running a successful studio in a competitive market. He has worked tirelessly to build a team of skilled barbers, each with their unique style and approach. They are committed to providing our clients with the highest quality grooming services and client relationship building while creating a sense of community for the brand, individuals, and studio. Benard believes this couldn't have been done without the team and clients at Cartel.
8. Dr. Behnaz Garemani: The New York-based celebrity dentist, also known as @thedentistinheels, Dr. Behnaz Garemani, brings the ultimate beauty and style to the dental industry as a "Top Doctor" award-winning dentist recognized by the Consumer Research Council of America and New York Hospital who also holds over 900 five-star reviews. 
She built her boutique-style practice in Midtown West Manhattan in 2015 and has been leading her team of general dentists and specialists who bring artistic gentle touch and years of valuable experience to the practice.
Combining her knowledge, creativity, and technical skill allows her to comfortably produce beautiful, natural-looking smiles for her patients. She strongly believes in utilizing the latest dental technology and materials to ensure the best possible results.
Dr. Garemani takes pride in delivering excellence in dental care and aesthetics, whether it is porcelain veneers, dental implants, or any other aspects of general and restorative dentistry. Her pediatric and adult patients are in awe of her gentle approach to dentistry.
9. Liana Selmonsky: Liana Selmonsky has been a force to be reckoned with since she was young. Born and raised in Ukraine, she was taught to fend for herself and make her way. When she was 19 years old, she made the trip to the United States to join her mother and sister and was determined to make her dreams come true. Liana's passion for all things beautiful poured over into the aesthetic world, where she quickly developed her passion and skill for aesthetics.
She hit the ground running, obtaining over 60 different certifications in her field and acquiring licenses to perform permanent makeup (PMU) for powdered eyebrows, lip blush, scar camouflage and 3D areola tattoos. Liana's latest venture includes her new partnership on Long Island with a prestigious plastic surgeon looking to elevate an aesthetics and PMU program there. Keep an eye out for her later this summer as she gets ready to dominate in a world PMU contest!
10. Nina Smith: EchoJet founder and managing director Nina Smith is everything you should expect from a successful entrepreneur. She followed her passion and dream of revolutionizing the private jet broker industry. But how did EchoJet go from a little-known brand to a multimillion-dollar business? 
The answer lies in Nina's drive, ambition, and extensive industry knowledge. Echojet's rise is even more impressive because it was launched during the Covid 19 pandemic when the flying industry was virtually locked down. Nina rose to the challenges this presented and has taken EchoJet to a well-respected and sought-after private jet brokerage. She is committed to awarding brokers complete freedom and flexibility within their lives without compromising their lifestyles or EchoJet's outstanding reputation for excellence. Nina's vision is to empower and enable private jet brokers worldwide to create the life many can only dream of.