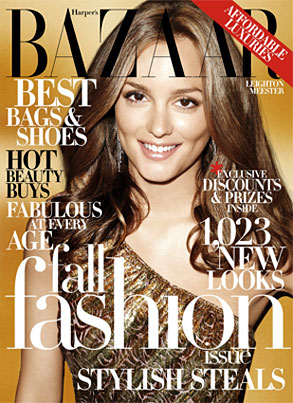 Harper's Bazaar
Remember that Leighton Meester foot fetish sex-tape rumor? It disappeared rather quickly by sex-tape standards. Sex Tape Rumors: Where Are They Now?
September's Harper's Bazaar, that's where.
"[The tape] is not real," the Gossip Girl star tells the fashion mag. "So it makes me sort of sad. It's unfortunate that it got carried as far as it did. I definitely understand the nature of people better now and that the mere allegation of something like that could be headline news. People think it's real because somebody says it is."
Moving on, Bazaar also had this totally cool idea to digitally age the 23-year-old to her fifties for the "Fabulous At Any Age" issue, because that's way easier than actually finding real older people. Ahh! Reverse Photoshop, how clever. The results...