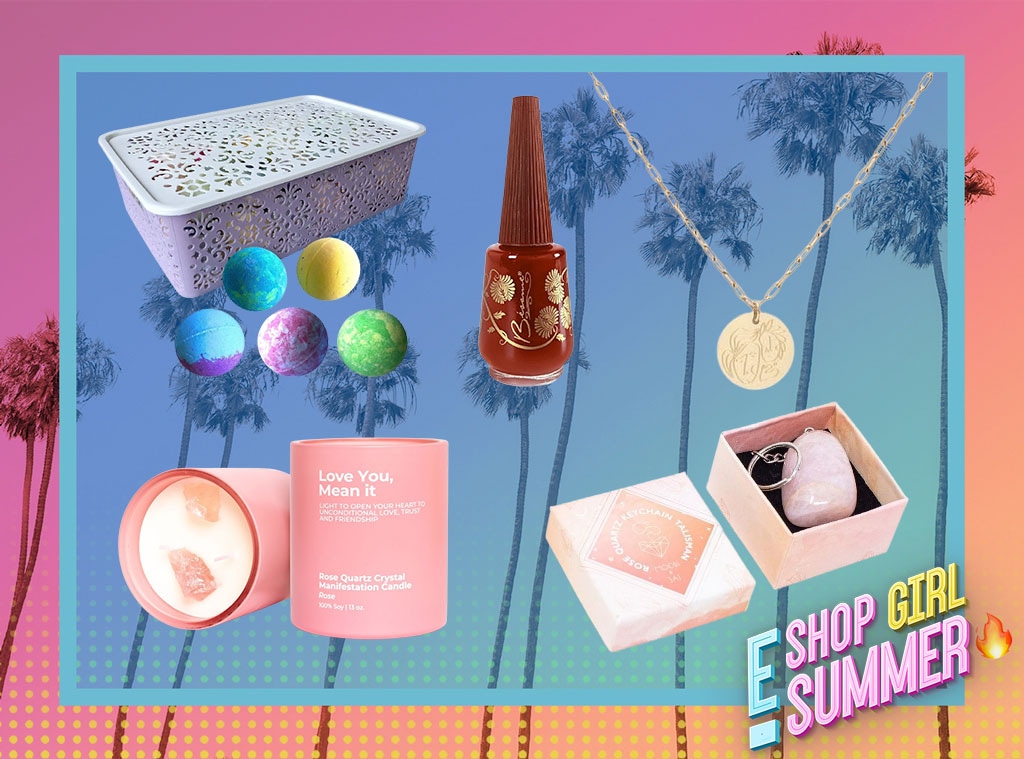 E! Illustration
The brands featured in this article are partners of NBCUniversal Checkout. E! makes a commission on your purchase. Prices are accurate as of publish time. Items are sold by retailer, not E!.
Happy National Best Friend Day, bestie! Are you hearing about this adorable small-iday for the first time? Because we're definitely not. We've known about it this whole time. We, like you, are totally in tune with Best Friend Day being a thing, and one to give gifts for.
That's why we've put together this list of Best Friend Day gift ideas that are as cute as they are affordable. So no one can accuse any of us of being unprepared! Just full of love and appreciation for our BFFS, and their many diverse interests. As well as the ones we share with them.
Below, check out a few gifts for bestie that they'll definitely love — and maybe grab a few for yourself. From pink flasks to mix-and-match earrings, there's something in here for everyone. Scroll on, and get to shopping! Also, maybe we should note this day in ours planner for next year, because it's definitely a holiday worth celebrating.
moon and jai Rose Quartz Keychain Talisman
This talisman keychain — featuring a rose quartz crystal — ensures bestie can take a token of love and abundance wherever she goes.
Mint & Lily You Are The Sister I Got To Choose Cuff Bracelet
Inscribed with a thoughtful message, this rose gold bangle is a literal friendship bracelet.
Rose Crystal White Wine Glass Set
Say cheers together with this rose gold-hued set of white wine glasses.
Funko Pop Marvel - Doctor Strange In The Multiverse Of Madness - Scarlet Witch
For the Marvel-obsessed bestie, this Funko Pop of Scarlet Witch at her full power shows how much you support her interests. Even when her fave goes villain mode.
Candier Congrats Candle
Candier's sprinkles candle reminds your bestie to celebrate everyday wins. And that if she doesn't remember to, you'll do it for her!
Sacheu Beauty Gua Sha & Facial Roller Holder
Maybe bestie is good at taking care of herself, but bad at taking care of the things she needs to do that with. Sacheu Beauty's Gua Sha stone and facial roller holder puts her go-to tools on display.
Bestie Flasks
Best Friend necklace, meet your grownup counterpart: Adorable Best Friend flasks.
Corkcicle Star Wars Stemless
The Star Wars-obsessed BFF will go nuts for this impossibly cute Yoda-themed stemless wine glass. Even the casual fan will, TBH.
Pure Parker Bath Bombs Gift Basket
This set of Pure Parker bath bombs is not only the gift that keeps on giving, but it comes in a box that you basically don't have to even wrap either. Everyone wins!
Midnight Snack Crinkle and Squeaky Plush Dog Toy Combo
Here's my pitch for a twist on the classic BFF necklace: A dog toy set. One for yours, one for theirs. That way, on some level, your furbabies (sorry) are best friends too.
Besame Cosmetics Luxury Nail Polish
"The superb color and long-lasting performance of Besame lipsticks is now available in our luxury nail polish," states the brand, adding that the line is also based on popular shades from individual (and ultra-fashionable) years of the past. 
Jill & Ally Love You, Mean It - Rose Quartz Crystal Manifestation Candle
"Love you, mean it! Light this 2-wick, 100% soy candle to open your heart to unconditional love, friendship and trust. Once the wax has melted, save the rose quartz crystals to manifest love and compassion. Includes two large authentic crystals in the candle!" That's all from Jill & Ally, the brand. Imagine how good you'll look giving it to someone else.
Good Friend Finger Sign Wall Art
I mean, the copy on this art says it all.
Hey Harper BFF Necklace
BFF necklaces that match? A little old-school. One necklace that says BFF on it, that can be a BFF itself when you aren't there? Now that's creative.
Sterling Forever 14K Gold-Plated Sterling Silver Rope Stud Set
Another cute spin on the classic BFF set? A pair of coordinating earrings, but not matching. Or maybe mix-and-match? Whatever suits your and bestie's vibe.