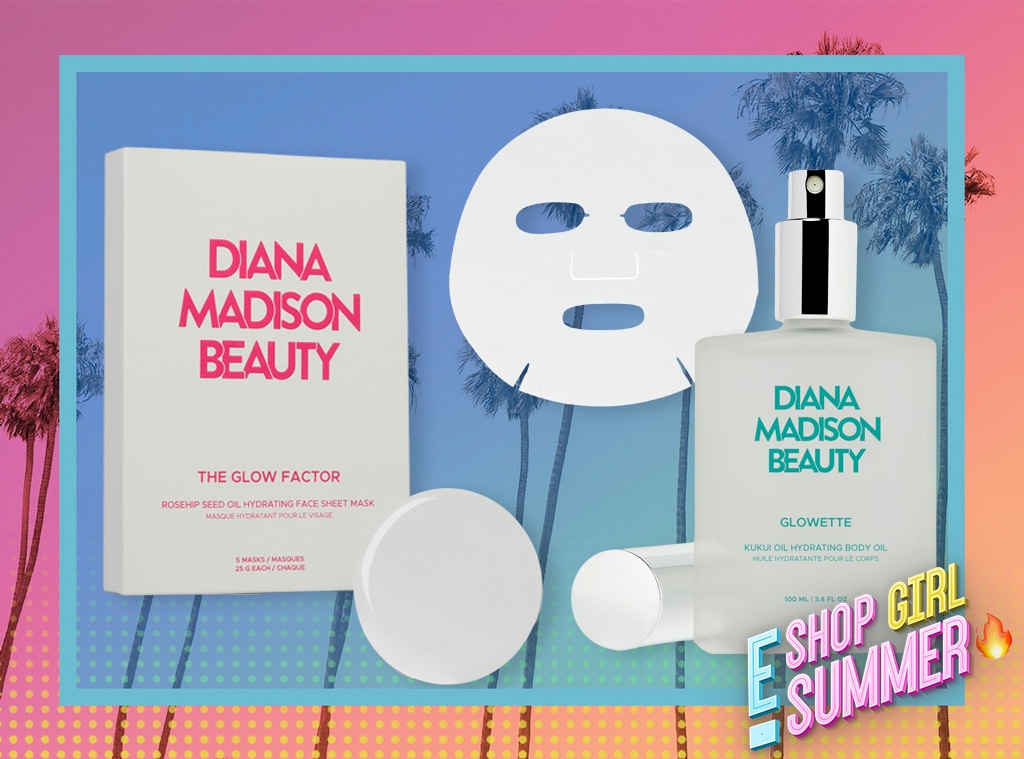 The brands featured in this article are partners of NBCUniversal Checkout. E! makes a commission on your purchase. Prices are accurate as of publish time. Items are sold by retailer, not E!.
Vegan. Clean. Cruelty-free. Created by not just a beauty influencer, but a mom who struggles with eczema and worked to develop a safe and gentle line to address common skincare needs. A mom with a Middle Eastern background, who loves makeup, and wanted products that would complement that, not compete with it.
I'm not inventing something, here: I'm describing Diana Madison Beauty. "Dedicated to producing the cleanest beauty products for the modern-day woman," the label specializes in creams, cleansers, masks, and oils that make you look as good as you feel about using them.
According to the brand, their bestsellers are also more or less A-listers' best-kept secrets. The website reveals that Diana Madison's products are often "a staple" in Hollywood makeup artists' kits.
Oh, and they're crafted to pull double- and triple duty, suit all skin types, and are like, shockingly well-priced.
Below, shop a few Diana Madison Beauty must-haves for dewy, glowing skin all summer long. 
Diana Madison Beauty Glowette Kukui Oil Hydrating Body Oil
I, personally, have long been looking for a lightweight body oil that will also "bring out skin's natural glow" and "protect it from environmental damage." So I'm very excited to try this one from Diana Madison Beauty. Those are the exact phrases they use to describe it! Additionally, they say it's "absorbed easily for a silky feel," and should "help moisturize dry skin," which is something I deal with year-round, for some reason. In two words, the brand says it "soothes and smooths." Sold. 
Diana Madison Beauty Illumin-EYE Saffron Oil Brightening Eye Cream
"A luxurious eye cream enriched with saffron oil and created to nourish the delicate skin around your eyes," states the brand, this cream may help "lighten dark circles" and "soothe puffiness," ideally resulting in a "refreshed and hydrated" appearance.
Diana Madison Beauty The Glow Factor Rosehip Seed Oil Hydrating Face Sheet Mask - Single Mask
When you're looking for "smooth, dewy, luminous" skin, what you need is the bestselling Glow Factor mask. According to the label, their sheet mask "contains rosehip and prickly pear seed oils to invigorate your skin." The Rosehip oil is "a powerhouse ingredient that naturally helps hydrate, boost collagen formation, reduce inflammation, and balance an uneven skin tone." Meanwhile, the namesake Prickly Pear "is high in essential fatty acids," and per the brand, "has more than 150% of the Vitamin E" of its less-sustainable cousin Argan Oil. 
Diana Madison Beauty The Glow Factor Rosehip Seed Oil Hydrating Face Sheet Mask - 5 Pack
Five of the above, but for the price of four. 
Diana Madison Beauty Glowtopia Prickly Pear Seed Hydrating Face Oil
Whether worn on its own or mixed with a moisturizer, this "brightening and nourishing" oil will help "hydrate your skin and awaken its radiant glow," thanks to Diana Madison Beauty's "clean ingredients."
Diana Madison Beauty Ginkgo Purifying Gel Facial Cleanser
In search of a good-for-all-skin types gentle facial cleanser that removes makeup, dirt, and residue, while genuinely cleaning your face at the same time? Your wish has been granted. Plus, per the brand, it's enriched with gingko biloba, buckwheat, and lavender. 
Keep your skin healthy in the sun thanks to clean mineral sunscreen from UnSun Cosmetics, another woman-founded brand.