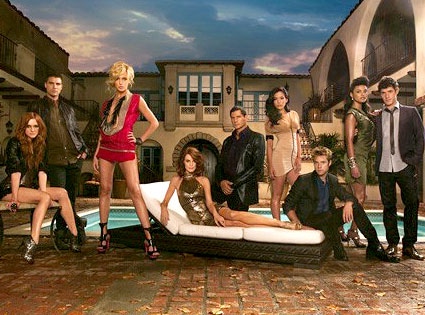 CW
The CW has original content. Really. Sure, the CW schedule seems to be chock-full of remakes, book adaptations, franchise extensions and spinoffs, but there is TV-native material on there somewhere. (We're sitting in the Life Unexpected panel right now, and that's totally an original series.)
Still, this is the year of Melrose Place (it's gonna be so good, you guys), and as such, the spotlight at the Television Press Tour was on the myriad ways that the See-Dub might further capitalize on its success reimagining existing material.
What about another Gossip Girl spinoff? Could there be a third '90s series remake on the network after 90210 and Melrose Place—Party of Five, anyone? Read on for the answers from CW boss Dawn Ostroff herself.
• Gossip Girl Spinoff: The '80s-set Gossip Girl spinoff we saw last year spring will never see the light of day. When asked if there was any hope of seeing the moribund backdoor pilot go to series, CW boss Dawn Ostroff said, "Not right now." So sad. We'll never even know that show's real name. Was it Lily? Or maybe Valley Girls? The mystery abides. And why did the show die such a premature death? Dawn says, "I think there was a bit of a disadvantage, because we decided to do it that way instead of doing a full pilot. I think it was hard for everybody to understand what the world would be like on its own."
• Try, Try Again: Although "Lily" died aborning, that doesn't mean the CW wouldn't give some other Gossip Girl spinoff another go. Ostroff says, "If [executive producers] Josh Schwartz and Stephanie Savage would be open to it, of course we'd be open to it. There is a spinoff actually of the book series which is called The It Girl, and we've explored that with them. It's been harder to find how you make that a world that's well-rounded enough for us, because it takes place at a boarding school, and it's very insular."
• Body Politic: Dawn Ostroff also confirmed that Body Politic (the promising pilot starring Brian Austin Green, Minka Kelly and Gabrielle Union) is definitely, definitely dead. According to Ostroff, programming the network this season was a real "Sophie's choice," because, "Literally every pilot we shot this year could have made the schedule this year...It was just a matter of where would it fit on our schedule...Honestly, it's just what did we feel we had the best opportunity to kind of break out with."
• Crossover? Pencil in a 90210-Melrose Place crossover for winter sweeps. Nothing's confirmed, but clearly the buzz potential of such an event is not lost on the CW's execs. When asked about the prospect of West Bev visiting Melrose Place and vice versa, Ostroff said, "That would be a big event for us," and that "technically we could do that because both shows are shot in L.A."
• Sorry, No New Charlie Salinger: When asked how much '90s serial television the CW could plumb before their current remake rampage ends, Dawn Ostroff said, "I don't know if we'd do Party of Five, but there are other shows we're looking at that we would possibly think about."
• Mischa Barton: Despite what one reporter insinuated, Dawn Ostroff swears that Mischa Barton does not currently look bloated or fat. Ostroff also said that while they were "concerned" about whether or not M.B. would be ready for the beginning of production on The Beautiful Life, "what went on her personal life is personal." Awww, what a magnimous network boss.
Are you ready to let go of Body Politic? And what other old series would you like to see on the CW?