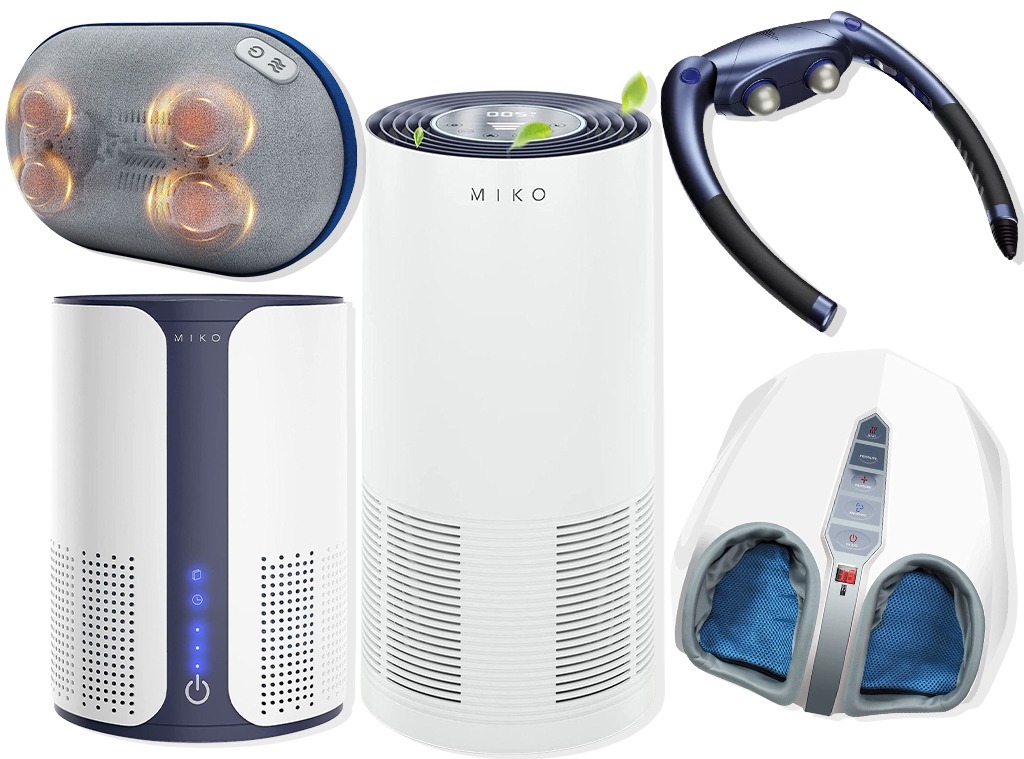 The brands featured in this article are partners of NBCUniversal Checkout. E! makes a commission on your purchase. Prices are accurate as of publish time. Items are sold by retailer, not E!.
There's nothing more powerful than a Relaxed Dad. But how often does that happen? Definitely not enough. It's an easy enough punchline that anything can cause a dad to get fussy; whether it's being aggravated by the lawn, the air conditioning, or the dreaded Unexplained Traffic, some things are universal.
Fortunately, we've discovered Miko. Since launching in 2018, Miko's goal has been reminding people that "you must take care of yourself first before you can take better care of others" (per the website). How do they help folks accomplish that? By offering a full line of massagers to treat the body, as well as air purifiers and humidifiers to improve one's environment.
In other words, they're high-end gadget people. Thanks to Miko's "patented technologies, robust functionalities, and affordable prices," said gadgets are the ideal wellness boosters for anyone, but especially dads. 
Below are just a few of Miko's bestselling products that double as perfect Father's Day gifts. From Shiatsu foot massagers to neck massagers to air purifiers and beyond, the brand offers something that every dad will appreciate. 
Miko Shiatsu Foot Massager w/ Heat
First things first: This foot massager with heat can fit feet up to size 13. So even big and tall dads can enjoy "[rejuvenating] tired leg muscles and aching feet" thanks to this "powerful yet portable" foot massager by Miko. The features include "deep-kneading, compression, rolling, and subtle vibrating," plus five types of pressure settings, a built-in timer, washable foot liners (bless) and not one, but two wireless remotes. Great for when Dad inevitably loses the first one.
Miko Back and Body Massager Ugo
A quiet, affordable, effective, and heated massager that can access hard-to-reach areas and travel with someone, wherever life takes them? It's more accessible than you think. In fact, it's right here.
Miko Smart Air Purifier Ibuki
Smart air purifiers: Now even smarter. Per Miko, the Ibuki can remove "99.97% of hair, fur, dust, mold, pollen, allergens, and odor" in spaces up to 970 square feet. If that means a bedroom, it includes a setting at 24db designed to not disturb you while sleeping. On top of that, there are built-in timers, four fan speeds, and air quality sensors so dad can obsessively monitor his new favorite toy.
Miko Wireless Massage Pillow Kumo Mini
I'll let Miko take it from here: Your dad can enjoy "a deep tissue massage wherever you go with the Kumo Mini Massage Pillow. This compact and portable pillow is perfect for relieving sore muscles and tension in your neck, back, and shoulders. With its advanced Shiatsu massage nodes, the Kumo Mini provides a deep kneading massage." Oh, and the ergonomic pillow is rechargeable and includes a strap, so he can even use it in the car. To stave off traffic-induced freakouts. 
Miko Essential Oil Air Purifier
By combining the three-stage filtration process behind their classic air purifier with the aromatherapeutic properties of an essential oil diffuser. Basically, you can trick your dad into getting into the relaxing, revitalizing, and restorative world of essential oils. But while also enjoying air "cleared of allergens, particles, pet dander, dust, mold spores, and odor," per Miko.
Miko Myst Ultrasonic Humidifier With Smart Remote
Miko refers to the Myst as "truly the most advanced humidifier ever created." Dramatic? Perhaps. But you can't fault the enthusiasm. "Designed to make every moment of your experience comfortable and stress-free," the Myst keeps your environment, "perfectly humidified, calm, and stress-free, for many many years to come." For the tech-specific: It's rechargeable, can last up to 40 hours with a 1.2-gallon water tank, and includes space for essential oil diffusion, for when dad gets into that kind of thing.
Miko Shiatsu Foot Massager Yoisho
Here's another take on the Yoisho Shiatsu foot massager with heat. One that looks extra-cool and futuristic without sacrificing any of the features of the one at the top of this list. Perhaps buy one of each? One for you, one for him? Just something to think about.