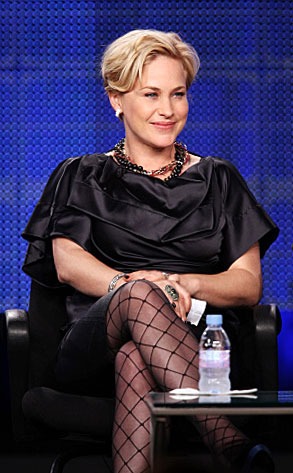 Monty Brinton/CBS
Patricia Arquette is excited about many things these days.
She's excited that CBS picked up Medium, that her husband's show Hung is doing well and that she soon gets to live out a childhood dream by being in a Night of the Living Dead-themed Halloween episode.
"I love that movie," she told reporters at CBS' Television Critics Association day. "When I was a teenager, it was kind of like when you start breaking away from the establishment and your parents. It's like you find these jewels after school...in the hot California sun, watching this weird movie. I love a good monster movie; here I am in a monster show. I'm the monster, but it's exciting."
She chatted up reporters after the panel yesterday to dish about that and then some...
How is the Night of the Living Dead-themed Halloween episode going to work?
That's a good question. I'm not sure. I don't know what color screen we use now, green screen, blue screen, silver screen, gold screen.
Tell us about your new short 'do.
It was written in the script that I had this brain tumor. So when I came back, they said we can get you, like, 10 wigs, and you can get a wig on every day, or we can cut your hair, and I said, you know what, let's cut my hair. I love it. It feels really good.
Now that the kids are older, how does that affect the storylines?
We're only on our second episode right now, but there are aspects of this episode that we're just finishing where Ariel [Sofia Vassilieva] is kind of breaking away and testing the boundaries as a teenager. And then the littlest one, she's getting much more comfortable memorizing. And [she's] getting more dialog. She's getting more comfortable with her scholastic skills, so she's taking on more.
What did you think of Sofia in My Sister's Keeper?
I was crying and crying. I was really sobbing.
With the show picked up for a full 22 episodes, how does that affect how you work?
It's a mind-melder. I just have to go one day at a time. You do have to really pace yourself and with your family too. It's like being on a marathon. It's not even a problem.
When NBC didn't pick up the show, was there a moment where you were ready to move on?
I was OK. Really, my feeling was I would just miss being around everybody every day because it's like a family. It's like going to school. I was trying to look on the bright side, like, wow, I can spend time with my daughter and this would be good. And my husband [Thomas Jane, who plays a prostitute on HBO's Hung] was starting a show. So he can do that. And that'll be good.
What do you think of your husband's show Hung?
I thought it was great. I love it. I told him to do it. Me and my sister convinced him. [He was like] "I don't know if I want to do TV." What are you talking about?
Did you know about the nudity on Hung?
Yeah. He's pretty comfortable. I mean, we went to Burning Man, and I was like, "Well [are you going to] get naked the whole time?" And he was like, "No because everybody else is naked." He likes being the only naked person.
What do you think of the upcoming Night of the Living Dead-inspired ep of Medium? Let us know your thoughts in the comments below.
________
For more from Patricia about the new season of Medium, check this out!