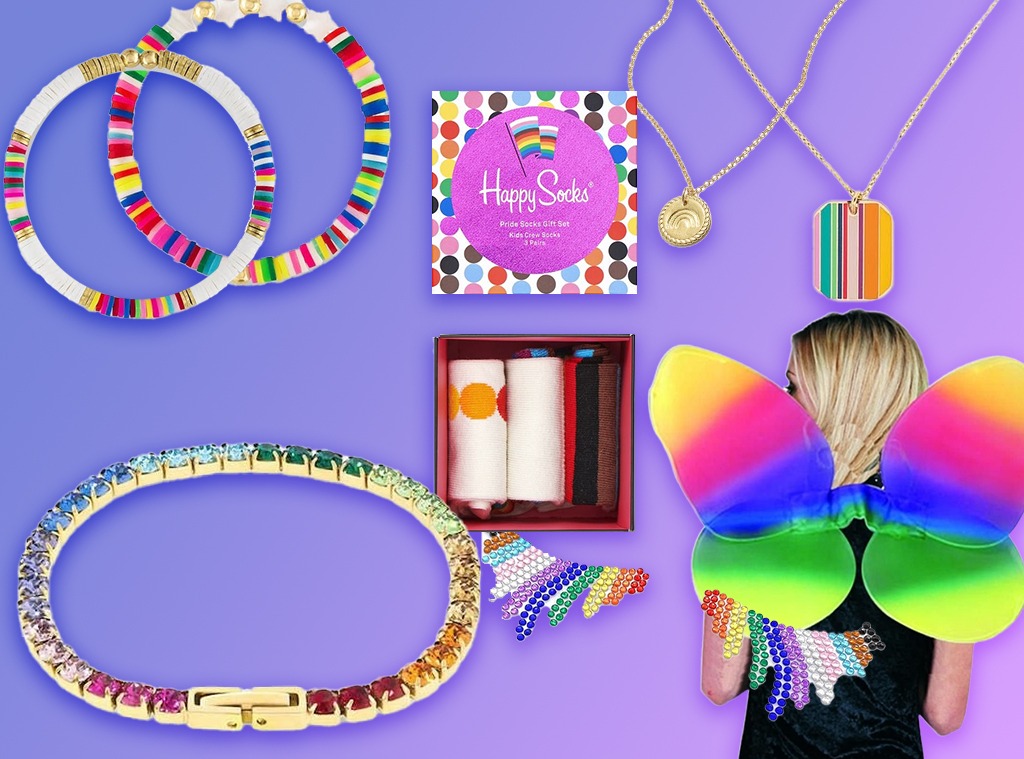 The brands featured in this article are partners of NBCUniversal Checkout. E! makes a commission on your purchase. Prices are accurate as of publish time. Items are sold by retailer, not E!.
The month of June is often synonymous with "Pride;" it's a weeks-long celebration of all things proud, inclusive, and historic. (And allyship, of course, but let's not try to make just this one thing about us, okay?)
As a result, June is sprinkled with readings, lectures, parties, parades, events, and generally any kind of gathering you can think of that's designed to honor and support the LGBTQIA+ community. 
That said, Pride is about more than just sharing infographics on Instagram and reminding our queer friends and family how much we love them. It's about standing up, speaking out, and advocating for their continued health and safety.
The thing is, though, is that my job isn't any of those things. It's to help you find the best things you can buy online. And you know what? I'm more than happy to do that most times...and that includes now! Maybe even more right now, if that's possible.
So below, scroll on for 15 accessories for Pride Month that will keep the celebrations going all June (and year) long.
Sterling Forever Rainbow Heart Statement Ring
Dotted with glittering cubic zirconia gems, this ring is ideal for making an everyday statement.
Happy Socks 2-Pack Pride Socks Gift Set
What says pride (or ally) more than an eye-catching pair of themed socks?
Oliva Le Rio Rainbow Star Bracelet
Olivia Le's beaded bracelet brings a resort-like feel to daily (pride-inspired) dressing. 
Rainbow Wings Costume
Sure, rainbow wings aren't a just-running-errands type of look, but I feel like they should be.
Jecca Blac Drip Face Gems
For an equally lovely (and mildly more subtle) look, try out Jecca Blac's face gems in an inclusive range of colors.
Katie Dean Jewelry Rainbow Necklace
Or, you could really go with the classic and understated vibe in the form of this medallion necklace from Katie Dean Jewelry.
Hey Harper Serena Rainbow Tennis Bracelet
Tennis bracelet? Check. Glittering gems? Check. Glittering gems in the colors of the rainbow, making it versatile, vibrant, and with a dash of pride to boot? You betcha.
Happy Socks 3-Pack Kids Pride Socks Gift Set
Pride socks: Now for kids! Because you're never too young to learn the importance of being open-hearted.
Happy Socks Kids Pride Gift Box
For the really little ones (think toddlers), there's this themed gift box that I have to imagine includes the teeniest, tiniest, cutest pride socks that have ever existed.
Hey Harper The Rainbow Necklace
This striped rainbow necklace from Hey Harper matches with, oh, literally everything.
Dona Bela Shreds Pride Game Day Lite
Into DIY? This pride-themed set from Dona Bela Shreds lets you customize your look for the stands.
Happy Socks Pride 3-Pack Socks Gift Set
When a set of two pairs of themed socks aren't enough, go for the one with three. Or both. No one's ever been upset about being gifted five pairs of fabulous, wear-everywhere socks, you know?
Olivia Le Rainbow Seychelles Bracelet
From its beachy vibes to rainbow accents, Olivia Le's Seychelles bracelet has everything you need in the perfect summer accessory.
Pride Rainbow Cape
Okay, so, this one's not exactly an every day type of accessory, but I couldn't resist.