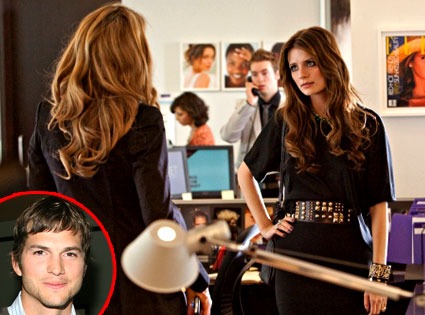 Takashi Seida/The CW, Angela Weiss/Getty Images
To hear Ashton Kutcher tell it, everything is copacetic with The Beautiful Life star Mischa Barton. Sure, she was recently hospitalized, and she wasn't at the Television Critics Association press tour this morning, and she's been plagued by "not! stable!" rumors since her O.C. days, but aplusk isn't letting anybody talk smack about his girl. Ashton told reporters, "[Mischa] was never unavailable for a day of work...Mischa's in New York working today."
Oh, and did we mention that Ashton also described Mischa, who plays supermodel Sonja Stone on the CW's upcoming fashionista series, as a grande dame of TV drama? Well, he didn't actually call her a dame, but close enough...
Ashton said, "The great thing about Mischa for this show is we have a lot of young cast. She's done it before. On The O.C. she was one of the leads in this big soap opera."
Because of all her experience, see, she'll be able to guide the younger castmembers through the trials and travails of television. (Never mind that costars Sara Paxton and Corbin Bleu have both been acting since preschool.) Per Ashton, "Navigation and guidance is important." See, Mischa's all old and experienced and grown-up and practically leading a ragtag gang of dwarves and hobbits in the war against Sauron.
Also, according to Ashton, you don't have to worry your pretty little heads that Mischa's part is being recast (or that in lieu of a straight recast there might be a new Sonja Stone-esque character coming to the fore): "[Mischa's role] is very prominent. She's one of our lead players."
Are you buying what Ashton is selling? Do you think Mischa is ready to lead another TV series?
The Beautiful Life premieres Sept. 16 at 9 p.m. on the CW.