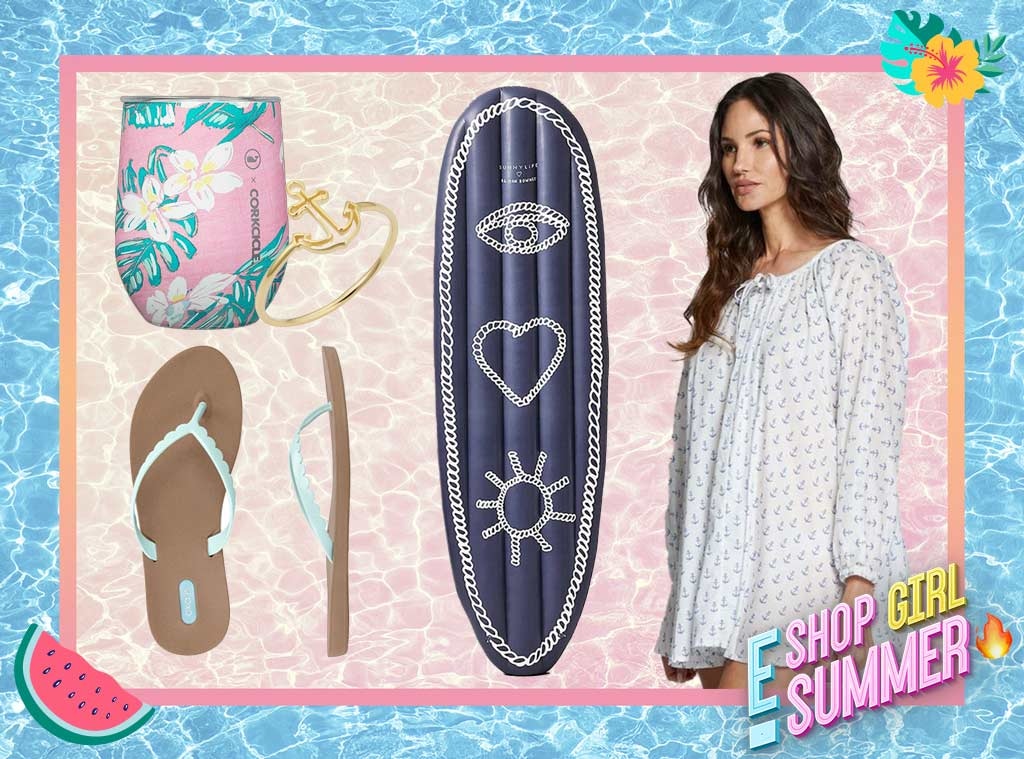 The brands featured in this article are partners of NBCUniversal Checkout. E! makes a commission on your purchase. Prices are accurate as of publish time. Items are sold by retailer, not E!.
Ahoy! Whether you're a fan of shows that take place on boats, a fan of shows that occasionally put the cast on a boat, or maybe old (and gold) comedy sketches about the joys of being on a boat, one thing is for sure: You want to be on a boat. At some point this season, at least. 
That makes sense. You deserve it! You work hard, and you do so much; enjoying some time on deck is like, the bare minimum of what you deserve. 
But once you've finally scored an invite to the yacht party of the year, or splashed out and booked one yourself, the question remains...are you ready for it?
Have you bought the right clothing? Did you remember sunscreen? Do boat people wear accessories? What if you're staying overnight? 
Fret not, my future yachties. I've put together this list of 21 essentials for when you're on a boat. Anchors aweigh!
Pour Les Femmes Anchors Nini Nightie
If you get to spend the night on it, you can't do much more on-point than a high-end, anchor-printed nightie.
Chaser Nautical Stripes
This preppy, nautical pullover is ideal for blending in with the yacht crowd.
Meredith Marks FBI Hat
Keep the sun off of your face with this cheeky cap from none other than RHOSLC's Meredith Marks.
Okabashi Bristol Flip Flop
"Lightweight, comfortable, and durable" per the brand, these Okabashi flippy-floppies are always essential.
Dona Bela Shreds Nautical Twistee
Make an instant impact with this versatile (and customizable!) accessory. It's made with "upcycled" materials, BTW, so you can feel good about it, too.
Aaliyah Polarized Sunglasses
What's better than a pair of cute acetate frames with polarized, UVA/UVB-blocking lenses and nose pads for extra comfort? Getting them on sale.
Curvy Beach Swimwear High Waisted Bottoms
Made by fuller-figured babes, for fuller-figured babes, these high-waisted bottoms from Curvy Beach Swimwear include the "signature" gathered style in the back for a maximally flattering fit.
Curvy Beach Swimwear Triangle Top
I mean, if you're going to finally invest in cute bottoms that genuinely fit, you deserve a sexy triangle top to go with them.
Cozy Earth Premium Silk Cozy Earth Scrunchies
Cozy Earth's scrunchie trio keeps your strands away from your face without ruining your 'do. Not everyone wants to wear a hat, and I respect that. 
Riomar Deck Driver - Blue Marlin
There are deck shoes, and then there are shoes from Riomar. This pair is nonskid, antimicrobial, waterproof, and most importantly, comfortable. Per Riomar, the Deck Driver "performs equally well on or off the water," and is a pair that's truly built to last.
Riomar Anchor
Fyi, "Riomar patented interchangeable bearings are forged from 304 stainless steel and hand tied in the USA by commercial fisherman," according to the brand. They add that "the threaded pin design allows for a quick change on the same pair of shoes, or to other Riomar models."
Joanna Buchanan Anchor Swizzle Sticks
Whether you're hosting with flair or a guest hoping you brought the right thing, these anchor-topped swizzle sticks will make everyone smile. Also, they're basically an excuse to have another cocktail. Everyone wins!
Oradina My Anchor Ring
Oradina's My Anchor ring was crafted in Italy from 14K solid yellow gold. It also infuses any look with boat-ready flair. 
Corkcicle Vineyard Vines Stemless
Add some preppy flair to your morning coffee (which will stay warm for up to 3 hours) or afternoon glass of chardonnay (which will stay cool for up to 9 hours) with this stemless glass from Corkcicle in collaboration with Vineyard Vines.
Avera Seashore Charm Bracelet
If you aren't sold on the name alone, just look at the charms. Helps you go from zero to Boat Mode in the time that it takes you to put on a bracelet.
Joanna Buchanan Nautical Wine Charms
Joanna Buchanan's nautical flag wine charms are just waiting for an opportunity to set sail with you.
SUNNYLIFE Luxe Lie-On Float | I Love Sun
Sure, yes, it seems like being on a boat or yacht is meant to be the core of your offshore experience. But that doesn't mean you shouldn't be prepared to float next to it in style on a moment's notice! 
Joey Baby Amber Necklace
Joey Baby's Amber necklace is made with a mix of delicate rainbow beads and textured freshwater pearls. It'll add a subtle touch of texture to your yacht ensembles. 
Kenny Flowers The Monte Carlo Sarong
An endlessly stylish and ultra-versatile sarong, the Monte Carlo piece is a vacay must.
Kenny Flowers The Mister Monte Carlo
Oh, and you can ensure your partner looks good, too. The trunks are mid-length and fully lined. Plus, they're made in the same limited edition quantities in Bali as the coordinating sarong.
Unsun Cosmetics EVERYDAY Mineral Tinted Face Sunscreen
Unsun Cosmetics knows what they're doing, so I'll let the brand take it from here. "Unsun Everyday Mineral Tinted Face Sunscreen is the lightweight, everyday version of our hero powerhouse," the brand says. They add that "with a silky finish, Everyday provides sun protection without the white residue and leaves a beautiful shield against the sun's harmful rays." Use it!!!!!