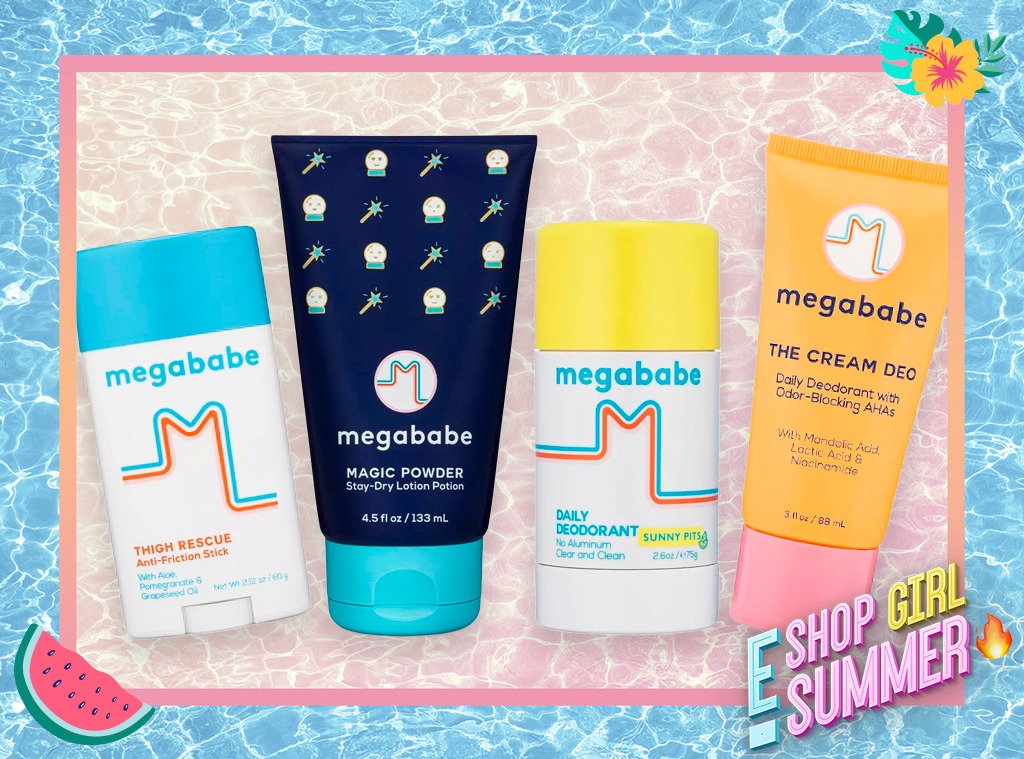 The brands featured in this article are partners of NBCUniversal Checkout. E! makes a commission on your purchase. Prices are accurate as of publish time. Items are sold by retailer, not E!.
Oh, the dog days of summer. The season-within-the season of the year where hemlines even get shorter, clothes get billowy-er, and the sweating really ramps up. My god, the sweating. It's one of those things that we, as people, tend not to really talk about, either. It's kind of gross!
The perspiration, the aroma, the chafing...it leads to a lot of unpleasantness during the half of the year that common sense tells us to go buckwild for. Which is why, in the parlance of the internet, we're screaming, crying, throwing up over Megababe.
Megababe is a "vegan, cruelty-free, clean, and effective" line of products designed to target our least favorite thing (sweating) in the places we're comfortable talking about it, as well as those we'd never admit. Boob sweat? Yup, they have it covered. What about toes? Yes, they have a specialty product for that too.
Okay, but, what about the dreaded inner-thigh chafing? Surely, that's such an open secret by now, they've skipped it in favor of more specialty products? Nope. Megababe covered that too. 
So whether you're in the market for a cream, a lotion, a powder, or anything else to keep you feeling dry and smelling fresh throughout the swampy season, Megababe makes something for you. Well, us. Because, honestly? We all deal with it. 
Megababe The Cream Deo Daily Deodorant
Cream deodorant? Hey, hear them out. "Made with 5% AHAs, [this] is your 100% natural defense against odor, ingrowns and uneven skin tone," says Megababe. Plus, "mandelic and lactic acids do double duty, creating an acidic pH level that helps block odor-causing bacteria while also penetrating clogged pores." On top of that, they say "niacinamide, squalane and vitamin E join to help improve skin tone and encourage smoother, softer skin with daily use."
Megababe Daily Deodorant
This aluminum-free daily deodorant is "a plant-powered deodorant that uses enzymes and extracts to break down odor and fight wetness," per Megababe. It includes "antioxidant-rich botanicals" but does not include baking soda, and "glides on like a dream [without] tugging or sticky residue."
Megababe Magic Powder Lotion
Anything with "magic" in the name deserves a sideways glance, but it sure seems like Megababe named it so for a reason. For anyone "sick of sweat dripping down your back, soaking your bra, drenching your shoes, or trickling at your waistband," states the brand, "Magic Powder balances corn starch, a natural sweat-absorbing ingredient, with extracts and oils for a lightweight lotion that keeps skin (and clothes) drier, longer."
Megababe Bust Dust Anti-Boob-Sweat Spray
I could not imagine someone actually making the product of my dreams. And then Megababe was like, "Yo, we got you." As the brand says, "this 100% natural powder is the final word on boob sweat." It's formulated with "bacteria-fighting lavender and soothing chamomile," to prevent sweat from ruining our favorite summer shirts. As for how it works? "The ultrafine powder absorbs moisture in real time, helping to keep skin and clothing dry."
Megababe Thigh Rescue Lotion Anti-Chafe Stick
I mean, it's right there in the name. This Holy Grail of warm-weather beauty essentials! Mamma Mia. They really did it.
Megababe Geo Deo Daily Deodorant
Megababe says that this daily deodorant offers "the perfect blend of B.O.-blocking and skin-boosting ingredients." Plus, it's suitable for all skin types. 
Megababe Happy Pits Detoxifying Underarm Mask
Designed to free your underarms of ?toxins, bacteria, chemicals, dirt and oil," this "100% natural mask" incorporates charcoal to "pull impurities to the skin's surface," according to Megababe. Goodbye, icky pits. Hello, tank tops.
These wearable safety accessories from smart jewelry line invisaWear will help offer peace of mind throughout your hot girl summer (and beyond).