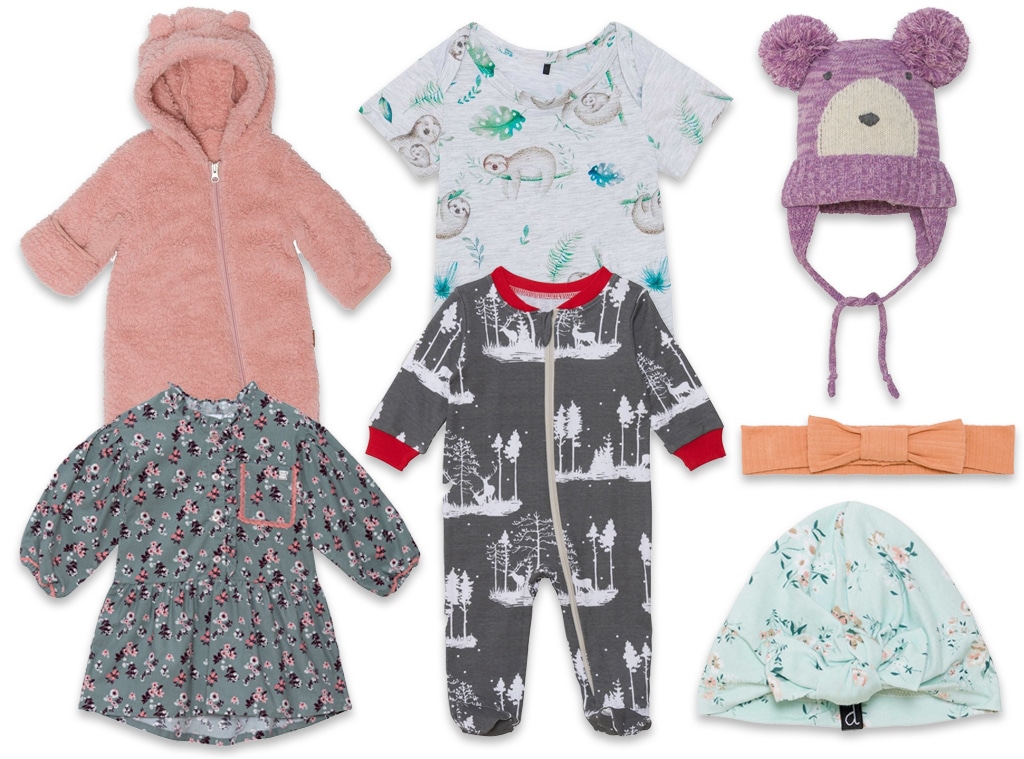 The brands featured in this article are partners of NBCUniversal Checkout. E! make a commission on your purchase. Prices are accurate as of publish time. Items are sold by retailer, not E!.
"Celebrating childhood since 1986," Deux par Deux proclaims on their website, they're "first and foremost a family story." How so? The proudly Canadian company "always offers comfortable and trendy clothing" for its clients, whom the brand describes as "the young and young at heart alike."
In other words: They make adorable, high-end, and on-trend clothing for babies and toddlers, often with 100% organic fabrics. Which makes them the ideal brand to shop when in search of a baby shower gift this season.
Per the Montreal-based company, the sweet product lines are "the fruit of 10000 days of creation and exploration," as well as "an inexhaustible source of inspiration and imagination," at the service their devoted customers. 
Expect soft colors, delicate prints, and really genuine thank-you notes from parents-to-be. I mean, seriously. Some of this stuff you'll wish came in adult sizes. So attending a baby shower just became really, really easy. Everyone shops the registry, right? Well, here are a few things that should have been on it in the first place.
Deux par Deux Baby Organic Cotton Turban
Whether your BFF wants to keep their little one warm, cover up the fact that they have no hair yet, or a secret third thing, they'll cherish having this floral-printed turban with which to do it. It even has a little bow on the front!
Deux par Deux Baby Organic Earflap Winter Hat
"With a bear face and fluffy pompom ears, our baby earflap winter hat [in] purple mix adds an extra layer of style and warmth on a cold day," says the brand. They further explain that the knit hat is "made from a poly/acrylic/wool/viscose blend and features an ear flap silhouette with rib knit trim and strings that tie beneath the chin" for cuteness and security in one.
Deux par Deux Baby Sloth-Printed Bodysuit
It's not like you're saying "your baby is going to move as slowly as a sloth," and more like "your baby will be as sweet as a sleeping one." I think, anyway.
Deux par Deux Baby Pointelle Romper
This pointelle romper is just....it's so cute, it defies description. The parent-to-be will want one for themselves, too. No question.
Deux par Deux Baby Organic Cotton Bow Headband
Nothing finishes an adorable outfit quite like a waffle-knit headband.
Deux par Deux Baby Organic Cotton Knot Headband
Although, a delicate, floral-printed headband is always a good look, too.
Deux par Deux Baby Spring Suit With Hat
From the brand: "Lined with cozy polar fleece, our spring suit with hat grey and pink vintage flowers is designed to keep baby warm and dry on chilly, wet days. This one-piece spring snowsuit is made from recycled poly fabric and features long sleeves, a zip front placket, elastic cuffs and ankles, and a soft polar fleece hat with straps that tie beneath the chin." Ideal for parents in non-temperate climates!
Deux par Deux Baby Organic Cotton Turban
This romantic turban puts a stylish finish on every baby outfit.
Deux par Deux Baby Muslin Printed Blanket
This 100% cotton, all-over floral printed blanket is a top-tier baby shower gift. 
Deux par Deux Baby Plush One Piece
I want this for myself, an adult woman, too badly to describe it neutrally. So I'll let the brand take it from here! "Our plush one piece brown is the best way to keep baby warm on a chilly day. This adorable one-piece suit is made from ultra-soft poly faux fur fabric and features long sleeves with hand mitts, an attached hood with animal ears, an asymmetrical zipper closure, and roll-back cuffs to warm the toes."
Deux par Deux Baby Organic Earflap Winter Hat
For the fashionably monochromatic baby, there's the bear-face hat in cream and grey.
Deux par Deux Baby Organic Cotton Christmas Family One Piece Pajama Deer Print
Sure, the baby might still be totally baby-sized by the holidays, but at least you tried.
Deux par Deux Baby Blue Floral Printed Bodysuit
"Baby is sure to love the soft feel, comfortable fit, and adorable design of our printed bodysuit flower pastel blue. Detailed with a pretty allover floral print, this soft cotton bodysuit is oh-so-versatile in a short sleeve silhouette with a round neckline, overlapped shoulders, and bottom snaps," per Deux par Deux.
Deux par Deux Baby Pink Floral Printed Bodysuit
And here's the same precious one in a sweetly girly-girl pink.
Deux par Deux Baby Corduroy Long Sleeve Tunic
According to Deux par Deux, "Little ruffles put the perfect finishing touch on [their] baby corduroy long sleeve tunic [with] printed flowers. This tunic features long sleeves with elastic cuffs, a round neckline with ruffles, and a button front placket with ruffle trim. It's finished with a left chest patch pocket with contrast lace trim." Beyond cute. Just beyond.