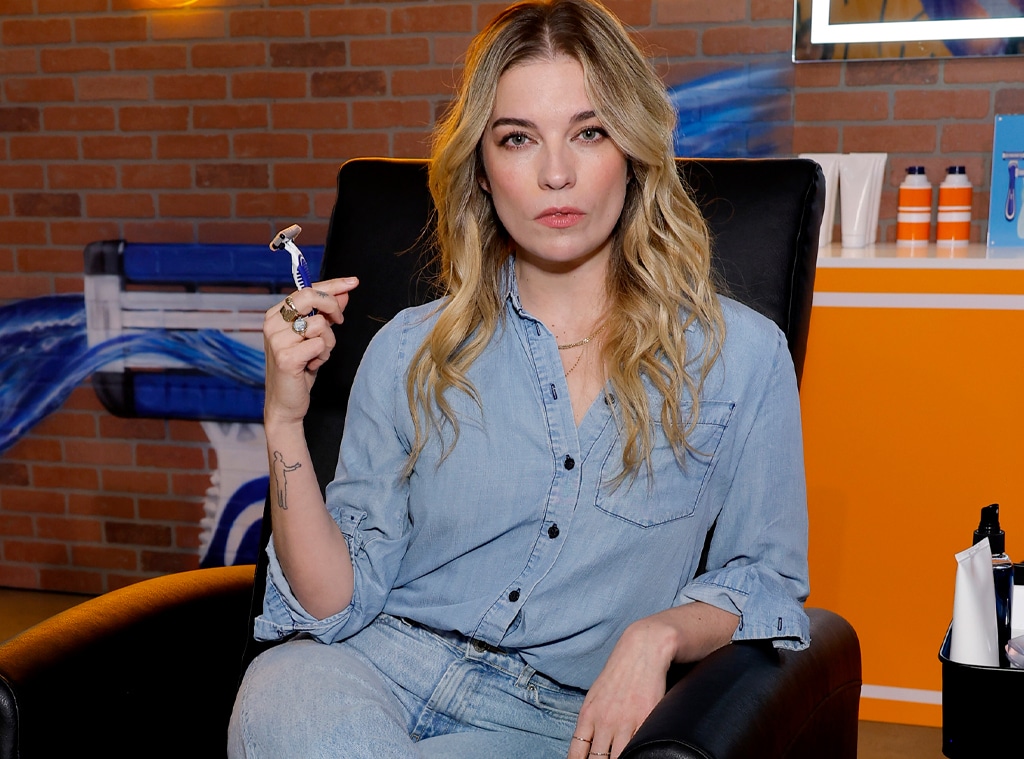 Courtesy of BIC
We interviewed Annie Murphy because we think you'll like her picks. Annie is a paid spokesperson for BIC. E! has affiliate relationships, so we may get a commission if you purchase something through our links. Items are sold by the retailer, not E!. Prices are accurate as of publish time.
A razor is one of those products most of us have to buy, but it's hard to find the right razor for you. If you're frustrated by your current razor situation, Annie Murphy recommends the BIC EasyRinse Anti-Clogging Women's Disposable Razor. The Schitt's Creek alum explained, "It doesn't get all clogged up with all of the unruly hair that I'm shaving off! I mean you, that you're shaving off."
Annie teamed up with BIC for a campaign featuring Eric Andre. She recalled, "I got a call asking if I'd like to pretend to be nude in a shower that was next to a shower that Eric Andre was pretending to be nude, whilst pedaling razors, and I was like 'it's as if my dream board is working!' 
This BIC razor has become one of Annie's must-have products. In an exclusive E! interview, she shared the additional essentials she can't live without, including this $8 brush with 53,000+ 5-star Amazon reviews. She also recommends this budget-friendly mascara she has been using since she was a teen. Keep on reading to find out more about Annie's favorites.
BIC EasyRinse Anti-Clogging Women's Disposable Razors- 6 Count
These anti-clogging razors deliver a smooth shave with less irritation, according to BIC. The strips are enriched with aloe vera and Vitamin E.
Kiehl's Buttermask for Lips
E!: Name a beauty product that you never leave the house without.
AM: Kiehl's Overnight Lip Treatment. Except I lost it in the security scanner at the airport last week and now I'm chapped as heck.
Annie's pick has 41.6K+ Sephora Loves.
Wet Brush Original Detangling Hair Brush
E!: What's your favorite beauty product under $25? What do you enjoy about this product?
AM: I love a good Wet Brush, as I have very little patience with tangles, but still like having hair.
Annie's pick has 53,000+ 5-star Amazon reviews and there are many colors to choose from.
L'Oreal Paris Makeup Voluminous Mascara
E!: Is there a product that you've used forever that doesn't get the hype it deserves?
AM: L'Oreal Voluminous Mascara in "very black". I've been using it since I was a teenager and I love that it hasn't made my eyelashes fall off yet! 
This mascara has 7,200+ 5-star Amazon reviews.
Sensodyne Repair and Protect Whitening Toothpaste, Toothpaste for Sensitive Teeth and Cavity Prevention (Pack of 2)
E!: What is a beauty product you always buy at least two of?
AM: Is Sensodyne Toothpaste a beauty product?
Annie's pick has 33,300+ 5-star Amazon reviews.
Things Annie Murphy Can't Live Without
If you want to do some more Annie-inspired shopping, you'll love these picks from the star.
Haribo Goldbears
"I recommend putting them in a bowl and leaving them on the counter for a few days before consuming."
A Moveable Feast by Ernest Hemingway
"If you like fantasizing about being a lush/struggling artist in Paris in the 1920's, this is the book for you!"
Annie recommends getting this book from the Toronto Public Library. This book has 4,000+ 5-star Amazon reviews.
Caudalie Premier Cru Anti-Aging Eye Cream for Fine Lines and Wrinkles
"This is expensive, but has managed to convince me that I'll be 18 in no time!"
Annie's recommendation has 34.5K+ Sephora Loves.
Mejuri Croissant Dôme Ring
"If you want to be a person who wears jewelry without being like 'Look I'm a Person Who Wears Jewelry,' Mejuri is a very good place to shop and has a whole bunch of different price points."
Annie's Macaroni and Cheese Dinner, Classic Mild Cheddar (4 Pack)
"Please do yourself a favor, cook this up using herb and garlic cream cheese instead of butter, slap some cut up hotdogs in there, and call me when you're back from heaven."
FP Movement Training Day Jumpsuit
"If you want to live in something until you die, and then be super cozy in your coffin, this comes highly recommended by me."