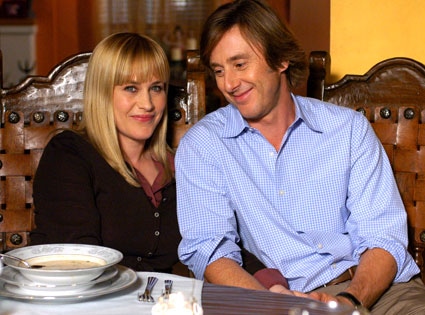 Gale M. Adler / NBC Photo
CBS sure knows how to treat reporters. At today's Television Critics Association panels, the network treated us to free Skittles, condoms, ice cream sundaes and, oh yeah, some stellar talent as well.
On hand to talk up their shows were Jenna Elfman and Grant Show (Accidentally on Purpose), Julianna Margulies (The Good Wife) and Patricia Arquette and Jake Weber (Medium), among others.
Here are the highlights...
Medium: Patricia Arquette isn't just sporting a sassy new short 'do for the next season of Medium, she'll also be getting back into the horror business.
Show runner Glenn Gordon Caron revealed that the episode airing before Halloween will be based on the zombie-horror classic Night of the Living Dead. "We're going to insert Patricia into it," said Glenn. "It's going to sort of be the landscape of her dreams during that particular episode."
"I'm so excited about it because I love that movie," said Patricia, whose big break was in A Nightmare on Elm Street Part 3: Dream Warriors.
What else can we expect next season? Marc Webb, who directed the Zooey Deschanel film 500 Days of Summer, will direct an episode, and Glenn hopes to get David Arquette back to direct an ep and possibly act too. (Patricia told us after the panel that she'd love to get Alexis Arquette on the show too.)
So, does the brain tumor affect her special abilities? "A little bit, yeah. The first few episodes," she told reporters after the panel while also noting that the haircut is because of the character's brain tumor and that she chose the chopped locks over using wigs. "[Her dreams] are not showing up exactly the same way, and she's not even sure if they will, and it's been several months."
Medium returns on CBS Sept. 25 at 9 p.m.
The Good Wife: "I wasn't eager at all to get back into a court drama, because they're hard," laughed Julianna Margulies, who plays junior attorney Alicia Florrick, the wife of a State's Attorney Peter Florrick (Chris Noth) who loses his job and goes to jail following a sex scandal with prostitutes. "But I found her incredibly different. It's a great backdrop for her development, and that's how I see it."
Julianna (whose last legal drama was 2008's Canterbury's Law) added, "I loved how complicated she is. This is a woman who thought her life was going one way for many, many years and who trusted that life and that world she lived in. And then everything crumbles."
Expect two things to come: Chris Noth's character "might" be released from jail early, and there are no plans to have any real-life "good wives" (à la, Mrs. Spitzer) make appearances on the show or contribute to storylines. (As if!) "I think all those women are way too classy," said Julianna, who, by the way, had to slap Chris three times to get it just right. And by "just right," we mean she had to leave that red welt on his face that we see in the pilot.
"Chris Noth is so great," she added. "He was like, 'Oh please. I've been hit so many times.' "
The Good Wife debuts on CBS Sept. 22 at 10 p.m.
Accidentally on Purpose: Jenna Elfman is back on the small screen in the supercute tale of Billie, a San Francisco movie critic who tries to mend her broken heart with an uncharacteristic one-night stand—and ends up with a baby on the way. 
During the panel, Jenna couldn't stop gushing about how thrilled she is to be a part of this project. "I am so grateful. I've been doing nothing but trying to do another show on television," she said. "What excited me was that this character was so refreshing. I love her wit, which really comes from [executive producer] Claudia [Lonow]. And it was actually funny, which seems like a tough thing to find."
What about Billie's sidekick Olivia, played by the real-life preggo Ashley Jensen? "They have to accommodate that I have a little protuberance, so I'll be carrying a large purse and manila envelopes," she said. She's happy to relocate to the West Coast from New York's Ugly Betty, but noted that she's "not getting as many air miles" anymore.
And forget Grant Show's role on Accidentally—the still-sexy star spilled that he is in talks to guest on Melrose Place, although maybe not this season. "We haven't found the right form yet, and I'm not sure they really need me this year. Maybe next year. I'm not opposed to it. Anything could happen," said Show. Fingers crossed for a Jake Hanson resurrection!
Accidentally on Purpose debuts on CBS Sept. 21 at 8:30 p.m.
Emmy Blabber: Host and show producer Neil Patrick Harris joined CBS execs Don Mischer and John Shaffner via satellite to chat about this year's newly revamped Emmy broadcast. Unfortunately, today found some very unhappy show runners around Hollywood, as it was announced that the Academy will be removing writing awards from the live telecast. John and Don attempted to keep things light, explaining that this year the awards aim to be more entertaining by showing more recognizable faces on air instead of directors, writers and producers.
Really, the best part of the panel was watching NPH on the big screen as he adorably pretended to be an active participant in the room. When the conference ended suddenly, Neil looked shocked and signed off with a silly, "Wow, that was fast. See you guys."
CBS Tidbits: CBS Entertainment President Nina Tassler says that we're going to see a different Laurence Fishburne next season on CSI. "He's had a little bit of a wardrobe makeover," she said. "Our research and our fans said they really love Fishburne, and respect him. They just wanted to see him sort of more comfortable in his clothes." She promises that fans (or naysayers) will be "happy with what they see." She also said that though it hasn't been talked about yet, a crossover between Ghost Whisperer and Medium is "possible."
What do you think of CBS' lineup? Sound off in the comments below.