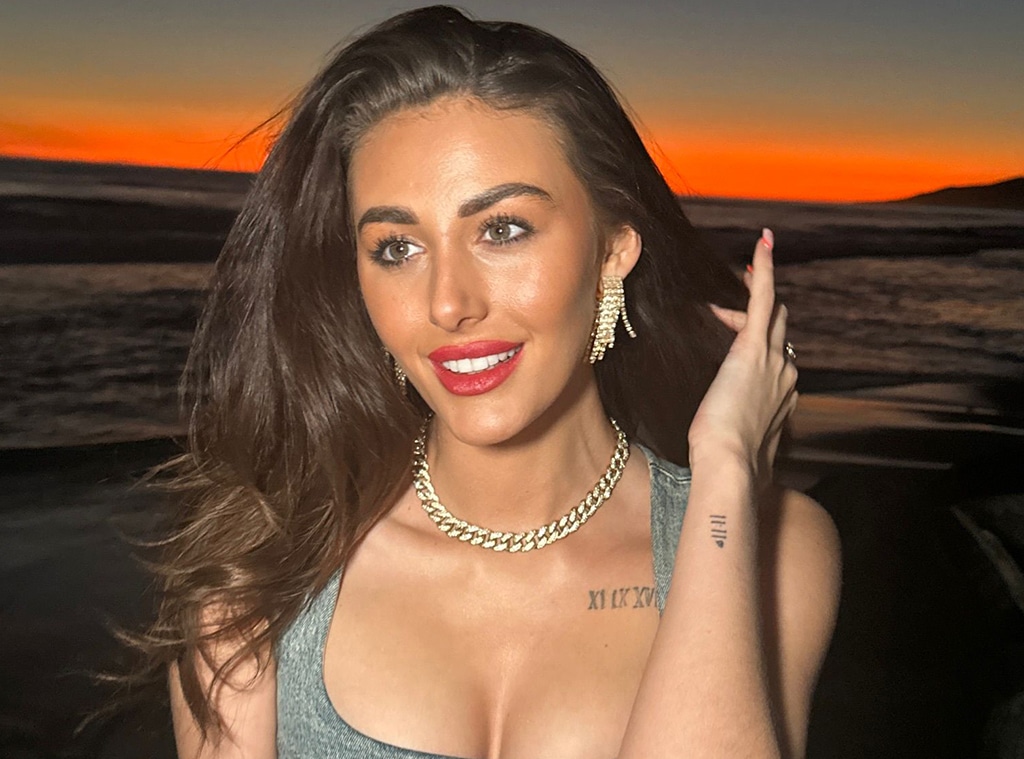 Courtesy of Chloe Veitch
We interviewed Chloe Veitch because we think you'll like her picks. E! has affiliate relationships, so we may get a commission if you purchase something through our links. Items are sold by the retailer, not E!. Prices are accurate as of publish time.
Chloe Veitch is all about keeping it real. Whether you know the model and reality TV star from her roles in Too Hot to Handle or Perfect Match, her bubbly, honest personality always takes center stage. Chloe shared her infectious energy with E! and shared all the essential products she keeps in her handbag.
"Something I always keep in my bag when I'm on set is my Mac lipstick, just in case I'm feeling sultry," she shares. "A packet of mints, a few hair bands just in case my hair needs to go up and an eyebrow brush, so I can tame my baby hairs and my eyebrows!"
Aside from her top tech and beauty must-have items, Chloe unveils that she also carries around her Alcoholics Anonymous book to lift her spirits whenever she's feeling down and support her sobriety journey, along with "a note that helps me manifest becoming an actor. It says 'You are an actor. Think like an actor. Become an actor.'"
"As long as I reach out to people and share my problems— a problem shared is a problem halved— it helps me get to my best self," Chloe further shares. "And I also watch myself on YouTube if I'm feeling down to remind myself where I came from."
Read ahead to check out more of Chloe's must-have products that never go missing from her handbag.
Dior Medium Toile De Jouy Embroidery Book Tote Bag
Cell Phone Fill Light
"I love this because it is portable and I can take good photographs wherever I go," Chloe says of this clip-on phone light. "The key to a good photo is great lighting."
Portable Charger Power Bank
"A portable power bank is my life and savior," Chloe says. "I always get anxious because I use my phone all the time and my battery dies quickly."
Got2B Schwarzkopf Glued for Brows & Edges
"This is my life and savior," Chloe says of this brow and hair gel with over 4,000 positive reviews. "It keeps my eyebrows in place. Sometimes I put it on my hair to straighten out my edges - it's perfect!"
Wishful Thirst Trap Juice Hyaluronic Acid & Peptide Hydrating Facial Serum
Mineralize Skinfinish
"This is my go-to shimmer bronzer," Chloe says, explaining that she likes a dewy complexion. "It makes my face look radiant and glowy."
Wishful Honey Whip Peptide and Collagen Moisturizer
Wishful Pillowgasm Vitamin-Rich Cherry Glow Sleep Mask
"I always buy Huda Beauty's skincare range in bulk because I use so much of it!" Chloe says. "I have the Honey Whip, the Pillowgasm, the Thirst Trap, ALL OF IT."
Amika Headstrong Intense Hold Hairspray
"My go-to grooming product would have to be hairspray," Chloe explains. "As long as I have moisturizer on my face and hairspray to slick back a high ponytail, I feel clean, fresh and ready to tackle the world. And it's so cheap!"
We suggest this Amika Headstrong Instense Hold Hairspray with over 1,800 positive reviews.