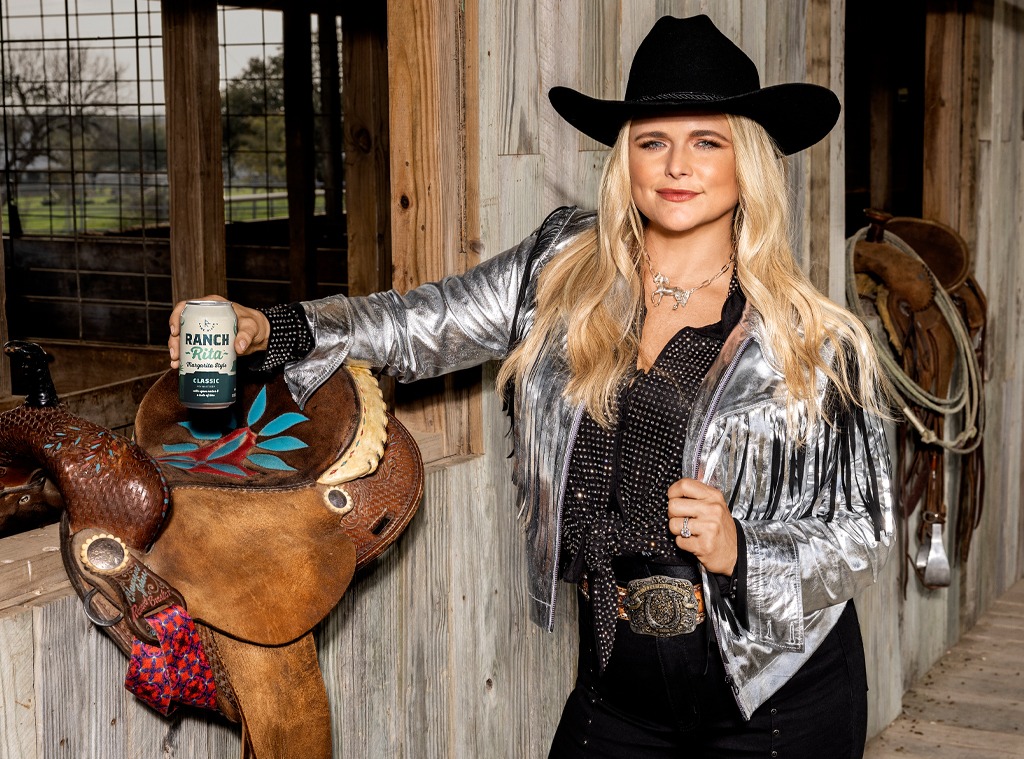 Courtesy of Lone River
We interviewed Miranda Lambert because we think you'll like her picks. Miranda is a paid spokesperson for Lone River Ranch Water E! has affiliate relationships, so we may get a commission if you purchase something through our links. Items are sold by the retailer, not E!. Prices are accurate as of publish time.
What happens in Vegas doesn't always stay in Vegas. Miranda Lambert's fans are raving about her residency at Planet Hollywood Resort & Casino. You can get tickets to Miranda Lambert: Velvet Rodeo The Las Vegas Residency for select dates through December 2023. This is a nice change of pace for the singer, who is usually on the road. She explained, "I love that I can stay in one spot for three weeks because I'm used to moving all the time on tour, so it's been nice to just chill."
In an exclusive E! interview, Miranda dished on her pre-show must-haves, including Lone River Ranch Water. She is the star of the most recent campaign for the premium tequila cocktails and they have become a backstage staple during her residency. Miranda also shared her go-to hair repair mask in between performances, the product she trusts to take off her makeup after a concert, and the snacks she keeps in the dressing room.
E!: Do you have any pre-show rituals backstage?
ML: We always do a shot of good tequila with the band and crew before we walk on stage.
E!: This Lone River Ranch Water campaign is all about being "untamed" and not following anyone else's rules. Tell us more about this message and the do-it-your-own-way mindset.
ML: I just feel like you have to be strong in who you are and really stick to your guns. Sometimes that leads to taking the longer way, or the harder road, but it's worth it in the end.
E!: This seems like the quintessential summer drink. Where are some of your favorite places/activities to consume a little ranch water? What are you most looking forward to this summer?
ML: Sunny summer days are my favorite adult beverage days. I'm excited to go float the river in South Texas this summer. We will definitely have a lot of Lone River with us for that!
E!: Are there any items that are essential to the backstage experience that may not be an obvious pick to us fans?
ML: Dogs! They're good moral support.
Miranda Lambert's Backstage Must-Haves
Lone River Ranch Water Variety Pack
"It's a quick, easy cocktail because it's already made for you. I like that! I'm loving the Rio Red Grapefruit flavor at the moment, but I really like them all."
Lay's Potato Chip Variety Pack (Pack of 40)
E!: Are there any go-to snacks that you always have backstage?
ML: We always have Lay's Potato Chips because they are supposedly good for singers since they are greasy… that's what I tell myself!
This variety pack has 51,700+ 5-star Amazon reviews.
111SKIN Rose Gold Brightening Facial Treatment Mask
Reduce redness, brighten skin, and hydrate with this mask, according to the brand. 111SKIN says the formula "has Liquorice Root Extract for complexion illumination, Silk Amino Acids for nourishment, and Centella Asiatica which improves skin integrity."
A shopper said, "These are so glorious. Love them before an event for a really fresh glow. Totally worth having a stash of these around."
111SKIN 8-Pack Rose Gold Illuminating Eye Mask
These hydrogel eye masks are moisturizing, skin-smoothing, and brightening, according to the brand. Put these on after cleansing and toning and leave them on for 20 minutes. For a super-refreshing experience, keep these in the fridge. 
SkinCeuticals Soothing Cleanser Foam
E!: When you're done with your performances, what products do you recommend to take off your makeup?
ML: I usually use SkinCeuticals Soothing Cleanser Foam, plus a makeup wipe because there's a lot of glitter involved!
K18 Leave-In Molecular Repair Hair Mask Treatment to Repair Damaged Hair - 4 Minutes to Reverse Damage from Bleach, Color, Chemical Service
True Botanicals Pure Radiance Oil
E!: It can get hot under the stage lights. What are some sweat-proof beauty products that you recommend to help your makeup last throughout the show?
ML: I like to use sunscreen under my makeup because I feel like the UV lights can be harsh on your skin, so I wear sunscreen all the time. That's my go-to beauty product in general. I also use tons of moisturizer, especially in Vegas. I love the True Botanicals face oil.
Miranda's pick has also been recommended by Brooke Shields, Lizzo, and Bling Empire star Kelly Mi Li.