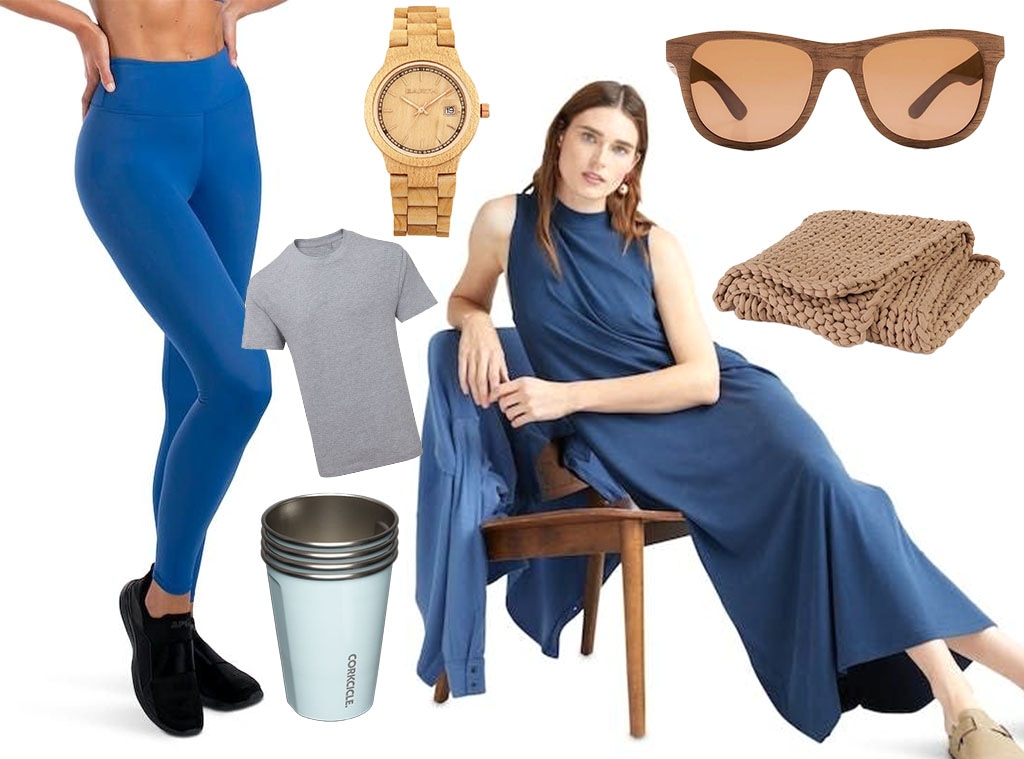 The brands featured in this article are partners of NBCUniversal Checkout. E! makes a commission on your purchase. Prices are accurate as of publish time. Items are sold by retailer, not E!.
Earth Day, traditionally celebrated on April 22 in the United States, is a surprisingly young holiday. It was first observed in 1970, which makes this its 53rd birthday, in a way. (OK, boomer.) (Well, Gen X, actually.) 
There are a ton of ways we honor the holiday; some plant trees, some do park clean-up, and some enjoy a good old-fashioned shopping spree.
Hear me out: With so many brands on the market these days committed to eco-conscious, sustainable, and generally "green" practices, learning about how to support them is just as vital as anything else.
If you've been looking to elevate your home or closet with eco-friendly basics, this week is an excellent one to do it. So I've put together this list of 15 sustainable clothing and home brands for you to learn about.
From sunglasses and watches to dresses and skirts, these proudly green labels can do it all. 
Bearaby Tree Napper
Per the brand, the Tree Napper is "made from natural eucalyptus fibers," making the "silky-soft and sustainable cooling weighted blanket perfect for hot sleepers."
Pursonic USA Natural Eco Bamboo Toothbrush & Recycled Packaging
Upgrade your oral health game with this set of 100% bamboo toothbrushes in 100% recyclable packing. According to Pursonic, the soft nylon bristles are gentle on the gums, and the entire product is BPA-free.
Lola Jeans Liana High-Rise Shorts
They're perfect for summer. They're stretchy. They're made from denim that, according to Lola Jeans, is "produced using 80% less water than conventional denim." How can that be? The brand "achieves this with technologies like textile recycling, ozone washing, and laser finishing," and they also focus on worker safety. 
Corkcicle Eco Stacker 4-Pack
Wave goodbye to single-use party cups and hello to insulated, endlessly reusable, and super-versatile "Stackers" from Corkcicle.
Brava Fabrics Mandarine Skirt
"Fair, sustainable, and ethically made in Portugal," per Brava Fabrics, this swishy Mandarine skirt is one you can look good in and feel good about.
Paneros Clothing Sun Dance Dress
Paneros Clothing describes itself as proudly offering "slow fashion" in "sustainable, luxurious fabrics." It's incredible that this feminine, fabulous, smocked bodice maxi with adjustable shoulder straps is one you can feel additional pride about rocking all summer long, but it's true. 
Dona Bela Shreds Pink Eco DIY Macrame Plant Hanger Kit
Okay, so, here's the skinny on Dona Bela Shreds. According to the brand, everything they offer comes from "eco-friendly, upcycled material" that's crafted from "new, unused textile remnants that consists primarily of a jersey cotton material." Plus, their packaging is "certified compostable." What's more Earth Day than assembling a plant holder from that? 
Heroine Sport Density Leggings
I'll let Heroine Sport speak for itself here: The say the Density is "your new go-to everything legging." Why? "Silky-soft and cool to the touch, with built-in compression and sustainable performance fabric," it's "the perfect [choice[ for every activity."
Richer Poorer Vintage Rib Column Dress
Richer Poorer's relaxed, everyday dress is "made from sustainable Lyocell rib fabric," so it's as comfy as it is eco-conscious.
Woodey Brown Oak Eco-Friendly Wood Sunglasses
Sunglasses crafted from wood, yet are also soft enough to be adaptable while sturdy enough to support polarized lenses? That also come in a bamboo carrying case? And have petite stainless steel hinges to anchor the frames? Yes, these are they.
Caalo Water-Resistant Travel Blazer
With a price point like this, you know it has to be worth it. That's why Caalo reassures its shoppers that this is "the perfect travel blazer." It's "lightweight, breathable and water-resistant," and "rolls up without wrinkling," making it "easily packable." On top of that, their "sustainable blazer" os crafted with "a fully-lined interior, cinch-able waist, button closure, and convenient removable hood." As with all of Caalo's essentials, it's "ethically and sustainably produced" in New York's famed Garment District.
Kinflyte Rise Bra - Eco Jersey
Every one of Kinflyte's bras is designed to be supportive, posture-enhancing, and suitable for A-J cups. On top of that, this one specifically is crafted with "medium-weight jersey composed of 79% upcycled polyester and 21% spandex," per Kinflyte. Oh, and it's "antibacterial, sweat-wicking, and odor resistant," too.
Earth Wood Biscayne Bracelet Watch
"Eco-friendly and splash-resistant," this watch (with date display) is a fashion-forward alternative to, uh, less green options.
DuetteNYC The Bond Boatneck Tunic
This effortlessly sophisticated top is made from DuetteNYC's signature "luxe fabric," which itself is "made from a sustainable combination of recycled and sustainably forested fibers," per the label.
Anthem Heavyweight T-Shirt
Made from vegan. heavyweight, organic yarn, this everyday tee is as soft as it is sustainable.
Be prepared for Wedding Season 2023 with these wedding guest dresses that are so good, they'll almost annoy the bride.