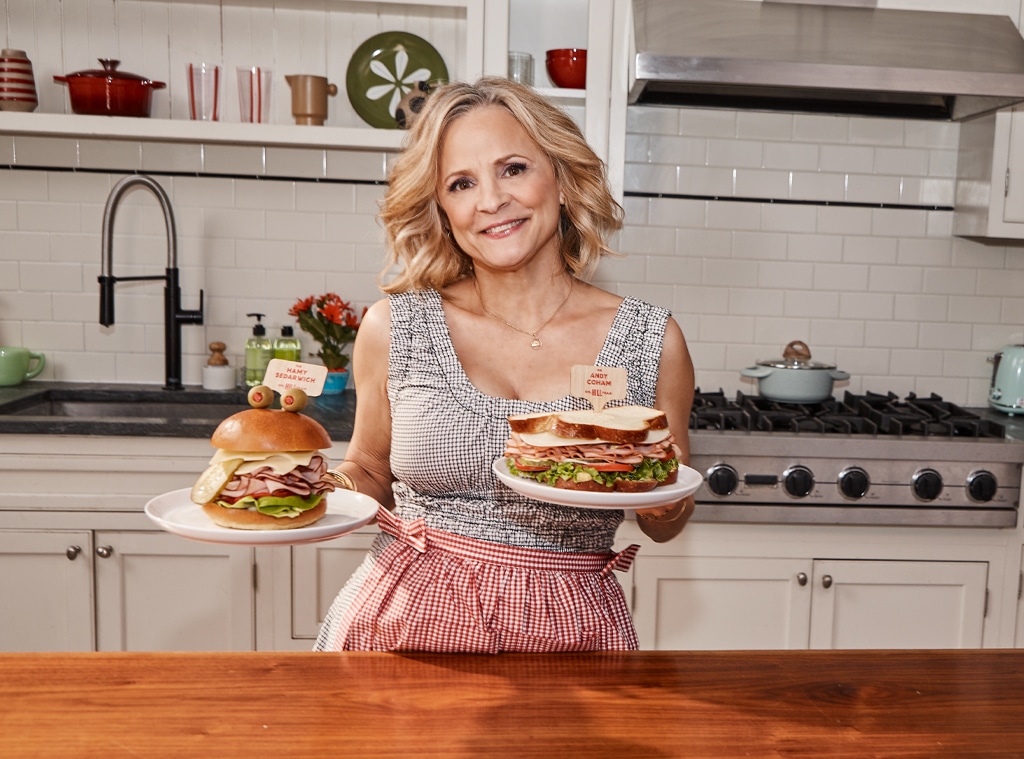 Danielle St. Laurent on behalf of Hillshire Farm
We interviewed Amy Sedaris because we think you'll like her picks at these prices. Amy is a paid spokesperson for Hillshire Farm. E! has affiliate relationships, so we may get a commission if you purchase something through our links. Items are sold by the retailer, not E!. Prices are accurate as of publish time.
If love sandwiches and pop culture, Amy Sedaris teamed up with Hillshire Farm for a campaign that celebrates iconic people with sandwiches. The comedian and culinary enthusiast came up with some mouth-watering recipes with punny names. Fan out over Amy with The Hamy Sedarwich. She honored her good friend Andy Cohen with the Andy Coham.
Amy shared, "Andy  likes a lot of pickles on his sandwich. We wanted something that seemed like it would come alive and be fun. Mine has ham on it and lettuce with a pickle tongue. It has swiss cheese on it and olives for eyes." In an exclusive E! interview, Amy talked sandwiches and her kitchen must-haves, including this top-rated must-have she uses daily.
Stay up to date with the latest Hillshire Farm content by following the brand on TikTok and Instagram.
E!: It doesn't get any better than sandwiches and pop culture. Tell me more about the Oh, Hill Yeah Campaign.
AS: You think about a celebrity and try to think about what their favorite sandwich would be. It's fun to think about what kind of bread would work with the meat and the spread. I always like going to the Hollywood diners with food named after people. It's just a more fun experience.
E!: Aside from great ingredients, the presentation of these sandwiches adds to the experience.
AS: Definitely. Don't just break out the cookie cutters for the kids' sandwiches. You can always make things fun. It's easy to make it special. You know?
Hillshire Farm Black Forest Ham
The Hamy Sedarwich Ingredients 
Swiss Cheese
Roasted Red Peppers
Brioche Bun 
Butter Lettuce
Olive Eyes
Pickle Tongue
Hillshire Farm Honey Ham
The Andy Coham Ingredients
Provolone
Mustard
Challah 
Lettuce
Tomato
Pickles
Shaved Onion
Wise Grab and Snack 50 -Variety Pack
Amy enjoys her sandwiches with some snacks on the side, including Wise chips, remarking, "I love Wise potato chips. I love that little logo with the owl. I'm hooked."
E!: What are some kitchen items that you repurchase most often?
AS: I always have feta cheese in my refrigerator. I have maraschino cherries with the stems on them for when kids come over. I always have  ingredients to make chocolate chip cookies. I love to bake with my god kids. I always have butter, salted or unsalted.
They say in the south that you should always have like a frozen cake in your freezer. If company comes by, you just take it out and let it thaw. I don't have frozen cake because I live alone and I will eat the whole cake, but it's a good idea. Having a frozen pizza in the freezer is a good idea just in case you don't have time to cook and you don't want to order delivery. It's always good to have something you can make last minute.
Soda Variety Pack- 8 Varieties (Pack of 22)
Zulay Metal 2-In-1 Lemon Lime Squeezer- Hand Juicer Lemon Squeezer
E!: Are there any affordable kitchen essentials that you get a lot of use out of?
AS: I use my lemon squeezer probably every day.
This item has 32,000+ 5-star Amazon reviews.
ChefSofi Mortar and Pestle Set
"I don't have counter space, so I don't have a lot of gadgets, but I do use a little grinder to make hummus."  
This mortar and pestle set has 14,900+ 5-star Amazon reviews.
KitchenAid Classic Series Stand Mixer, 4.5 Q
"I do have have a great mixer to make cookies. I have to store it in a cabinet up high, but it's so good. I have an old KitchenAid. I got it in the late 90s and I still use it."
This mixer has 6,300+ 5-star Amazon reviews.
KitchenAid KHM512WH 5-Speed Ultra Power Hand Mixer
"I love the little hand mixers too. You can use them for cooking or crafting. You can mix grout or paris plaster, stuff like that."
This mixer comes in many colors and it has 11,600+ 5-star Amazon reviews.
Simple Times: Crafts for Poor People by Amy Sedaris
"I have some fake sandwiches in my craft book. In my house, there's a big fake sandwich in there from my TV show."