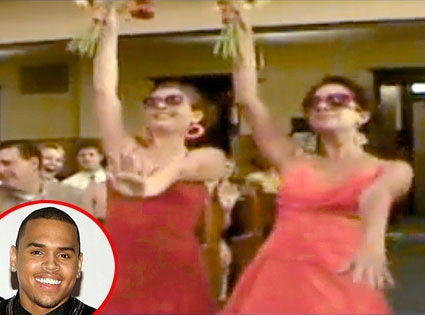 Stephen Lovekin/Getty Images
If Chris Brown makes a successful comeback in the post-Rihanna era, he'll owe a big debt to the YouTube Nation.
But it won't be because of that belated apology video he put up. Instead, he'll be thanking Jill Peterson and Kevin Heinz.
Yup, that couple whose wedding party shimmied down the aisle to "Forever" have become Internet sensations and thus have reinvigorated people's love for the feel-good song. The year-old Brown track is currently positioned in the Top 5 on iTunes and Amazon's MP3 store.
The singer is due in court next Wednesday for formal sentencing in relation to his charges for assaulting then-girlfriend Rihanna in February. Maybe, if he's lucky, the judge will have a soft spot for bridesmaids in shades.
________
Please don't tell us you haven't seen the now-infamous wedding entrance video. For that and more, check out our Battle of the Wedding Videos.