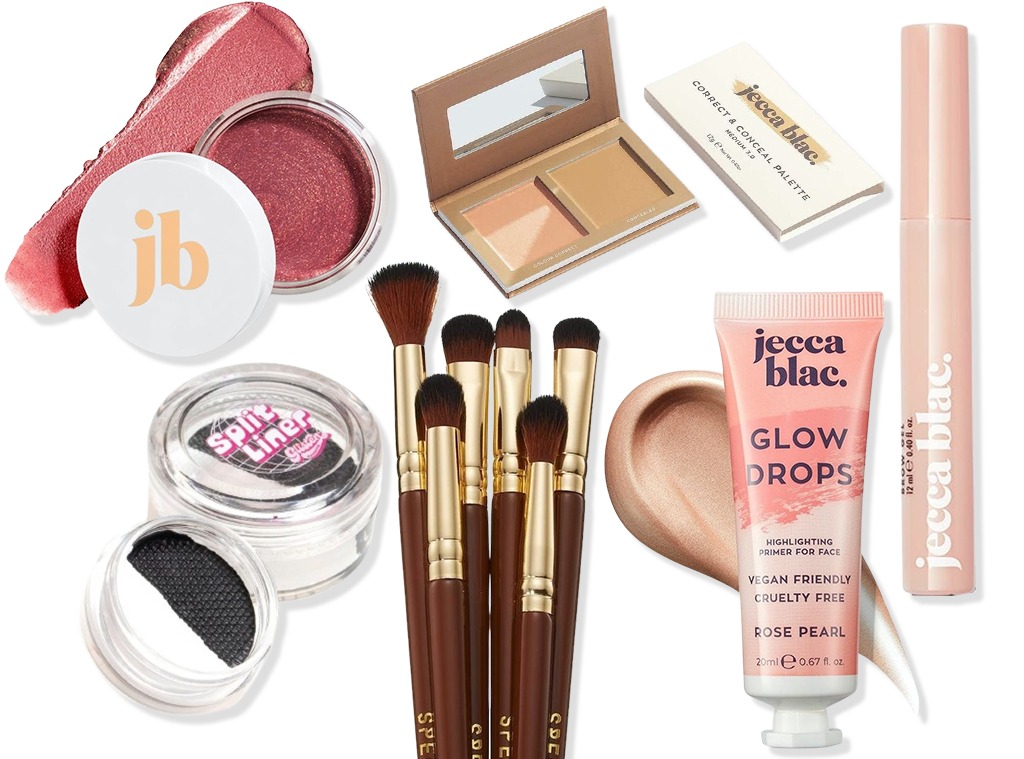 The brands featured in this article are partners of NBCUniversal Checkout. E! makes a commission on your purchase. Prices are accurate as of publish time. Items are sold by retailer, not E!.
If you haven't heard about Jecca Blac, today's an exciting day for us both. And if you have heard of the vegan, cruelty-free, and gender-free makeup line, then you know exactly how much there is to love about it. Either way: Let's dive in.
Jecca Blac offers an array of award-winning cosmetics that are legit designed for everyone. It's the signature line from UK-based makeup artist Jessica Black, who created a studio and "safe space" to help clients transitioning between genders achieve their ideal look.
This inclusivity is literally built into the company's mission statement. Per the brand, Jecca Blac "represents all beauty lovers: all expressions, genders, sexualities, abilities, pronouns, shapes and sizes." As a result, the cosmetics are simple, versatile, and timeless. You can customize an endless amount of looks that are totally you — and be part of a community at the same time.
Scroll on to learn more about this innovative brand, and maybe even find a few new favorite products along the way. 
Jecca Blac Circle Split Liner - Vibrant
This colorful palette helps you customize a new and vibrant look every time. Just "open lid, add a small amount of water to lid, dip brush into water (not too much) and then swirl the brush into the pigment" for an instantly fab look.
Jecca Blac Split Liner
If your look is a little more black and white, and a little less colors-of-the-rainbow, Jecca Blac's got something for you too.
Jecca Blac Liner Brush 3
Tired of imprecise and sloppy eyeliner wings? This brush is here to help. 
Jecca Blac Blac Liquid Concealer
This "full-coverage base product" offers an effortless way to cover redness, bumps, blemishes and more, delivering a smoothed appearance to build the rest of your foundation on.
Jecca Blac Brow Seal & Block
Honestly, the brand describes this beloved duo best: "Once brows are flattened and laminated using Brow Seal, Brow Block is the ultimate next step for providing a seamless base for fully concealing and blocking brows. With your brows concealed, discover next-level makeup freedom for drawing an entirely new brow shape - or go brow-free for experimental, editorial freedom to eye makeup looks."
Jecca Blac Blac Rainbow Drip Face Gems
Whether you're getting your TV-inspired, TikTok-inspired, Gen-Z-approved look on, headed to Pride, or something in between, these gorgeous face gems (in the LGBTQIA+ flag!) instantly elevate your look.
Jecca Blac Play Pot
Would you believe me if I said this product is more than just an adorable name? If you've made it this far in the list, then I certainly hope so. The Play Pot is a "versatile cream pigment" that can be used as a blush, highlight, lip treatment, and if you're feeling extra saucy? It adds a certain something to eye makeup, too.
Jecca Blac Correct & Conceal Palette
The best-selling Correct & Conceal Palette won the 2020 "Beauty Bible Awards," and it's no wonder why: The "creamy formula" is not just "blendable," but has a "skin-like finish." On top of that, the medium-coverage product works as an all-over base, but can be used to treat "under-eye darkness, acne, scarring, and beard shadow."
Jecca Blac Spectrum Pantherine 5 Piece Face Brush Set
This 5-piece set includes two foundation brushes (one for a lighter, dewier finish; one for full coverage), an angled cheek brush (for blush or contour), a tapered brush for highlighter, and a paddle brush for setting.
Jecca Blac Brow Seal
"Waterproof, comfortable to wear and non-flaky once dried," this brow seal is designed to help you achieve your ideal brow, every time (no matter how differently each ideal look may be).
Jecca Blac Hydrate Primer
Voila: A hydrating, moisturizing primer that also helps your makeup last longer.
Jecca Blac Blac Spectrum Pantherine 6 Piece Eye Set
Everything you need to help nail your eye look is right here. The bundle includes two blenders, one shader, and two detail brushes in a reusable pouch.
Jecca Blac Blur & Matte Primer
Searching for the elusive "smooth, long-lasting base," to no avail? Meet the Blur & Matte Primer. It "instantly minimizes pores" to help create a matte base before makeup application. Ideal for those with oily or uneven skin.
Jecca Blac Glow Drops Primer
Jecca Blac's highlighting Glow Drops "prep and brighten your complexion [for] a healthy, natural glow." The label recommends applying it directly to the skin before the rest of your makeup to boost your base look.
Jecca Blac Sculpt & Soften Palette
This "easy-to-blend cream contour duo" is more than just a makeup palette: It includes a 34-page (!) booklet on how to achieve your optimal look.