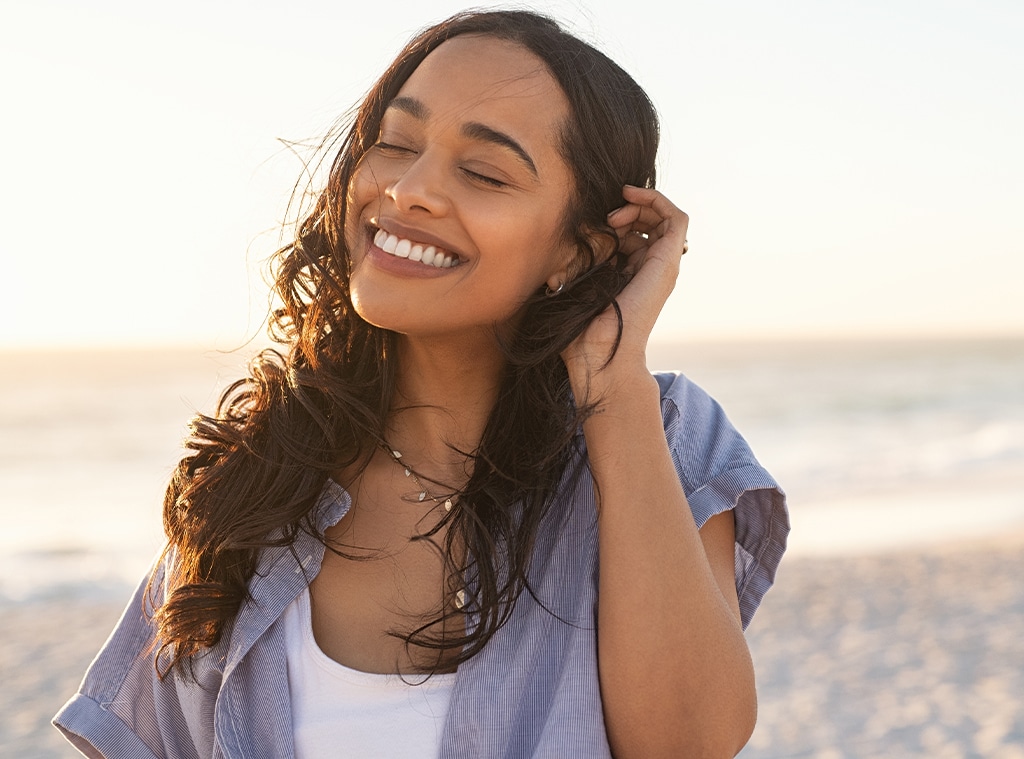 Getty Images
We independently selected these deals and products because we love them, and we think you might like them at these prices. E! has affiliate relationships, so we may get a commission if you purchase something through our links. Items are sold by the retailer, not E!. Prices are accurate as of publish time.
Sunscreen isn't just for the summer. Sun protection is important every season of the year. If you already feel like you don't have enough time to get ready, you may be rolling your eyes a the thought of adding yet another product to your beauty routine. However, you can actually save some time if you start using tinted sunscreen. Depending on which one you buy, a part-makeup, part-sunscreen product is the easiest way to get ready in a hurry. 
Some tinted sunscreens give great coverage, similar to a BB cream or CC cream. These are a great choice for no-makeup days and they can work as a great base under foundation. Other tinted sunscreens are more about adding some glow to your complexion. If you're not sure which product is the best for you, here are some top-rated, customer-loved options.
Top-Rated Tinted Sunscreens
Supergoop! CC Screen - SPF 50 PA++++ CC Cream, 100% Mineral Color-Corrector & Broad Spectrum Sunscreen - Tinted Moisturizer, Concealer & Buildable Coverage Foundation
You'll have a radiant complexion, this glowy sunscreen comes in 14 flexible shades. This mineral sunscreen has creamy, hydrating formula that feels light on your skin. It has 38.5K+ Sephora Loves.
A shopper said, "Holy Grail for Melasma / Hyperpigmentation. I have melasma (dark brown-grey patches all over my face), and this product provides top-notch protection against all the UV factors that can exacerbate my condition! For me, mineral, zinc oxide based sunscreens provide superior protection against UVA rays, and they don't absorb the rays and heat (which can trigger melasma) like chemical sunscreens. This CC Screen provides all the protection I need AND 90% coverage for my melasma patches... The coverage looks so natural -- not greasy at all."
Neutrogena Healthy Skin Anti-Aging Perfector Tinted Facial Moisturizer and Retinol Treatment
Prioritize skincare with this sunscreen that is formulated with retinol, antioxidants, and vitamins. There are several shades to choose from and this product delivers a sheer, lightweight coverage. It has 9,900+ 5-star Amazon reviews.
A fan of the product raved, "Fellow skin havers, THIS stuff rocks! I really needed something that wouldn't dry me out & has light coverage. It's got a slight moisturizing effect, & adds just enough tint to make my face look even & fresh. After the first week of using it, my skin has better texture & tone even after washing it. Neutrogena is FABULOUS that way. I'm so glad I found this product! Can't beat the price either."
Colorescience Brush-On Sunscreen Mineral Powder
If you usually prefer powder formulas, you would love this brush-on sunscreen. It's packaged for mess-free application, which makes it perfect for touch-ups when you are out and about. It comes in several shades and it has SPF 50. You can also use this powder to lock in your makeup and keep oil at bay.
A shopper gushed, "My face burns easily…I always get a very red nose and have to wear at least 50 SPF. I was just in Disney all week in 90 degree strong sun everyday and only used this on my face, no hat, and I didn't get burned at all. Barely even got tan on my face. I love that my face looks like I am wearing sheer makeup instead of greasy shiny sunscreen. Highly recommend."
Ilia Super Serum Skin Tint SPF 40 Foundation
Get a dewy look and sun protection with this Ilia tint. Shake it up and apply it the same way you'd apply a serum. It's lightweight and gives you that "your skin, but better" look. There are 30 shades to choose from. This product has 405.5K+ Sephora Loves and 2,200+ 5-star Amazon reviews. It's also a celeb favorite with recommendations from Summer House star Paige DeSorbo, The Bachelor's Caelynn Miller-Keyes, and Witney Carson from Dancing With the Stars.
A Sephora shopper said, "I LOVE this product. It gives the perfect amount of coverage on those days when you want a natural make up day."
Australian Gold Botanical SPF 50 Tinted Sunscreen for Face, Non-Chemical BB Cream & Mineral Sunscreen, Water-Resistant, Matte Finish, For Sensitive Facial Skin
This sunscreen has SPF 50 protection and it has a powder-like matte finish along with a subtle tint. Choose from three shades: fair to light, medium to tan, and rich to deep. This formula is water-resistant for 80 minutes. It's formulated with sensitive skin in mind— it's hypoallergenic, dermatologist-tested, and it has been accepted by the National Eczema Association. It has 22,000+ 5-star Amazon reviews.
A shopper said, "Holy Grail Sunscreen, I use it year round. This product makes it easy for me to use sunscreen everyday. It offers light coverage without feeling greasy or heavy on my skin. Also sits really nicely under makeup. It's good for everyday wear, and lasts me over 6 months. I think it's worth it for the money. I am on my fifth bottle, i usually go through 2 per year. I recommended it to my friends who loved it as well." 
CeraVe Tinted Sunscreen with SPF 30- Hydrating Mineral Sunscreen With Zinc Oxide & Titanium Dioxide, Sheer Tint for Healthy Glow
Use the CeraVe Hydrating Sunscreen Face Sheer Tint SPF 30 delivers a healthy glow without any white cast. This tinted formula blends seamless with any skin tone. The formula works well with sensitive skin and it has soothing ingredients that protect the skin barrier. This pick has 28,700+ 5-star Amazon reviews.
A shopper said, "This has been my 'go to' for an everyday minimalist / 'no makeup' makeup look. It's ideal for hot summer days when make up slides off in the heat, or those occasions where you can't be bothered with a 'full face,' but still want to look presentable because you'll never know who you'll run into... Now that I have to report back to the office (goodbye WFH), this is part of my 5 minute morning makeup routine."
EltaMD UV Daily SPF 40 Tinted Sunscreen Moisturizer Face Lotion, Tinted Sunscreen with Hyaluronic Acid, Broad Spectrum Hydrating Sunscreen, Non Greasy, Sheer, Mineral-Based,
I recommend EltaMD UV Tinted Sunscreen because it helps calm and protect sensitive skin types, including those that are prone to acne, rosacea and discoloration. This formula is non-greasy, fragrance-free, oil-free, paraben-free, and noncomedogenic, according to the brand.. Its clear formula does not leave behind any white residue, regardless of your skin tone.
This sunscreen has 14,000+ 5-Star Amazon reviews. It's a celebrity favorite with recommendations from your favorite stars. Recently, Caelynn Miller-Keyes, Delilah Belle Hamlin, Witney Carson, and Julianne Hough recommended this.