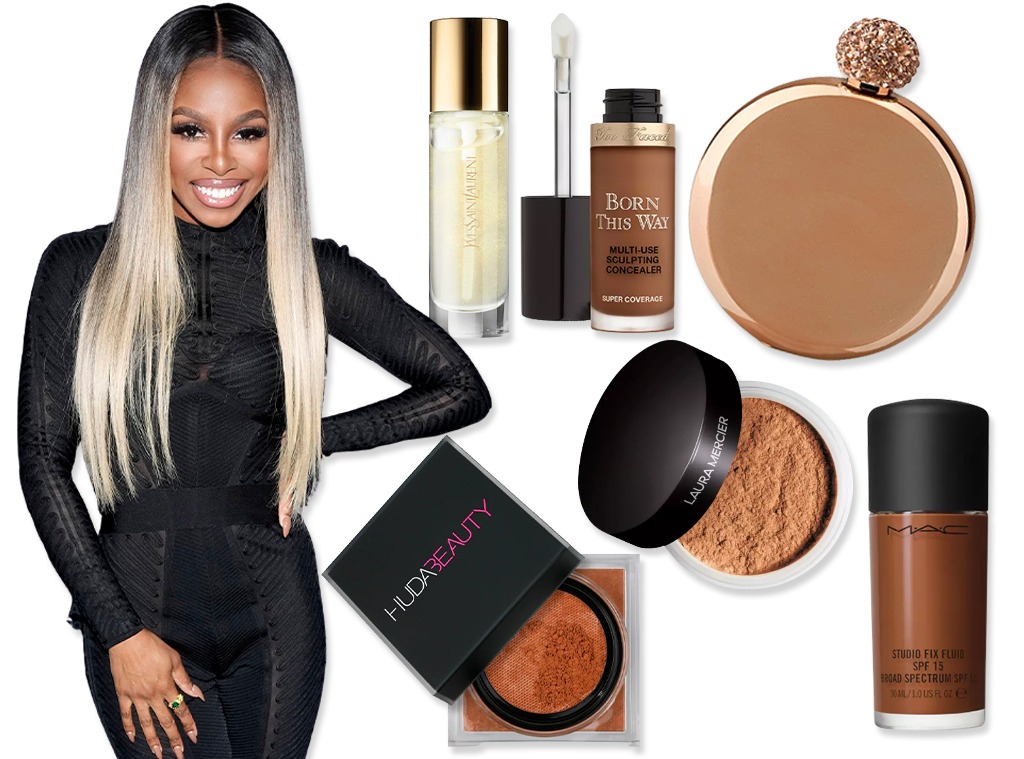 Charles Sykes/Bravo
We interviewed Candiace Dillard Bassett because we think you'll like her picks. E! has affiliate relationships, so we may get a commission if you purchase something through our links. Items are sold by the retailer, not E!. Prices are accurate as of publish time.
The Real Housewives of Potomac fans can always count on Candiace Dillard Bassett to serve up shade and style. If you're still upset that Season 7 is over, tune into Peacock for The Real Housewives Ultimate Girls Trip. Candiace brought her quick wit and her fashion for Season 3 of the hit reality TV show.
So far, we've seen Candiace performing her hit song "Drive Back," shading her frenemies, and staying sweat-free in the Thailand heat. In an exclusive E! interview, the "Insecure" singer shared her sweat-proof makeup must-haves, acne hacks, packing tips, and beauty tricks she learned from her pageant days.
Watch new episodes of The Real Housewives Ultimate Girls Trip every Thursday on Peacock. The first four episodes are streaming now. 
Candiace Dillard Bassett's Sweat-Proof Beauty Tips
Yves Saint Laurent Touche Eclat Blur Face Primer
"I can typically get pretty dewy and oily in my T-zone. YSL makes a primer and I don't know what's in it, but it keeps my face matte all day. So, I do my serums and my whole skincare routine. And then I let all that soak in and I put that primer on and let that soak in. Then, my foundation goes on super smooth. And it just does not move."
"I even use it in my eyebrows. I put it in my eyebrows because I sweat in my eyebrows, which is weird."
Candiace's pick has 90K+ Sephora Loves.
Huda Beauty Easy Bake Loose Baking & Setting Powder
I put the primer in my brows and then I will use the Laura Mercier powder or the Huda Beauty powder and press into my brows. I do this before I fill them in. It gives you an easier canvas to draw. When you press the powder in, it gets rid of excess oils and you dust the powder off. It keeps my brows from looking sweaty.
Laura Mercier Translucent Loose Setting Powder
Candiace Dillard Bassett's Acne Hacks
MAC Studio Fix Fluid SPF 15 Foundation
"I'm a MAC girl. I love MAC foundation and Too Faced makes a great concealer. I recently dealt with a lot of hormonal breakouts, which happen around my chin and jawline. I went through IVF and that can throw off your hormonal balance and it showed up on my face. I had a lot of scarring and marks. I get hyperpigmentation, so having a full coverage foundation and a full-coverage concealer is is super important for me." 
Too Faced Born This Way Super Coverage Multi-Use Sculpting Concealer
"When I was dealing with acne during IVF, the Too Faced concealer was perfect. It comes with a little felt applicator that's great to dab on all of your spots. It blends in really well. I put my foundation on top of that. Those are my favorites and they work really well together, especially when I'm dealing with acne."
Candiace Dillard Bassett's Pageant-Inspired Beauty Tips
E!: Are there any tips or products you started using based on your time with makeup artists and hairstylists? 
CDB: I am a pageant girl. So, I knew how to do my own makeup very early. I've obviously learned so much from my makeup artists too. K. Dempster is my makeup artist. He has taught me so much. He always sends me products to try.
E!: Are there any beauty tips you learned from pageants that you still use today?
CDB: Here's one you might expect because I have dark skin, but I would to spray tan for pageants. I had a pageant consulting firm and I would tell my clients to spray tan and it wasn't to look darker. It's to give a nice glisten and to highlight muscle definition. You can put on some abs with a spray tan and with the right application it looks great on quads and calves. 
I don't really have boobs, so I would always spray tan to make it look like I had more. It's great for your biceps and that's why a lot of people spray tan for fitness competitions too.
Clever Alcohol Prep Pads- 200 Pads
"One trick that I used a lot when I was competing was to avoid deodorant stains. I always hated when I was changing and got deodorant on my clothes. Rubbing alcohol is a great way to keep odor and wetness away while avoiding those stains. I don't know exactly why it works, but it does. That's one good tip."
These pre-soaked pads have 12,100+ 5-star Amazon reviews.
Candiace Dillard Bassett's Packing Tips
E!: Walk me through packing for a Real Housewives trips and all of the outfit changes.
CDB: On Potomac, our trips are typically three to five days. The Girls Trip season was ten days. We were essentially filming a full season of Housewives, which takes three to four months, in ten days with a lot of looks. I collaborated with my stylist Brian Adrian on my looks. Then, we put everything together because no one wants to think about putting an outfit together at 8 AM with cameras in your face.
Don't waste your time thinking about outfits beforehand and just have them all ready to go. I pack everything separated by outfits with the shoes and earrings too. I hung up everything when I got there. My room in Thailand had a humongous closet. I also take photos of every outfit before I pack it, so it's even easier to get ready. Plus, that's good in case something moves around in your suitcase.  
I did this pageants too. I printed everything and put it in a binder, so I would know exactly what to wear without thinking about it in that moment.
E!: Are there any items that are a must-pack for Real Housewives trips that may not be so obvious to the viewers?
CDB: I mean, a flask, right? Gotta have a little side piece of alcohol to deal with the drama.
Junya 5oz Hip Flask
This stainless steel flask comes with a funnel for mess-free pouring. There are ten colors to choose from.
Candiace Dillard Bassett's Beauty Regrets
E!: If you could go back in time, what beauty tips would you give yourself before filming your first Real Housewives of Potomac season?
When I first saw myself on TV, I had so many bundles of hair. That was the pageant girl in me. In the south, they say, "the higher the hair, the closer to God." You want to have a lot of hair, but I'm very petite, so when I saw myself on camera, I thought I should have taken out a bundle or too. I didn't need so much hair.
Makeup evolved with the times, so I have changed things up a bit. Contouring changed from my first season. I've adjusted with the times, but there wasn't really anything with makeup that I regret. I just felt like my hair was really big.