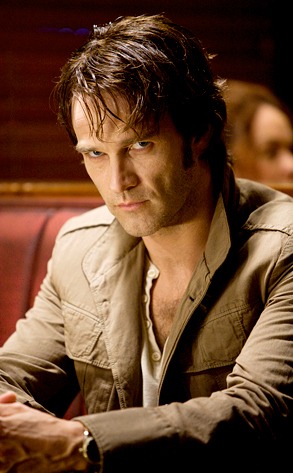 Jamie Trueblood/HBO
Not that we thought they were going anywhere, but today at the Television Critics Association press tour, HBO officially announced that True Blood and Entourage have been picked up for another season. The news of an early Hung pickup, however, was a wee bit surprising as that show is still finding its legs and is getting mixed reviews from the critics.
"One of the reasons we brought [True Blood] back as soon as we did was it always felt like a summer show. The hope and expectation is to try to bring it back next summer as well," Michael Lombardo, HBO's president of programming, told the crowd.
Now that we know Sookie and the gang will continue to glamour us for another season, what about your other HBO faves, such as Big Love, Flight of the Conchords, The No. 1 Ladies Detective Agency and Eastbound & Down?
Here's what we learned today...
Big Love is returning in January. The execs were actually quite disappointed that the cast didn't pick up Emmy nods. "It's such a spectacular cast that I thought at least one of them would be recognized. Yes, we were surprised that at least one of them wasn't recognized," said HBO copresident Richard Plepler.
Flight of the Conchords: "When they're ready, we're ready," Plepler said, regarding a third season. Lombardo added, "We've told them we're ready to go for a third season, so we're just waiting for them to focus on it, and I'm sure that will happen."
In Treatment: Plepler said, "We're trying to put it together. As you know, it was adapted from an Israeli series for which there were two seasons, so we'd have to create from whole cloth new scripts. We're working to see if that's possible. I think Gabriel [Byrne] is very interested in doing it again, so stay tuned."
Eastbound & Down: The network feels as though it gained a huge following this season with a younger audience and its plan is to shoot the next season in the spring of 2010.
The No. 1 Ladies' Detective Agency: Lombardo said, "We're actually in conversations now and trying to figure out the next step on that show. That show has been a challenge creatively because, as you know, the creative vision behind that show, Anthony Minghella, unfortunately passed away, so we're trying to figure that out."
The New Kids on the Block: Treme will premiere sometime in April, following the miniseries The Pacific, which chronicles the life of WWII soldiers. Also, Martin Scorsese's Empire Boardwalk is looking positive as going to series after the execs told the critics that the pilot has just wrapped and they "have their fingers crossed."
Featured today at TCA were the following shows:
Hung: While the panel recognized that some people take the show differently than others, executive producer Dmitry Lipkin said, "We're not interested in a sex farce. We're interested in exploring the real repercussions of what it would be like for a very unlikely pimp and a very unlikely ho to come together and to try to do this, and the emotional price that one may pay for it." The critics were tickled with many inadvertent sex puns, followed by the announcement that we wouldn't see Ray's junk showing up anytime soon. Said executive producer Colette Burson, "It's the perfect penis, so there is a certain problem in showing it because it might be too big for some people, too small for others, so I think it's perfect for everybody who comes upon it." When it comes down to it, even Thomas Jane recognized that it's all about luck with this show. "The fact is that it's all f--king fate and luck that we are all up here together talking about a show about a guy's penis. There's no reason that this show should be good. I'm a guy with a big d--k that f--ks people for money."
Curb Your Enthusiasm: The talk of the session was focused on the upcoming Seinfeld reunion this season, which is arced over five episodes and leads into the season finale. It's actually Larry David's way of creating the reunion, without necessarily bringing it to television. It tells the story of where the characters are now 11 years later.

Bored to Death: A bored writer turns to Craigslist after his girlfriend leaves him. Instead of putting a personal ad, he enlists his skills, learned from crime novels, as a private unlicensed detective. While Zach Galifianakis shifts the dark comedy toward outright hilarity, guest star and Emmy nominee Kristen Wiig brings the funny in the second episode as a women in need of help from Jonathan (Jason Schwartzman) with stalking her boyfriend (Peter Hermann, aka Mr. Mariska Hargitay) to see if he is cheating. While he is an unconventional and clumsy detective, creator Jonathan Ames said, "The lead character is infinitely curious and open to the world. He's so curious that he doesn't have a chance to be bored." Bored to Death also stars Ted Danson who said he and his wife, Mary Steenburgen, are in a few episodes of Curb Your Enthusiasm this season, along with, schedule permitting, appearances on Damages.
Robin Williams: Weapons of Self-Destruction: Robin Williams used the TCAs as an opportunity to use a test audience for his upcoming HBO special. But in all seriousness, Robin is not even sure he can make it through the hour and half required for the show. Coming off his open-heart surgery, he says his life has changed immensely. "I think it opens you up, literally. You literally are opened up, and you really do appreciate the simplest things, like breath," he joked. "They used to say that drugs can kill you. And now my doctor is saying, 'Robin, you have to have drugs to live.' I realized my doctor is my dealer now, and they're a lot harder to get a hold of." But he still brings the funny, from jokes about Obama giving the queen an iPod to Bush not going on a misspeaking tour and Twitter in Africa. The show won't air until Dec. 6 shortly after filming in Washington D.C.
By the People: The Election of Barack Obama: It's a documentary that follows the lives of President Barack Obama and those who helped him along the campaign road. And it's a chance to see the growth of our leader from the ground up. Edward Norton said regardless of how people currently feel about the president, "This moment was a singular moment in American history, and here's at least one document of how it was experienced, how it transpired, how it came to fruition. Ultimately we feel very happy and privileged just to have contributed to that process of documenting a moment in history. It's not intertwined with the ebbs and flows of his popularity in the moment."
Are you excited about your favorite shows being renewed? What do you think of the new additions? Discuss in the comments.
________
Check out all of our 2009 press tour coverage here.