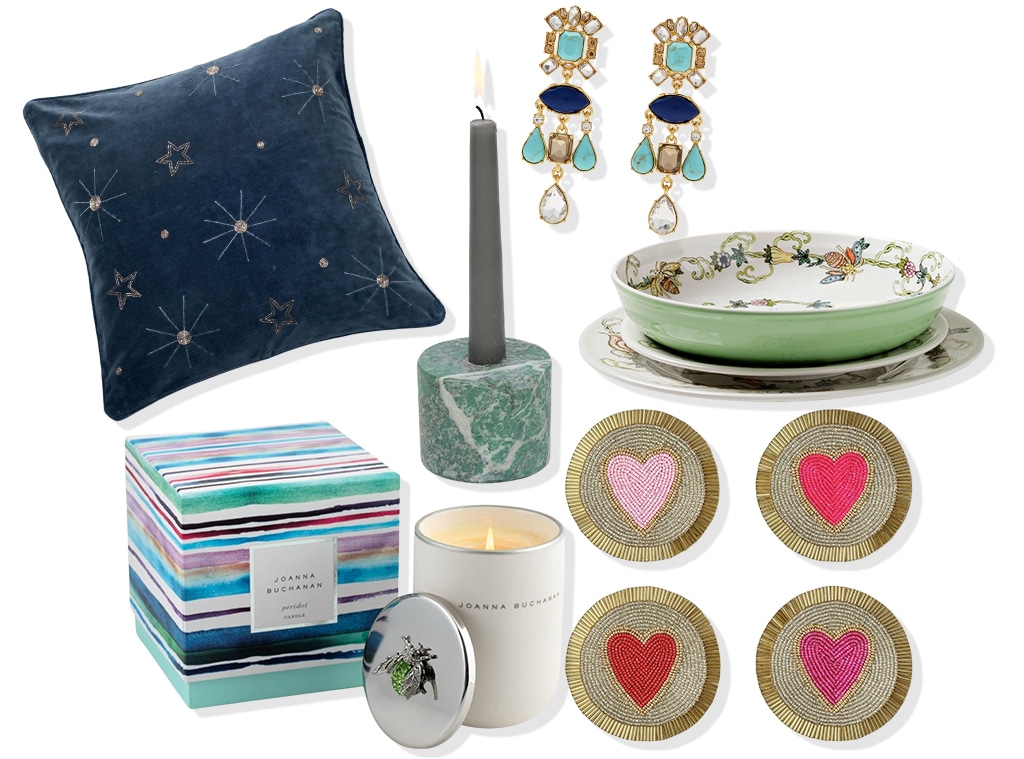 The brands featured in this article are partners of NBCUniversal Checkout. E! makes a commission on your purchase. Prices are accurate as of publish time. Items are sold by retailer, not E!.
Not familiar with the heirloom-worthy work of Joanna Buchanan? You're about to be! Her signature pieces include jewel tones, actual gemstones, intricate beadwork, and luxe spins on practical items — topped off, of course, with dashes of the cosmos. 
And since it's still Women's History Month, we're shining a spotlight on this unique artist. Whether you're entertaining a group at the holidays or just making a place setting for yourself, you'll find something from her collection to add elegance to the everyday.
For example: Still passing out paper napkins at cocktail hour? Allow me to introduce you to proper linen ones. Oh, and they have embroidered edges, and you can pick gemstone-topped napkin rings to display them in for added effect.
Whatever your reason for amping up your home decor — or even just your bar cart — Joanna Buchanan has your back! Also, is it just me, or does this all make excellent gifting, too? 
Joanna Buchanan Embroidered Star Pillow
"Yummy cotton velvet with hand-embroidered bugle bead stars" makes this decorative pillow "the perfect way to cozy up a sofa without having to change your whole scheme," per the artist herself.
Joanna Buchanan Chunky Loop Chain Necklace
"I could not decide which chain I liked with the charms the best," Joanna writes online, "So we decided to do all three options!"
Joanna Buchanan Peridot Candle
"Notes of bergamot, vetiver, and white musk" add a "fresh and clean" finish to this candle for an effect that's feminine without being overpowering.
Joanna Buchanan Celestial Wine Charms
Whether you're throwing a wine night or just looking to jazz up a glass for one, these glimmering wine charms offer organization infused with the charm (wink) of the cosmos.
Joanna Buchanan Heart Coasters
Honestly, I just love these. (Pun only kind of intended.) They add texture to your table, but with a romantic-yet-whimsical effect! What could be better?
Joanna Buchanan Evil Eye Bottle Opener
It's glamorous. It's glittery. It's based on an ancient symbol thought to protect the wearer or user from harm. What more needs to be said? Oh, right: It also gets the party started, fabulously.
Joanna Buchanan Star Porcelain Ring Dish
Crafted from fine bone china, this sweet dish serves as decorative art and a catch-all for your fave trinkets.
Joanna Buchanan Gold Trim Linen Dinner Napkins, White, Set Of Two
Disposable napkins? Not in this house. Sophisticated and environmentally friendly, these linen napkins elevate every meal.
Joanna Buchanan Single Gem Napkin Rings
Well, once you have the nice napkin, you want an extra flourish for it, right? Right.
Joanna Buchanan Delicate Chain Necklace
Joanna's fine chain necklace includes extra length for a looped effect, but you can also rock it in a single, understated layer.
Joanna Buchanan Embroidered Celestial Pillow, Dark Grey Cotton Velvet
With its celestial-inspired design, this luxe pillow adds a cosmic touch to any space.
Joanna Buchanan Pedestal Candlestick, Green Quartz
Add some drama to your table with one (or several!) of these pedestal candlesticks. They're crafted with real quartz, which brings a natural effect to any artfully lit meal.
Joanna Buchanan Taper Candles, Pewter, Box Of 10
All set with the candle holders you have? I get that. Enhance your tablescape all the same with this box of tapers in an elegant pewter shade.
Joanna Buchanan Party Set Of Single Gem Cocktail Picks And Wine Charms
This party-ready set includes everything that makes Joanna Buchanan decor stand out: Bold jewel tones, effortless functionality, and a product designed for hosting.
Joanna Buchanan Butterfly And Bees Shallow Bowls, Set Of Four
Each of these durable, melamine bowls features a replication of a hand-painted design by the artist. They're ideal for serving an appetizer course to company, or even just enjoying cereal out of in the morning. (You buy them to use them, right?)
Joanna Buchanan Chandelier Earrings
Bold yet versatile — and believe it or not, not too heavy to wear — these earrings are a showstopping addition to any ensemble.
Joanna Buchanan Natural Bamboo Cocktail Picks
Handcrafted with real bamboo, these cocktail picks add a Tiki-inspired touch to every party platter.