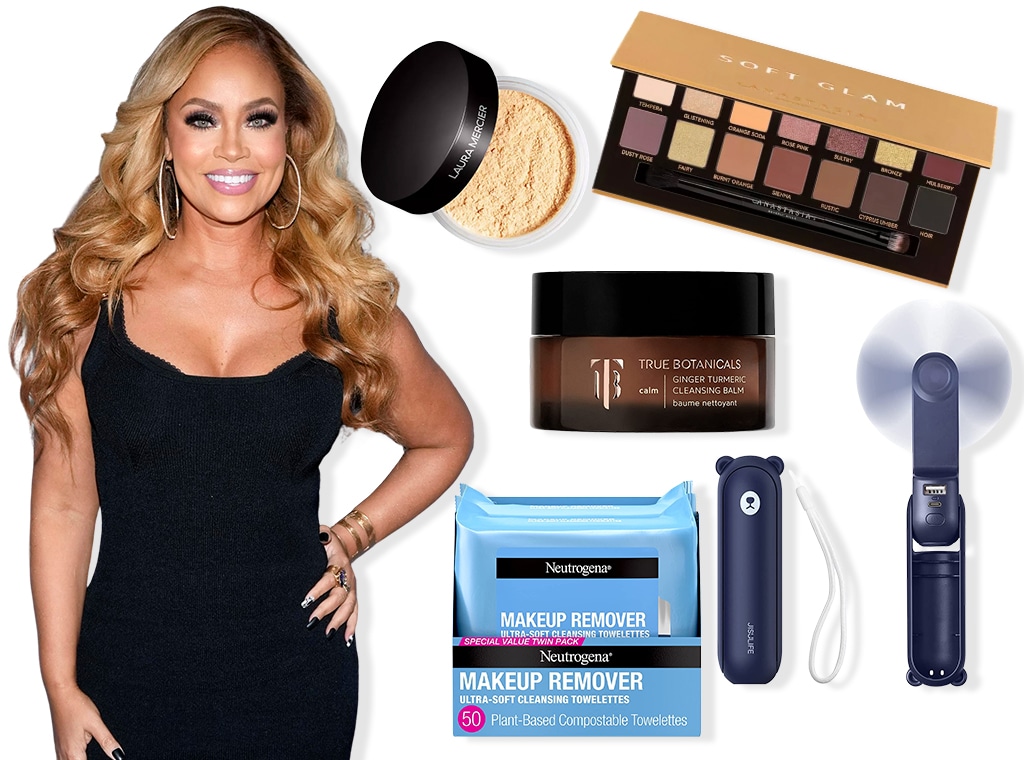 Charles Sykes/Bravo
We interviewed Gizelle Bryant because we think you'll like her picks. E! has affiliate relationships, so we may get a commission if you purchase something through our links. Items are sold by the retailer, not E!. Prices are accurate as of publish time.
If you've been devastated by The Real Housewives of Potomac Season 7 coming to a close, don't worry because you can still get your Gizelle Bryant fix. The Bravo star traveled to Thailand for The Real Housewives Ultimate Girls Trip Season 3. 
Throughout the trip, Gizelle experienced fun times, drama, and the Thailand temperatures. She recalled, "It was so hot. It was so humid. We had little fans that I brought everywhere. It was all about the little fans and the setting powder."
In an exclusive E! interview, Gizelle shared her sweat-proof beauty secrets, the product she will never stop buying, makeup recommendations from her daughters, and a pick from Lisa Rinna's brand Rinna Beauty. Gizelle even reveals the must-have she has in every Real Housewives dinner scene that you may not have noticed.
Watch new episodes of The Real Housewives Ultimate Girls Trip every Thursday on Peacock. The first three episodes are streaming now.
E!: If you had to go back to RHOP Season 1 Gizelle and give some advice about fashion or beauty, what would you say?
GB: I would just say "you do you." It's tough because for an entire season there are a lot of outfits with different hair and makeup. There's a lot for people to criticize. So, just don't take it too seriously. You just need to feel comfortable with whatever you wear. If you're comfortable, you can't go wrong.
E!: Do you have any packing tips and travel hacks?
GB: I have everything in travel sizes. A beauty hack of mine is that when I go to my esthetician, I go "Where are the product samples?" Always ask for the product samples. Those one-use packs of skincare products are great for travel. So, then I don't need to bring all of my products. I just have these little packs. I put those in my little bag so I don't have to bring my big makeup bag. Ladies, when you go to your esthetician, ask for samples. If they say they don't have them, they're lying.
Robyn Dixon brings her whole freaking bathroom with her on trips. She brings the big sizes of everything. She always checks a bag.
Gizelle Bryant's Must-Haves
Jisulife Handheld Mini Fan
"The fans have to be the biggest thing that we all use on Housewives. When we were in Mexico and in Miami, it was so hot. I always had my fan. I would put it in my lap. So, now you might notice that nine times out of ten when we're at a group dinner, I have a fan on my lap. We have to sit outside because it looks better on camera and then it just feels like my face is melting the entire time. It's not a good look. A fan kind of helps the whole body stay cool."
This fan comes in pink, brown, navy blue, white, and green. It has 29,600+ 5-star Amazon reviews.
Pat McGrath Labs Sublime Perfection Setting Powder
Gizelle named the Pat McGrath Labs Sublime Perfection Setting Powder as the one product she "will never stop buying," explaining, "It's great on the go. I will even use it sometimes when I have nothing on my face, like a primer. Or I will just wear it on my cheeks and the outer edges of my face and go out like that. Her stuff is fantastic and it lasts a long time. I was thinking about that this morning because I'm getting kind of low and I can't believe how long this product has lasted me and I use it all the time." 
Tom Ford Shade & Illuminate Concealer
"Shout out to our production company, Shed Media. I ran out of my concealer and I was freaking out. I told a PA that I ran out of my concealer and I asked if it was possible to find Tom Ford concealer in Thailand. We had a group activity and when I came back, it was on my bed. I was worried because we were in Thailand and I didn't even know if they would have the product. I like the way it settles and it doesn't crease."
Anastasia Beverly Hills Soft Glam Eyeshadow Palette
E!: Are there any beauty/self-care products that you love from your daughters' recommendations?
GB: They have picked some great things for Christmas and my birthday that I use all the time. The eyeshadow palettes Grace gets me are products I would never pick for myself, but they're always spot on. She has the best taste and she knows what colors look good. Grace has been my go-to girl. She bought a couple eyeshadow palettes from Anastasia Beverly Hills and they are so good.  She always knows what's going to look best.
Gizelle's pick has 329.4K+ Sephora Loves, 6,800+ 5-star Ulta reviews, and 1,000+ 5-star Amazon reviews.
Neutrogena Makeup Remover Cleansing Face Wipes- 2 Packs
Gizelle has a three-step routine to remove makeup, sharing, "I use the Neutrogena makeup wipes first. I usually buy two packs at a time. That's the first layer of making coming off. It's a process."
Gizelle's must-have has 76,300+ 5-star Amazon reviews and 4,900+ 5-star Ulta reviews.
True Botanicals Ginger Turmeric Cleansing Balm
"I have a lot of makeup on because it needs to hold up under the lights. I use the makeup wipes first. Then, I started using this balm from True Botanicals. The makeup melts right off. It's soft and it's kind of oily a little bit. It's heaven. It works so well."
Cetaphil Face Wash, Daily Facial Cleanser for Sensitive, Combination to Oily Skin
"I wash my face with Cetaphil just to make sure all the makeup and dirt are gone.  It's just a tried and true product."
Gizelle's cleanser has 14,400+ -star Amazon reviews.
Duo Brush-On Striplash Adhesive White/Clear
"I need to have my good lash glue with me. You just never know what's going to happen. One time, the glue top broke off. I had to use a safety pin to get the glue out of the tube. I have to have lash glue and another set of lashes in case something happens. I swear by the clear glue. I need a glue that dries clear. Absolutely no black lash glue."
Gizelle's favorite lash glue has 40.2K+ Sephora Loves.
Rinna Beauty Lip Kit
E!: A nude lip is a part of your signature move. What combination of lip products do you recommend to replicate that look?
GB: I use a couple of things. Lisa Rinna always sent us Rinna Beauty. When she left Housewives, I was sad because I didn't want her to stop sending us lipsticks. Every quarter, when I was out, the products would come. So," I'm like what about my lip gloss?" She has these lip sets with three pieces and a lot of them are shades of nude. I love the nude lip products.
Kenya Moore and Lisa daughter Delilah Belle Hamlin recommended Rinna Beauty Lip Kits too.
Fenty Beauty by Rihanna Gloss Bomb Universal Lip Luminizer in Fenty Glow
"I usually will top my look off  with some Rihanna lip gloss, the clear pink one."
This lip gloss has 973K+ Sephora Loves and 6,900+ 5-star Ulta reviews.