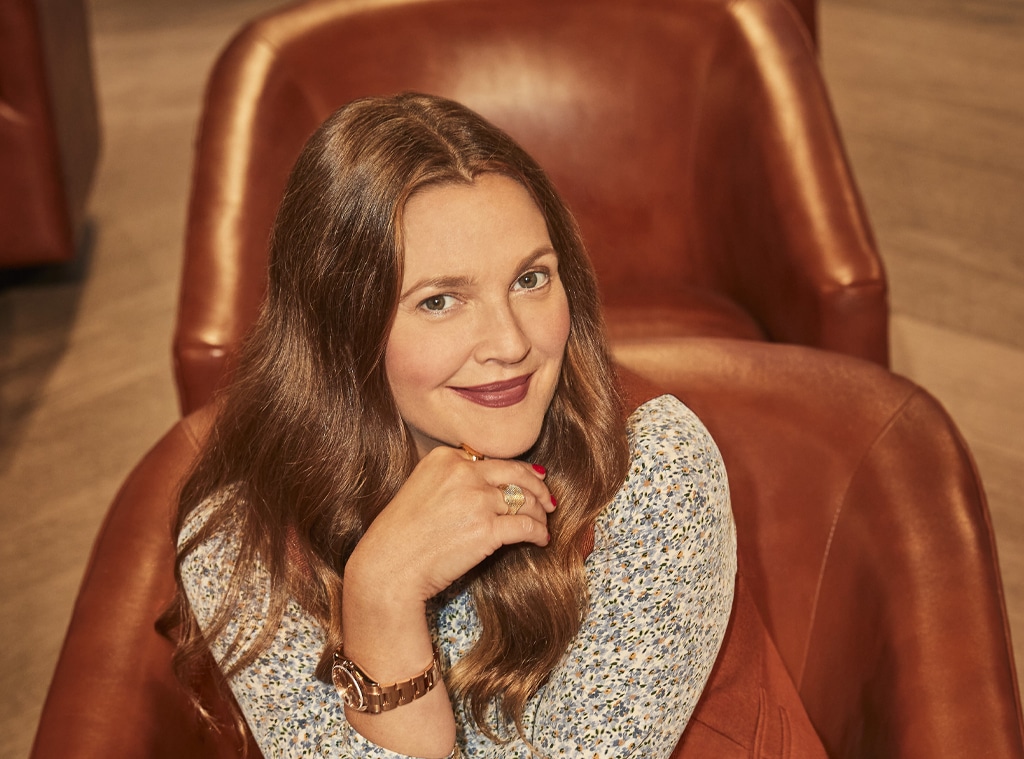 Courtesy of Drew Barrymore
We interviewed Drew Barrymore because we think you'll like her picks at these prices. Drew is a paid spokesperson for Olly and Garnier. E! has affiliate relationships, so we may get a commission if you purchase something through our links. Items are sold by the retailer, not E!. Prices are accurate as of publish time.
Drew Barrymore is just like the rest of us. She loves to shop and she enjoys talking about her favorite finds. Drew explained, "When I get obsessed with things, I fall in love and I want to tell everybody. I gotta tell everybody about what I love because they might love it too. If something has improved my life, I want everyone to know about it."
The talk show host elaborated, "There's a peace and contentment with oneself that I'm trying to achieve when I'm shopping. I feel like I'm just searching for things that will make me feel good. I don't even know what I'm looking for physically, but I'm always looking for something to calm the mental game," which is such a relatable sentiment.
In an exclusive E! interview, Drew discussed her partnership with Olly and the must-haves she keeps in her bag, including a hair treatment she's obsessed with and a favorite product from her childhood. 
E!: Tell me about your partnership with Olly and why this is a brand that resonates with you so much.
DB: It started with my kids. They started taking the vitamins. And, then, of course, I had to try them too because I was having a moment. It went from buying stuff for my kids to buying products for myself too. And, before you know it, I have a full basket full of products from just this one brand. 
I really don't like swallowing pills. I hate it more than anything. I prefer the gummies. It's just an easy product for me to use. It's a much more pleasant experience. The Olly gummies have really been a game-changer for me. 
E!: It's nice to find products that do what you want functionally and have an enjoyable user experience. What makes Olly stand out from other brands that you've tried? 
DB: Part of that experience is also in the packaging. It's a very happy brand. They exude joy and playfulness. It's a really unique style that's easily identifiable. You can spot it in a second whenever you walk in a store. The interaction with the vessel is pleasant. I even loved that they tend to have refill options, which is important to a lot of people.
It's so easy to find the products in stores, they have such a presence. Olly has so many different categories of products, so I don't feel limited. I actually feel inspired to try new things and set new goals for myself.
E!: If you use something every day, you might as well get something that makes you happy. There's a joyful version of almost every product that is also just as functional. 
DB: Now, I just need garbage cans and trash bags to rebrand. Make every day pretty. It's so important. That's my life's mission.
Draw Barrymore Shares What's in Her Bag
Olly Collagen Gummy Rings- Reduce Fine Lines & Boost Resilience
"I'm very excited to add collagen to my routine as my sort of next big endeavor. It's my new favorite product."
Garnier Whole Blends Hair Honey Repairing Serum
Dr. Dan's Cortibalm- Healing Lip Balm for Severely Chapped Lips
"I love Dr. Dan's Cortibalm. I really like this. It's so helpful for cold weather or any other time your lips are chapped. It's my go-to. I have one in the pocket of every coat."
Drew's pick has 4,500+ 5-star Amazon reviews.
Listerine Original Antiseptic Oral Care Mouthwash to Kill 99% of Germs
"I love Listerine, but I'm very particular about it. I love the original flavor. I hate synthetic mint flavor. I love that OG flavor.  I live for the gold Listerine. It reminds me of childhood. I use it every day." 
This mouthwash has 1,700+ 5-star Amazon reviews. 
Foster Grant Women's Reading Glasses
"I love any pair of readers because I can't see anything anymore. God bless readers because I would be so screwed without them."