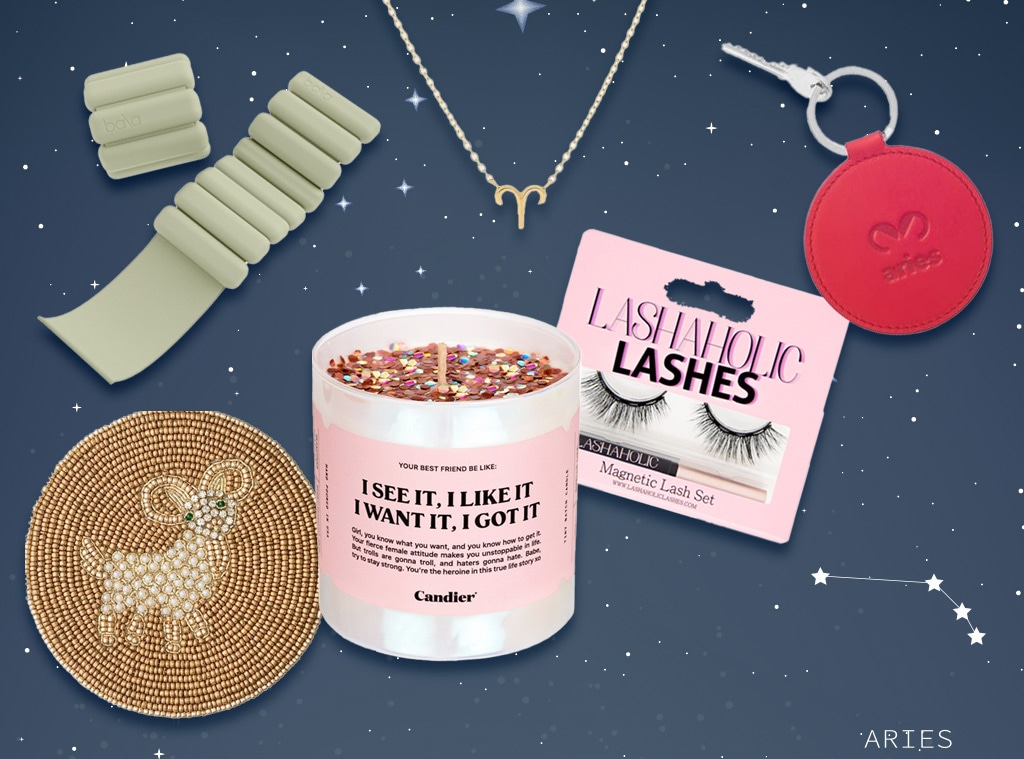 The brands featured in this article are partners of NBCUniversal Checkout. E! makes a commission on your purchase. Prices are accurate as of publish time. Items are sold by retailer, not E!.
Welcome to Aries season! The Zodiac wheel begins anew; the Astrological year kicks off; Aries begin to lose their minds with excitement. Okay, that last one is an exaggeration...kind of. If you're fortunate enough to know an Aries, you'll know that strong, impulsive, competitive, and passionate describes them all to a T.
That extra burst of energy you find when you've slept extra well, or found something new that you love? That's an Aries all the time. They're the ultimate hype-person and excel at leadership. Aries are loyal friends and will fiercely defend the people and things they love.
Now, on the other hand, they can also be a little "shoot first, ask questions never." But you know what? They never regret a thing. Maybe we could all learn something from this fiery ram sign.
Below, check out this list of 10 birthday gifts for Aries that suit their unique nature. Any Aries in your life will love them, even if they forget to send a thank-you note.
Hey Harper Aries Zodiac Necklace
Hey Harper's Aries Zodiac symbol necklace adds a pop of personalization to everyday ensembles. 
Bala Bangles
Aries are naturally drawn to athletics. Why? Unclear! It's just one of those wonderful things written in the stars. So this versatile set of weights from Bala can help them strengthen and tone when they're on the move. Which, as we know, they usually are.
Lime Crime Unicorn Hair Temporary Hair Color
I cannot stress enough how much I love that an Aries never thinks twice. It's legitimately impressive to me, a Virgo who is constantly stuck in her own head. Lime Crime's temporary hair color is ideal for the Aries that gets a good idea (change their look!) and then is over it just as quickly.
Dooz Zodiac Keychain
It'll be harder for Aries to lose their keys when this bright-yet-understated Zodiac keychain is on it.
B Yoga The Calm Sit Set
Okay, so, to know an Aries is to love them...despite their unwillingness to ever sit still. For the times when they may need a little extra encouragement (or even just a reason) to chill, this luxe meditation set from B. Yoga is there.
Candier I See It, I Like It Candle
Every Candier candle is a joy, but some are a little extra (in the best way). This "I see it, I like it, I want it, I got it" (where have we heard that before?) represents each Aries' fierceness — and seemingly boundless ability to go after what they want.
Katie Dean Jewelry Aries Zodiac Necklace
Katie Dean's Aries medallion necklace offers a daily dose of effortlessly personalized glam.
Lashaholic Lashes Impulse
As fab as our little rams are, they're not known for spending a lot of time doing any one thing. So these easy-apply lashes are perfect: They add instant glam for when they've "impulsively" decided to head out for the night.
Eleven by Venus Williams Moon Desert Dress
This gorgeous dress from someone who knows the importance of sportswear — the legendary Venus Williams — ensures your athletic Aries fave is always ready to play.
Joanna Buchanan Aries Coasters, Set Of Four
Is an Aries likely to think before they put down a drink? Not usually, no. But these exquisitely beaded coasters from Joanna Buchanan will make that much more likely.