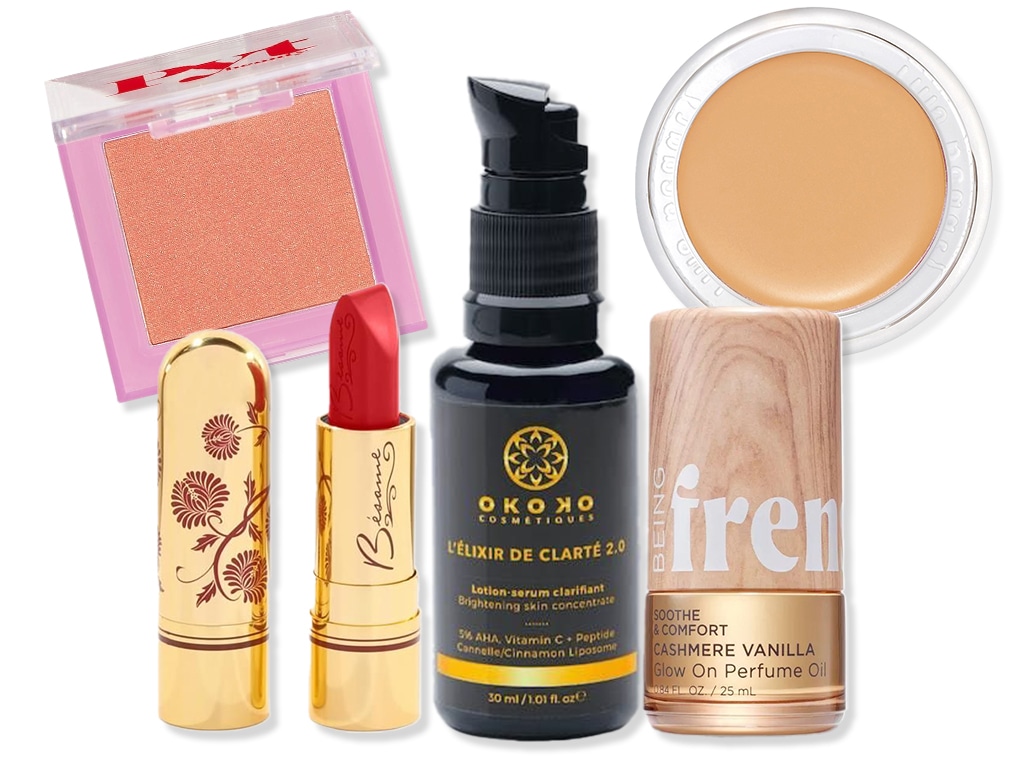 The brands featured in this article are partners of NBCUniversal Checkout. E! makes a commission on your purchase. Prices are accurate as of publish time. Items are sold by retailer, not E!.
There's just something a little magical about makeup. Whether you have a go-to look, only go glam for special occasions, or like to try something new each day, makeup has a uniquely transformative power. 
Just a little bit of it can make you feel stronger, or bolder, or like the best version of yourself. Or maybe the version of yourself that you're working to be. Basically: There are so many reasons to play with makeup, and so many types of it to wear.
And while it's certainly not just for women, women do make some of the best cosmetics out there. Plus, I don't know if you've heard, but it's Women's History Month. So if I can't use this time to spotlight 17 incredible female founders, what can I use it for? Exactly.
That's why I've put together this list of women-founded cosmetics brands. Even if you're committed to your current collection, I think you'll discover something in here to love.
Besame Cosmetics Red Velvet Lipstick 1946
Add a luxurious, vintage-inspired lip to any look with this Besame Cosmetics bestseller.
Wander Beauty Mile High Club Volume & Length Mascara
Wander Beauty's award-winning (!) mascara includes a unique wand with "precise bristles [that] grab and coat every lash for a full, flirty, fanned out effect."
PYT Beauty Upcycle Eyeshadow Palette
12 highly-pigmented, non-irritating, complexion-friendly shades make this PYT palette a beauty shelf essential. Plus, the packaging is made with 15% recycled and pre-degraded plastics.
Frenshe Roll-On Fragrance
Ashley Tisdale's Freshne is more than just a fragrance! It's a "glow-on perfume oil" infused with safflower and essential oils for a soothing, self-care moment, any time you need it.
Luv + Co Chamomile Collection Face & Eye Primer
The Luv + Co face and eye primer was designed to care for your skin and help it look its best. Per the brand, it includes a "chamomile and Vitamin C infused pre-makeup base that smooths and tones skin...under make-up." On top of that, it's "vegan, gluten-free, cruelty-free, paraben-free, and made with certified organic ingredients."
PYT Beauty Hot Flush Blush
For a natural flush of color, the Hot Flush Blush is an obvious choice.
L'Elixir de Clarte 2.0 Brightening Serum
What makes this serum 2.0? Its "advanced formula," on enriched with "cinnamon liposomes, vitamin C, and skin brightening peptides to illuminate skin and reveal a beautiful glow."
Jecca Black Sculpt & Soften Palette
Makeup artist Jessica Black's signature line, Jecca Black, includes a wide range of gender-free makeup options that are truly designed for everyone.
Hadaka Beauty 24kt Gold Eye Mask
What's better than 24K gold-colored eye patches? Reusable ones! Especially ones that are "infused with hyaluronic acid and collagen," designed to "penetrate the skin to provide a deep moisturizing effect."
Caley Cosmetics Wave Natural Lipstick
Not only is this rich Caley Cosmetics color vibrant and super-cute — it's also moisturizing and packed with ingredients that may slow the effects of aging.
Circular Bodies Spray Deodorant
This natural deodorant is ideal for those with sensitive skin under their arms (or anywhere). It won't clog pores or irritate the skin. On top of that, it's in a glass bottle that's recyclable. 
Orce Cosmetics Come Closer Perfecting Setting Powder
This talc-free (!) setting powder is an "ultrafine, invisible, loose setting powder," intended to instantly mattify and "flawlessly set" makeup without drying out your complexion.
Sabreen Cosmetics Nura Gloss
Sabreen Cosmetics' fabulous Nura Gloss offers a "long-lasting, moisturizing, tacky-free" formula with a glass-like sheen and a lightly fruity scent. In other words, it's basically perfect.
Caire Beauty Theorem Serum Boost
Caire Beauty's renowned serum is "formulated for those who are 40+ or experiencing hormone decline." Why seek out anti-aging when you can embrace it?
Sacheu Beauty The Essentials Kit
Sacheu Beauty's three essentials? Brightening your skin, treating blemishes, and conditioning your lips. That's why their Essentials Kit includes one product for each concern: A lactic tonic, a spot eraser, and a sweet balm.
CLE Cosmetics Lip Care Trio
CLE Cosmetics made a lip care trio that's truly designed to treat three of your needs. It includes an exfoliating peel, a protective oil, and a subtle nude gloss, plus a "compact mirror for easy, on-the-go application."
RMS Beauty Un Cover-Up Concealer
The RMS "Un" Cover-Up is a "dewy, lightweight skin enhancer" and a "cult-favorite staple for no-makeup makeup with a flattering finish." It includes raw coconut oil, cocoa butter, beeswax, and mineral pigments, resulting in a "creamy, long-lasting application."