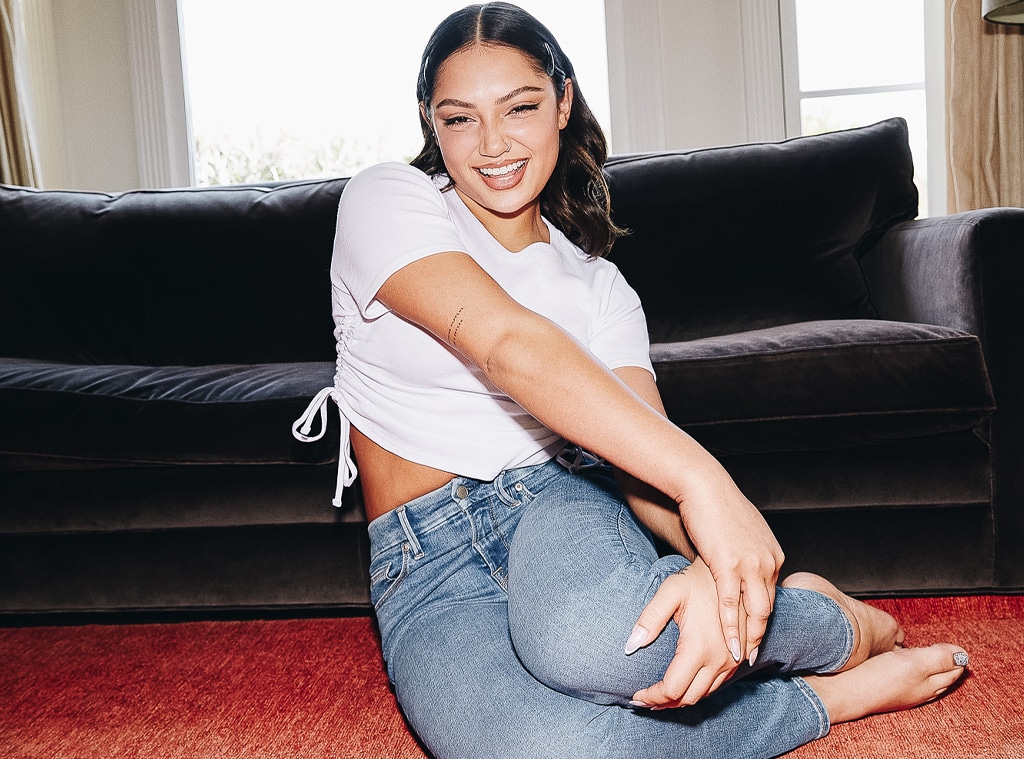 Courtesy of Good American
We interviewed Avani Gregg because we think you'll like her picks at these prices. Avani is a paid spokesperson for Good American. E! has affiliate relationships, so we may get a commission if you purchase something through our links. Items are sold by the retailer, not E!. Prices are accurate as of publish time.
Finding the perfect pair of jeans can be quite the task. Even when you do find the ideal style, it might not always fit the same every time you get dressed— unless you have the Always Fits jeans from Khloé Kardashian's brand Good American. These jeans have gone viral many times over because each pair fits a range of four different sizes to accommodate weight fluctuations. This concept sounds like a dream come true, but does it live up to the hype? Influencer Avani Gregg is a huge fan of this collection.
Avani raved, "The sizing of Always Fits is truly unlike any other denim you'll find out there. You can feel the difference when you put these on, they hug you in all the right places, without ever looking baggy or stretched out. There really is a pair for every body type, you slip them on and they mold to your figure and move so effortlessly with you."
Check out the jeans for yourself when the collection restocks on March 16, 2023. In an exclusive E! interview, Avani shares her favorite pieces, styles outfits, and discusses working with Khloé and Emma Grede for the latest Always Fits campaign.
Courtesy of Good American
E!: What is it about Good American that keeps you coming back for more?
AG: When I wear Good American, my style is infinitely elevated, which in turn makes me feel confident. Not only are the clothes trendy and fashion forward, they're high quality and comfortable, because they prioritize fit and understand not all bodies are the same . Building on that, I've always been drawn to their commitment to inclusivity and diversity when it comes to their sizing and model representation. It's so refreshing to see a range of sizes in one brand's core assortment, and see those pieces styled on models of all sizes.
E!: Tell me about working with Khloé Kardashian and Emma Grede for this campaign.
AG: It was such a surreal experience. I grew up watching The Kardashians and to be a part of such an important brand moment for Good American just feels like a dream come true. My values align so closely with Good American that it felt like a seamless fit. Emma has always been an inspiration in the business world for me, I've really looked up to her as someone who has paved the way for women of color in the fashion industry.
E!: In high school, you never repeated a single outfit. Share a Good American staple that you think is the easiest to style for many different looks.
AG: It's all about repurposing those staple pieces in your closet, like the Always Fits Good Straight Jeans. 
Good American Always Fits Good Straight Jeans
"I love the darker hue, because I can dress them up or down with just a quick shirt or shoe change. On a chill day, sneakers and a hoodie are perfect with these." 
Good American Faux Leather Corset
"If I'm grabbing dinner with friends or maybe going out, I like to elevate the jeans with a tight cropped top like the Faux Leather Corset, that adds some extra texture and shape."
Good American Always Fits Good Classic Bootcut Jeans
E!: What's your favorite pair of jeans from the Always Fits collection?
AG: The Always Fits Good Classic Bootcut Jeans do everything right for me. They blend all of my favorite elements in a pair of jeans; the ultra high rise waist and flare combo gives me legs for days! 
Good American Always Fits Good Legs Skinny Jeans
E!: You are known for rocking a baggy jean. What do you think about the skinny styles from this collection? How would you style them?
AG: I love being able to experiment with new silhouettes and elevate my outfits in different ways. While I love the look of a looser, baggier denim, a skinny jean will always be a timeless closet staple, and makes for a really polished look."
Good American Belted Maxi Denim Jacket
Good American Always Fits Good Classic Jeans
E!: Which jeans from the Always Fit collection would be your go-to for a night out?
AG: Easily the Always Fits Good Classic Jeans in black. It's more of a straight leg pant, but still has that defined high-rise waist. 
Good American Soft Sculpt Corset Tank
Good American Denim Vest
Avani's pick is a modern take on a classic style.
Good American Always Fits Good Waist Jeans