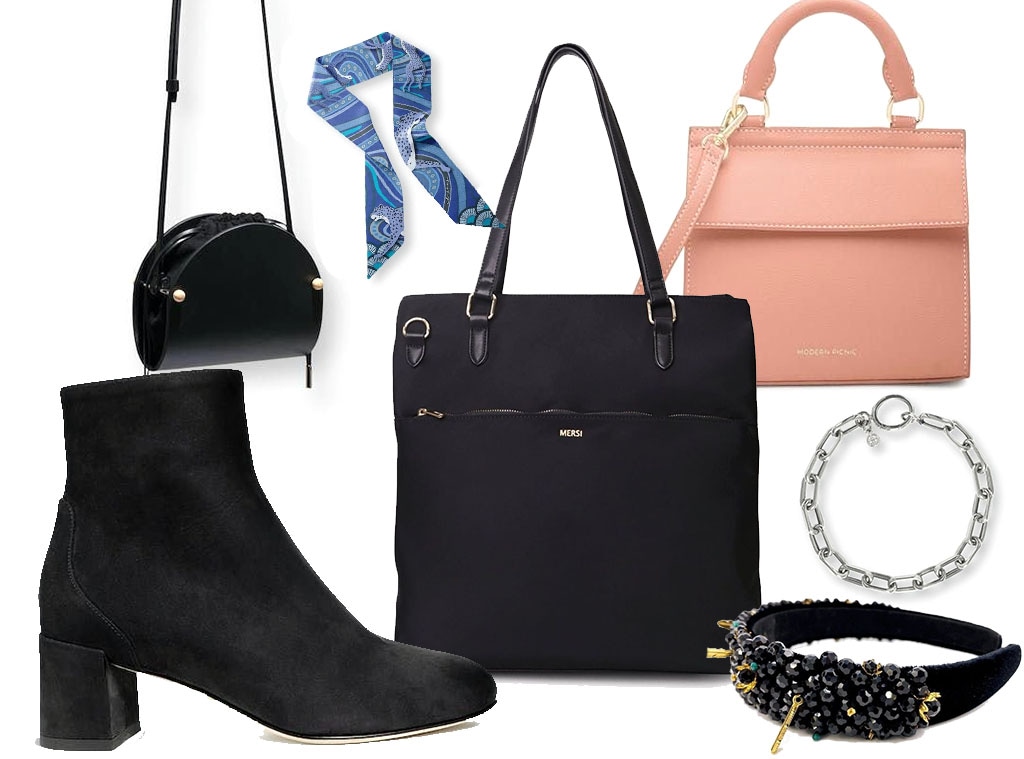 The brands featured in this article are partners of NBCUniversal Checkout. E! makes a commission on your purchase. Prices are accurate as of publish time. Items are sold by retailer, not E!.
As you either already knew, or learned from the headline of this article: March is Women's History Month in the United States. That means many things to many people, so here's how I'm choosing to celebrate: Surprise! It's shopping!
Sure, I'm doing some reading, some listening, and liking pastel slideshows on Instagram, too, but I'm a shopping writer, so I'm playing to my strengths.
One of those strengths lies in my ability to delve into the wonderful world of women-founded brands. You're likely familiar with the idea that there's an enormous number of women-founded brands to choose from. Plus, new launches happen every day. How are you to narrow it down? 
I got you. This week, I'm focusing on accessories: Think crossbody bags, weatherproof shoes, chic scarves, actually cute lunch bags for adults (yup), and even more. All from lines and labels by women, for women.
So, show your support for women during Women's History Month, and buy yourself (or anyone, really) something from one of the incredible brands below. 
Modern Picnic The Mini Luncher Bag
Tired of choosing between a chic purse and a packed lunch? Modern Picnic has your answer. Enter their beloved Mini Luncher, a "handbag-inspired alternative to the traditional lunchbox." It features an insulated interior and faux leather exterior. They describe it as "perfect for the little things."
CB Grey Harper Silk Mini Scarf
A silk scarf instantly elevates any look. We know this. And CB Grey's playful paisley mini is a charming accent to your hair, bag, or even around your neck.
Sol and Selene Karma Quilted Yoga Bag
Sol and Selene's vibrant yoga bag stands out in any locker room. Per the brand, its "performance nylon fabric" will keep your mat "safe and sound" between classes, and its dual openings "make it easy to nab your mat for an impromptu flow." On top of that, they recommend you use the exterior mesh pocket to "stash your membership card, keys, yoga strap and more!"
Poolside The Harper Tote
Close your eyes and picture the Platonic idea of a summer tote. Is it roomy, yet lightweight? Crafted from high-end materials, yet totally washable? Is the fabrication a "soft, lightweight jacquard terry towel?" Now open your eyes. Is it the Harper bag from Poolside? Yes. Yes it is.
Naiia Julia Choker
Naiia's exquisite Julia choker is "handcrafted from 14K gold-filled [metal]" and topped with a trio of sparkling stones. Dress it up, or wear it casually — it's a showstopper no matter what.
Deux Lions Jewelry Wild Stack Cuban Bracelets
Deux Lions designed this coordinating duo to seamlessly "merge the bulky and elegant looks" of "classic" bracelet styles.
Shapes Studio Heart-Shaped Signet Ring
This sweetly sophisticated signet ring puts a whimsical twist on a timeless accessory.
Adiba Blossom Headband
Adiba's Blossom headband is an invitation to crown yourself. This luxe piece even features hand-sewn embellishments! The result? An extra-regal feel, no matter where you wear it.
SantM Monti Waterproof Black Suede Bootie
The "gel-injected footbed and stabilizing cupped block heels" of SantM's Monti ankle boot contribute to the style's comfort, support, and longevity. They upgrade on- and off-duty looks alike, and did I mention they'll resist your average spills and splashes?
Joey Baby Morgan Necklace
The Morgan necklace and its unique mix of freshwater pearls is handcrafted in Joey Baby's New York studio. Wear it lariat-style for a head-turning effect. (That part's just my suggestion.)
Dotlinesurface Taco Crossbody Bag
No, it isn't made out of a taco, and you definitely shouldn't try to put one in it. You won't want to, anyway; this carefully constructed crossbody boasts too many premium materials and artful details to sully them with snacks. Those details? A natural, smooth-grain, Italian cowhide body with a microfiber chamade lining, nickel-plated iconic pillar, bucket strap ends, hand-sculpted solid birch wood accents and an adjustable leather strap with center stitching.
Kinn Studio Petite Bar Stud Earrings
This impossibly cool pair is crafted from 14K solid gold, and designed to be worn all day long (and all night long, if it's one of those nights).
Mersi Joan Nylon Tote
Honestly? Mersi describes their Joan tote better than anyone else could: "A practical everyday companion," the label's Joan "is a busy girl's must-have." Its "premium nylon material" makes the take-everywhere tote "durable, functional and lightweight." On top of that, it's "spacious enough to hold a laptop and all of your essentials," includes a crossbody strap for comfort, and yes, it's really under $70. Use the included crossbody strap for extra comfort.
Annie Bing Link Bracelet
Bold yet lightweight, Annie Bing's "bestselling" link bracelet can be styled with similar pieces or worn on its own. Either way, it's an effortlessly cool accessory.
Hey Harper Hydra Necklace
This delicate, crystal-infused piece is "inspired by the stars." Twinkle, twinkle!