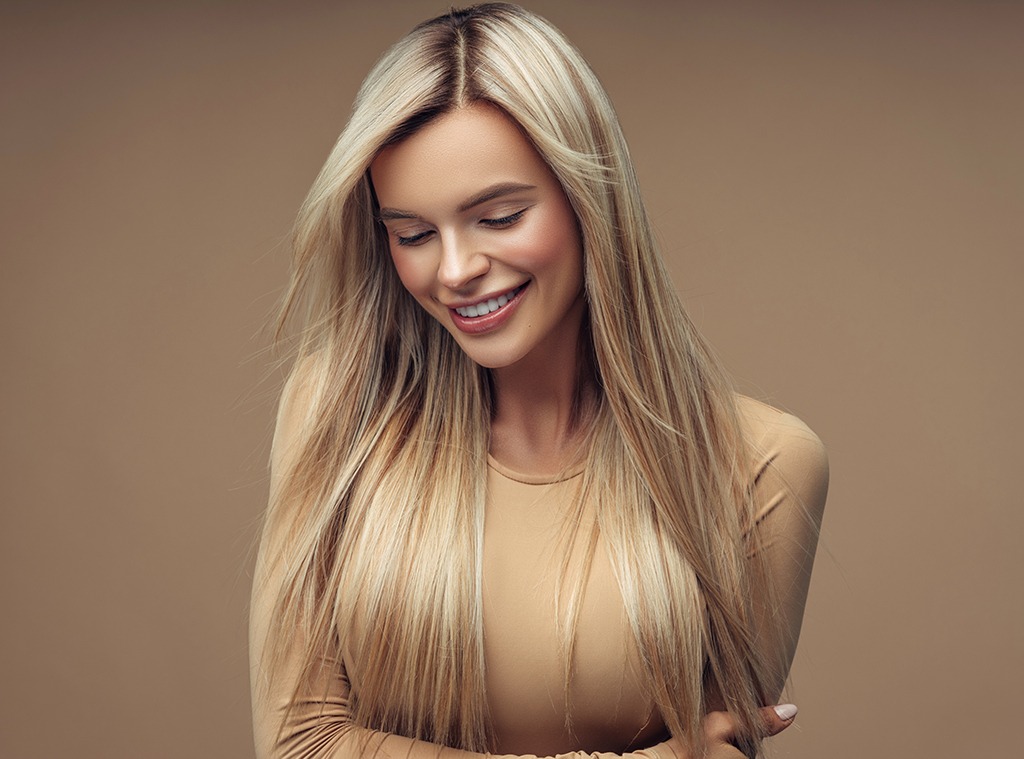 Getty Images
We independently selected these products because we love them, and we think you might like them at these prices. E! has affiliate relationships, so we may get a commission if you purchase something through our links. Items are sold by the retailer, not E!. Prices are accurate as of publish time.
If you want to feel like a hairstyling pro when you get ready at home, there's an affordable find that will revamp your routine.
The Herstyler Straightening Comb is just $8 and it has 8,900+ 5-star Amazon reviews. If you're thinking "I already have a comb," stop right there because this is totally different. This Keratin comb gives you optimal control while you use a flat iron, delivering truly sleek results. Use this to hold your strands still and protects your hands from getting burned by your straightener. It's also great for hair prep to remove knots for tangle-free locks. The comb is travel-friendly and just what you need for an effective touch-up on the go.
Shoppers love this tool for taming frizz, speeding up the hairstyling process, and creating long-lasting styles with ease. It's an affordable game-changer that thousands of great reviews. See what the fuss is all about.
Herstyler Straightening Comb For Hair
Get this multifunctional comb in black, pink, blue, or purple.
These rave reviews will convince you that this is worth the purchase.
Herstyler Straightening Comb Reviews
A shopper declared, "This thing is magic! I saw this used on an online tutorial by a girl with super frizzy hair. I have thin hair but it always ends up wavy after flat ironing by the end of the day. Using this comb, omg, my hair stays stick straight ALL DAY. i even did my own tutorial on it for my friends."
Another gushed, "Game changer if you want sleek straight hair. I don't believe I have ever written a review in my 31 years of life but this little tool I saw on tiktok deserves one. I have thick/curly/frizzy hair that even after a blowout and straighten will end up looking wavy again. I am also a nurse and work long shifts. Using this tool to assist with straightening my hair not only cut the time in half but resulted in the straightest hair I've ever had and lasted an entire shift with no frizz or waves. AMAZING!!!"
Someone insisted, "You will love it!!! I never knew I needed this until I got it. It is so amazing! I saw a tutorial where someone was using it and said they got it on amazon. I immediately ordered it and it was perfect!!"
"Life Changing for frizzy hair. I'm still trying to figure out why this item is so amazing. But I've stopped. I'm just enjoying it now. It makes flat ironing my frizzy, wavy hair a breeze. My stylist uses one so I finally clued in and got one for myself. It works. Beautifully! Run, don't walk, friends. And a bargain! I blow it dry and then flat iron with this. Once in a while I do it again a couple days after and that seals it. I wash my hair every 3-4 days. I love it and will never be without another," an Amazon customer reviewed. 
Another wrote, "Perfect! This is exactly what I've been looking for! No more chasing with a rat tail comb when I flat iron my hair. It's cute, comfortable to hold, very sturdy & heat resistant. I'm very pleased with my purchase, thank you!"
A shopper shared, "I saw this product on a YouTube video. It is a game changer! I had never mastered the art of combing through the hair while straightening it. With this tool you don't have to have any skills! It grabs the hair for it! It's perfect! I would certainly recommend this product to anyone who couldn't quite do it with a regular comb! It's sturdy and certainly worth the buy!"
Someone explained, "I bought this to help with the application of a keratin treatment to my hair. It was VERY USEFUL, worked perfect in holding my hair separate and ironing. I also found it useful when cutting my own hair - for bangs and layers! Way easier to hold hair taught with it than my fingers!"
If you're looking for more beauty hacks, you'll love these 12 fixes for frizzy hair.