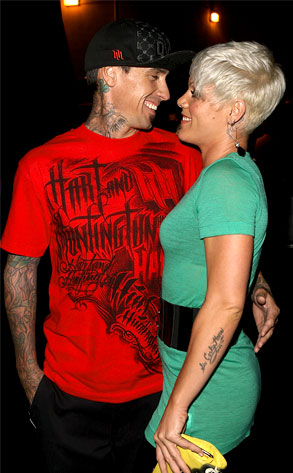 Jason Merritt/Getty Images
Pink's breakthrough anthem may be "Get This Party Started," but these days the former bad girl and her recently reunited hubby, Carey Hart, are singing a different tune.
"I don't really really drink anymore," Pink's husband of more than three and a half years told us at Red Bull's event to honor action-sports icon Travis Pastrana. "[Pink]'s actually gotten really good about it, too. Her tour is so intense that she's the same way as me. She can't deal with the hangovers...If she has an off night, she falls from her trapeze, so that's not so good."
But just because the longtime lovebirds have mellowed out doesn't mean they're ready to start a family. "It's a long ways down," Hart said. "She still has another 18 months of touring, and I'm pretty heavy in competing again in all my businesses, so it's definitely going to happen, but just not anytime soon."
Nonetheless, the duo is certainly thinking ahead. Watch Hart chat with E! News about their future in parenthood after the jump...