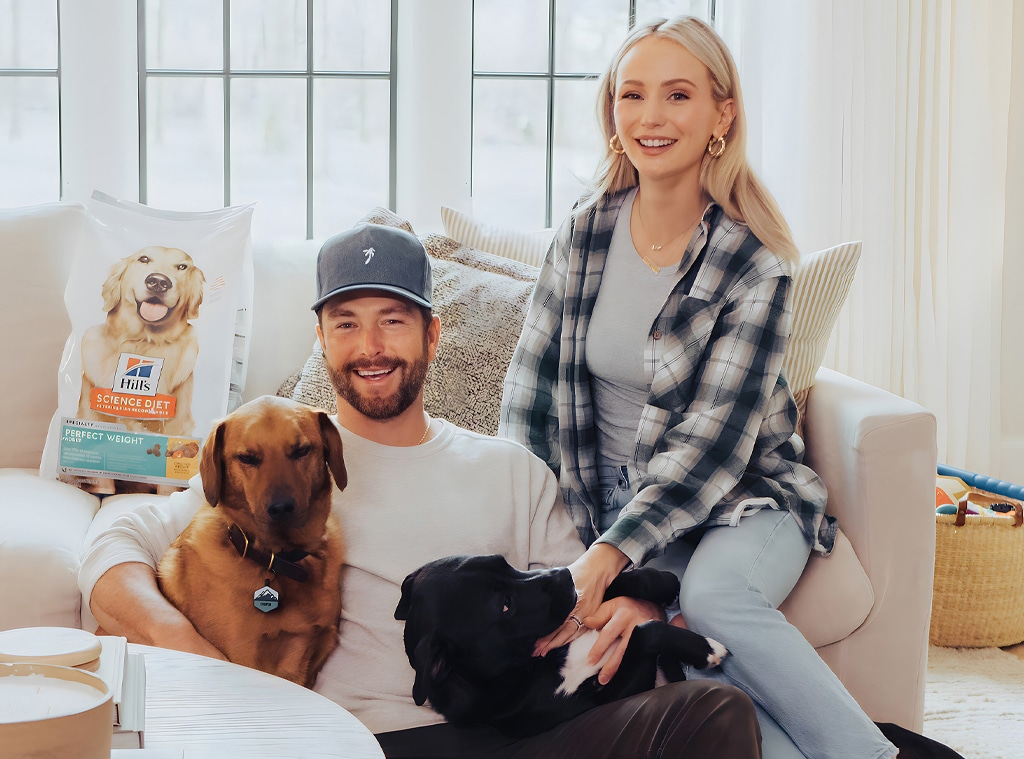 Courtesy of Hill's Pet Nutrition
We interviewed Lauren and Chris Lane because we think you'll like their picks. Lauren and Chris are paid spokespeople for Hill's Pet Nutrition. E! has affiliate relationships, so we may get a commission if you purchase something through our links. Items are sold by the retailer, not E!. Prices are accurate as of publish time.
Lauren and Chris Lane have a very busy household these days. They welcomed their son Dutton in June 2021 and their son Baker. Plus, they have two dogs, Chloe and Cooper. Lauren remarked, "It's definitely chaotic over here, but we wouldn't have it any other way." Chris added, "I feel like the two dogs are truly siblings for boys and they're teaching very important lessons."
Cooper and Chloe are integral members of the Lane family, which is why Chris and Lauren teamed up with Hill's Pet Nutrition to raise awareness about the risks for overweight pets. Chris explained, "Chloe, our second dog together, was a little overweight and that can lead to some significant health problems. Like most pet parents, we didn't really know she was overweight, but Hill's has made everything really easy." The Bachelor alum echoed those sentiments, adding "I can tell that Chloe has lost weight and there have been a lot of positive changes."
In an exclusive E! interview, the Lanes shared updates on life with two dogs and two babies in the house, recommended their must-have pet products, and discussed their partnership with Hill's Pet Nutrition.
Lauren and Chris Lane's Pet Must-Haves
E!: How did being dog parents prepare you to be parents for your sons? 
CL: At the end of the day, having dogs is a big responsibility. Having puppies helps you prioritize having patience throughout the different stages of life. It is a lot of work raising dogs and having kids, and patience is something that helps with both. 
E!: How does the Hill's Pet Nutrition L.O.V.E. Test factor into your routine as pet parents?
LL: It's something you can easily do at home to check your pet's weight. We find that our vet visits are the easiest way for us to check in and stay on top of things, but they only see the vet a few times of year. This is great in between those visits and if we see a problem, we know to make an appointment with the vet.
E!: What are some of your favorite Hill's products that you guys feel get the best response from your dogs, Cooper and Chloe?
CL: We have Hill's Perfect Weight Dog Food for both Cooper and Chloe. Cooper has been a very difficult eater his entire life and he's way better now. We don't have to put treats on top of food anymore.  
Hill's Science Diet Dry Dog Food, Adult, Perfect Weight for Healthy Weight & Weight Management
"The food is nutritious, first and foremost, and then the weight management part is great for our dogs. They also make sure the food tastes good for our dogs. So far, it is Cooper-approved for taste," Lauren shared.
This dog food has 6,700+ 5-star Amazon reviews. 
E!: Do you have any tips to help dogs adjust to bringing babies into the house?
LL: We are so thankful because both of our dogs did really well. Before I left the hospital with Dutton, Chris was going back and forth from the hospital to home. He brought back a hat that Dutton had on in the hospital so the dogs could get used to the smell because we heard that can help. We also heard to have a baby doll around beforehand, so they could get used to the idea of having a baby around. 
E!: Are there any cleaning products that are essentials for pet owners that are also baby-friendly?
LL: We have the ChomChom, which is great to clean the couch. 
CL: We made a rule that the dogs are not allowed to get on the couch or bed, but sometimes Cooper thinks he runs the house. We will come home and realize they've probably been hanging out on the couch.
ChomChom Pet Hair Remover- Reusable Cat and Dog Hair Remover for Furniture
Lauren explained, "It's a handheld device you can get from. It's similar to a lint roller, but you don't have to peel off layers or tape. It has a little compartment and you can just empty the hair out. I don't exactly know how it works, but it works wonders on stubborn pet hair. It really makes it so easy to get pet hair off fabrics. It's great to clean the couch."
The Lanes' pick has 102,500+ 5-star Amazon reviews.
Best Friends by Sheri The Original Calming Donut Cat and Dog Bed in Shag Fur Taupe
E!: Since Cooper and Chloe are not technically allowed to be on the beds and couches, do you recommend any dog beds?
CL: Our dogs have these nice, fuzzy little beds.
LL: They're super soft and comfortable. I love that they are a beige color, so they match the house nicely.
This dog bed comes in five sizes with 15 color options. It has 54,300+ 5-star Amazon reviews.
Hartz Groomer's Best Deshedding Slicker Dog Brush
E!: Are there any necessities that you recommend for dog grooming?
CL: We use a dog brush especially in the summertime.
LL: It helps trap the loose hair that sheds and it's very satisfying to use. It's an essential in the summertime when the weather gets hot.
This brush has 15,500+ 5-star Amazon reviews.
Furbo Dog Camera: Treat Tossing, Full HD Wifi Pet Camera and 2-Way Audio, Designed for Dogs, Compatible with Alexa
E!: When you're traveling or away from the house, do you use any pet cameras or treat dispensers? 
LL: We love the Furbo and used it a lot when Chloe was a puppy. There's a feature where you can feed them treats while you're away. Both of our dogs had separation anxiety and they still do to some extent. It was a lot worse when they were puppies. Being able to interact with the dogs while we weren't home helped them relax and it has also given us some funny moments with the video footage. We are always curious about what the dogs are up to when we aren't home and it can be entertaining to see.
The Furbo has 24,700+ 5-star Amazon reviews and it was also recommended by The Bachelorette alum JoJo Fletcher.
Penn Championship Tennis Balls- Regular Duty Felt Pressurized Tennis Balls (Set of 3)
E!: Are there any toys that Dutton and the dogs enjoy together?
CL: They do like to play catch in the yard though. Dutton will sometimes try to mimic what the dogs do too. I will say that both dogs have been very, very patient with him in a very sweet way. I feel like he's really starting to enjoy them. He knows their names and has nicknames for them. They are just his best friends. He loves throwing a tennis ball for them to run after. He thinks it's the funniest thing in the world. 
BAAPET Dog Leash with Comfortable Padded Handle and Highly Reflective Threads for Small Medium and Large Dogs
E!: If you had to look back, what are some helpful products that you recommend for first-time dog parents? 
LL: I would say the Furbo is especially great for puppies if it's in your budget. A leash is essential too if you have a puppy or a dog with high energy. Our dogs behave so much better when they get some time out of the house and having a leash makes that a much more seamless experience.
This leash comes in five sizes with 12 color options. It has 58,000+ 5-star Amazon reviews.