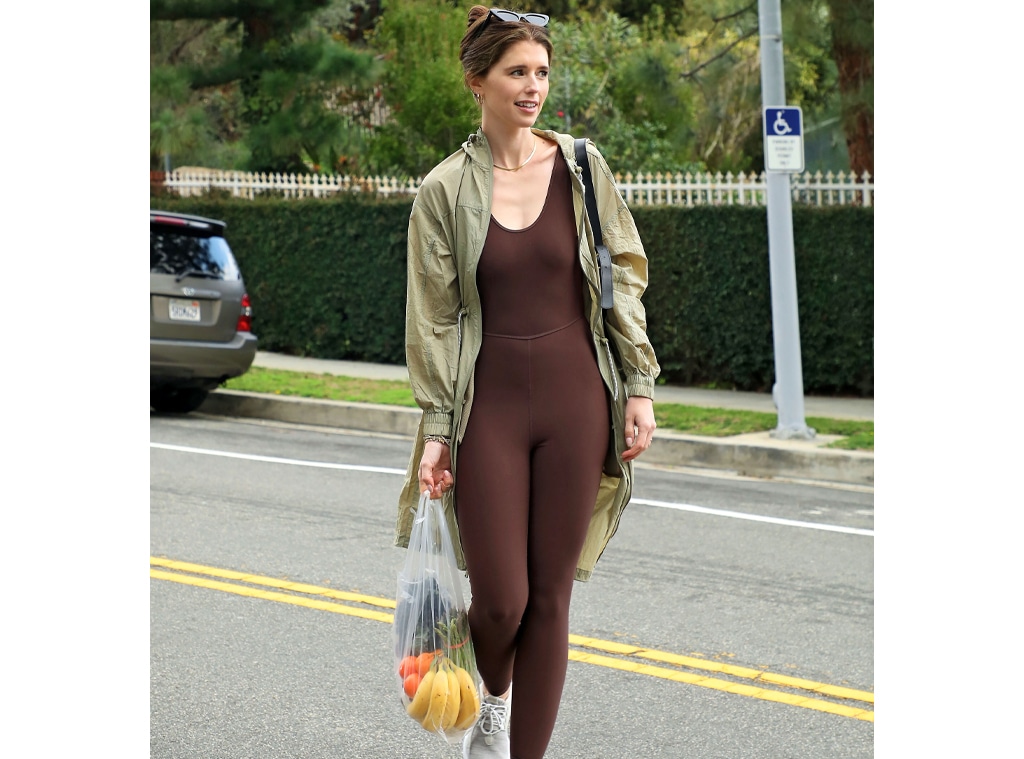 Sara Jaye Weiss
We shared these items worn by Katherine Schwarzenegger because we love them, and we think you might like them at these prices. E! has affiliate relationships, so we may get a commission if you purchase something through our links. Items are sold by the retailer, not E!. Prices are accurate as of publish time.
Katherine Schwarzenegger is one of those celebrities who exudes effortlessly cool style that I (ironically) make the effort to emulate. Even when she's just running a casual errand, she is serving a chic and put-together aesthetic. Recently, she was spotted rocking a super affordable look that you've probably seen all over TikTok.
If you're into fashion TikTok, you've watched videos of the Old Navy Powersoft jumpsuits all over your For You Page. Shoppers have raved about how great it looks, how comfortable it feels, and how easy it is to move around. After viewing so many videos, I couldn't believe how good this one jumpsuit looked on so many different people— a true wardrobe staple. I just had to have one. The always fashionable Paige DeSorbo recommended the style when she was the E! Shop Girl Summer Guest Editor.
Unfortunately, it is sold out all the time. It's just one of those sought-after styles that you need to buy before it's too late. Thankfully, it's back in stock in a ton of colors with sizes ranging from XS to 4X with standard, petite, and tall lengths. I get it, a jumpsuit can be intimidating to wear, but once you try it on, you will feel like the star that you are. This is a supremely flattering piece and it's really easy to style with pieces you already own. Or you can just channel Katherine's recent look and go for this hooded jacket.
Don't miss out on a game-changing jumpsuit. A trending style at this price is bound to sell out. Again.
Old Navy Sleeveless PowerSoft 7/8-Length Bodysuit for Women
This jumpsuit has the perfect combination of light compression and ridiculously smooth fabric. This sculpting style is incredibly breathable and it's made from moisture-wicking fabric that keeps you dry and comfortable—even during the most intense workouts.
It comes in sizes ranging from XS to 4X with petite, standard, and tell lengths.
Old Navy Hooded Tunic-Length Parka Jacket for Women
Stay dry and look cute with this moisture-wicking jacket, which comes in green, beige, and black.
Old Navy PowerChill 7/8-Length Cami Jumpsuit for Women
If you love the slimming comfort of the Old Navy Sleeveless PowerSoft 7/8-Length Bodysuit, you'll adore this bestseller just as much. It strikes the perfect balance between a chic catsuit and cozy loungewear. It's incredibly soft with a built-in shelf bra and the straps are adjustable. It's made from moisture-wicking fabric that stays dry and keeps you comfortable.
If you're still on the fence about buying the jumpsuit, let these rave reviews convince you to shop.
Old Navy Sleeveless PowerSoft 7/8-Length Bodysuit Reviews
A shopper insisted, "If you need a sign to buy this, here it is! This bodysuit is SO comfy! It is very flattering and the material is thick enough to be squat-proof if needed. Great for low impact workouts and also for when you are on the go!"
Another declared, "Best article of clothing that I own. I was not sure about this, but got it in four different colors.. OMG!! The first time I put it on, I was instantly in love.. it was something I had been hoping for for some time. Comfortable , versatile and perfect for layering in the winter and for going it alone in the summer; not to mention using it for yoga! Really perfect piece of clothing that can be used for different purposes."
"Buying this in every color. I'm in love with this bodysuit. It's comfortable and looks great on," someone reviewed.
A shopper shared, "Wardrobe staple. I love these jumpsuits, I wore one everyday last summer for work at a farm, and for hiking on the weekends. They're comfy, they don't get smelly, and the fit is perfect. Please always keep these in stock, they're the best. I ordered another three as soon as I saw they were back!"
Another raved, "Absolute must have! I feel so comfortable and confident in this piece and so happy I decided to purchase!"
An Old Navy shopper declared, "The bodysuit we've been waiting for. Everything you have loved about the power soft fabric is perfect in this bodysuit - I will be buying it in multiple colors and wearing it forever. So so so so so so comfortable!"
"Snatched... Fits GREAT and holds everything in place," a shopper wrote.
Do you want to do more celeb-inspired shopping? Here are 22 things from goop's $418,038 Valentine's Day Gift guide we'd actually buy.