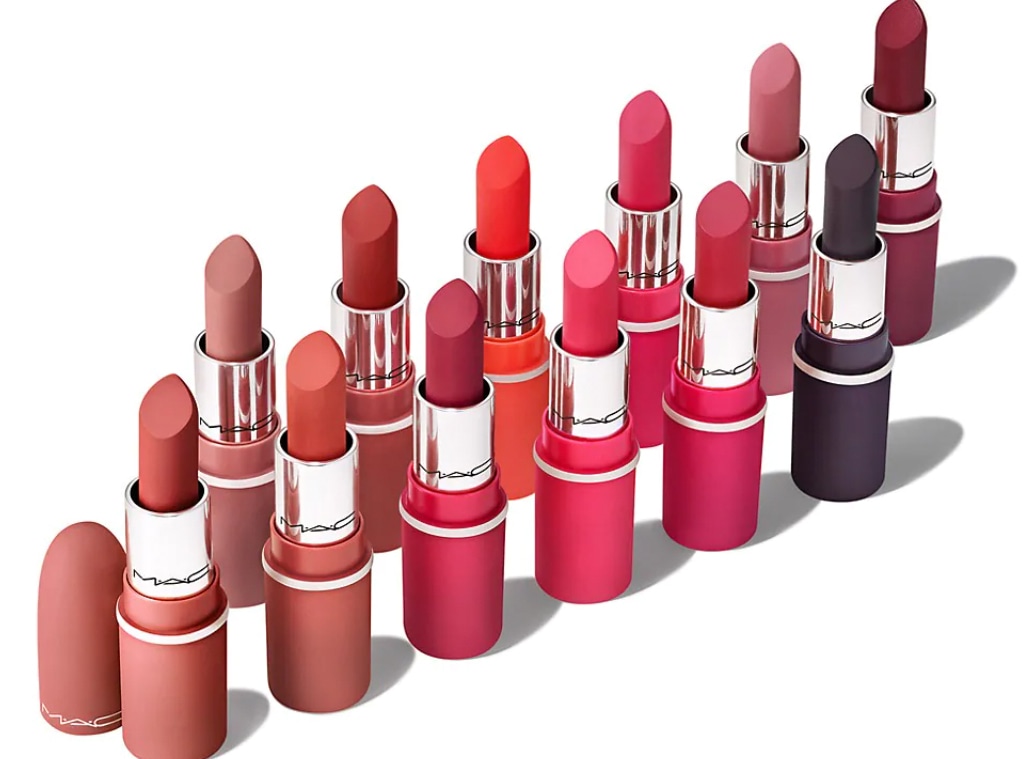 We love these products, and we hope you do too. E! has affiliate relationships, so we may get a small share of the revenue from your purchases. Items are sold by the retailer, not E!. Prices are accurate as of publish time.
A good lipstick can change your life, or at least that's my opinion. Putting on lipstick is a quick, easy way to upgrade your look and get a little confidence boost. The ideal lipstick looks good, lasts for a long time, and delivers a comfortable wear. It's very rare to get all three of those qualities. Usually, the long-lasting lipsticks dry out my lips and feel uncomfortable. And, then those hydrating lip colors look good at first, but they smear throughout the day as I eat, drink, and talk.
The perfect lipstick, in my opinion, is the MAC Cosmetics Powder Kiss Lipstick. The colors are beautiful, the finish is matte, the formula is hydrating, and the coverage is buildable— so you can customize the intensity of your look. 
If you want to get a great deal and step up your lipstick game, you need to check out the MAC Powder Kiss Lip Vault. You get $168 worth of lipstick for just $64 and they come in an adorable bow-shaped storage box. This indulgence is definitely worth the investment. You will be set with lipstick for a long time and you'll have 12 versatile shades to choose from. Don't miss this 62% discount. You can only get this price for 24 hours. After that, this bundle costs $85.
MAC Powder Kiss Lip Vault
This set has 12 mini matte lipsticks in these shades:
Mull It Over: Dirty peach 
Toasted: Cool nude 
Cupid's Bow: Vibrant yellow pink 
Ready To Burst: Light blue pink
Crushed Velvet: Raspberry w/ blue undertone
Gossip Guzzler: Coral orange 
Up, With A Twist : Pumpkin orange 
Devoted to Chili: Warm brick red 
Shocking Revelation: Clean blue red 
Boozy Kiss: Classic red 
Bow With The Flow: Deep red wine
Burst On The Scene: Blackened purple
If you need more information before you shop, read these reviews from happy shoppers.
MAC Powder Kiss Lip Vault Reviews
A shopper raved, "I could not be happier that I purchased this Powder Kiss Lip Vault! Every color is absolutely beautiful and wearable. Every color I put on wows me. The Powder Kiss formula has renewed my love for lipstick. It's a gorgeous blurred, supple matte formula. It feels great on my lips. I love it so much and now I have 12 new colors to play with. Get it before it's gone!"
Another urged, "DO IT! Treated myself with zero regrets. Love the versatility of this beautiful lipstick."
A fan of the set shared, "Lipsticks are gorgeous. Beautiful colors, long lasting. Smell and taste good."
A shopper raved, "The BOX is beautiful! we can take several in the bag. The colors are beautiful. They are creamy with a taste of Mcdonalds ice cream. I Love!"
Someone reviewed, "Beautiful colors and natural looking. I am glad I ordered this, the colors are very beautiful, they are lightweight and looks natural but I like it that way, so far tried 'mull it over,' 'cupids bow,' and 'toasted.'"
"I loved it. All colors are beautiful. I'm happy with my purchase," a shopper wrote.
Another shared, "Love the softness of these lipsticks." 
If you're still shopping for makeup, check out this TikTok-famous blush oil that changes color to create a customized look for your skin tone.