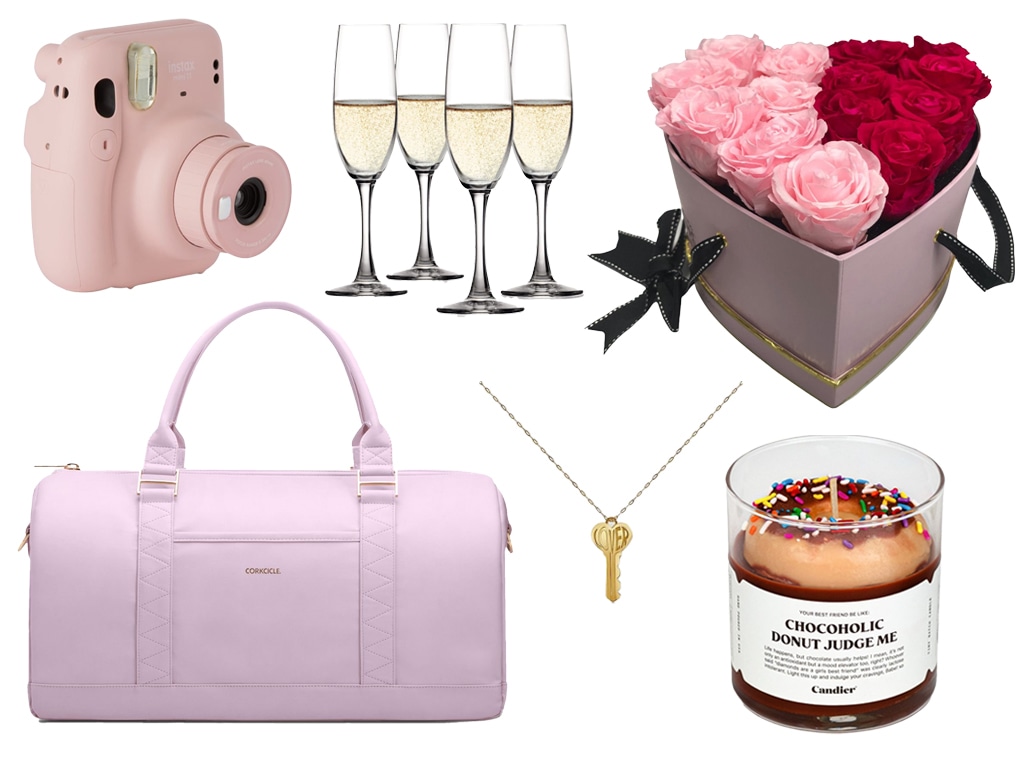 The brands featured in this article are partners of NBCUniversal Checkout. E! make a commission on your purchase. Prices are accurate as of publish time. Items are sold by retailer, not E!.
Valentine's Day means different things to every couple out there. But when you're far away from your partner, it can take on an extra heartache-y feel. Suddenly, you wish you could be debating where to try to snag a last-minute dinner reservation, or thinking that maybe, the ends of rom-coms where someone travels an absurd distance just to be with the other person aren't so impractical after all.
When you can't be with your other half in person, it may feel difficult to find Valentine's Day worth celebrating at all. However: You're wrong! And I mean that in the nicest, gentlest way possible.
There are so many thoughtful gifts out there that are worth presenting your favorite person with, even if it has to be through snail mail, over Zoom, or via FaceTime.
Since you might be busy moping about spending Valentine's Day by yourself even though you're not single anymore, I took it upon myself to put together this list of gifts for couples in long-distance relationships. After all, living apart is hard enough. Shopping doesn't need to be a challenge, too~
Fujifilm Pink Instax Mini 11 Instant Camera
This super-sweet Polaroid camera creates real, tangible, frame-able photos. You can wait until the two of you are together to try it out, or hope that your boo surprise-mails you some of their own.
Rosepops The Half-Hearted
These preserved (!) roses last much longer than the average bouquet, and don't require water or plant feed to maintain. It's a visual reminder of your love that they can appreciate year-round.
Bearaby Velvet Napper
When you can't hug your favorite person, and you know they get anxious without you by their side, this luxe weighted blanket is a pretty good cozying-up-on-the-couch companion.
Wine Lovers Champagne Flutes, Set of 4
I know, I know; We kind of left virtual happy hours behind in 2020. But when you absolutely have to say "clink!" instead of actually doing it, a fresh set of champagne glasses will certainly be appreciated.
Vagabond House Medici Letter Opener
Assuming you've already gone the romantic snail mail route, this elaborate letter opener will make receiving your missives all the more exciting.
Candier Chocoholic Candle
Chocolate? Old school. Candles? Uncreative. This chocolate donut-shaped candle from Candier, however, is a playful twist on them both.
Corkcicle Ivanhoe Duffle 24
This pink-lavender-hued duffle can be used as a gym bag, overnight bag for sleepovers, oh, and in case I didn't mention, is lined to provide insulation for cold drinks, too. Perfect for date who loves versatility and a good party.
Royce & Rocket The Castle Classic Suitcase
Live far enough apart that you have to fly? Planning a grand, romantic trip to meet up together somewhere else? This luxe suitcase (complete with built-in organization!) is just as much of a lovely gesture.
Boss Black Crosstown Passport Holder
Whether you've got an international trip on the horizon or just want to nudge someone to come visit, this sleek, sophisticated passport cover gets the excitement for it across.
Yellowpop Better Together - LED Neon Sign
This resplendent neon sign reminds your babe that you're always better together, even when you have to be apart.
Joey Baby Anne Mask Chain
This dainty mask chain adds a fashion-forward flair to someone's everyday travel. Or cross-country travel to see you, perhaps. Any gift can be a hint, if you want it to be.
Slip Beauty Sleep To Go Travel Set
Whether you're hoping bae can get a good night's sleep without you there or, once again, hinting that they doze on the plain, this silk set from Slip is ever-so-romantic.
Sterling Forever The Lovers Tarot Card Necklace
Everyone loves a pendant necklace, but this one is uniquely special: It features a take on the Lovers, a card from a traditional tarot's deck Major Arcana.
Hey Harper Lover Key Necklace
It's the key to your (or their) heart. Get it? Get it? What I'm saying is, this is an adorable choice that is not heart-shaped. (We've all seen that episode of that one show.)
Hearth & Hand x Magnolia Photo Frame Set
At the end of the day, a photo frame set might be a little cliche, but you know what might be another word for that? Traditional. Reliable. Classic.