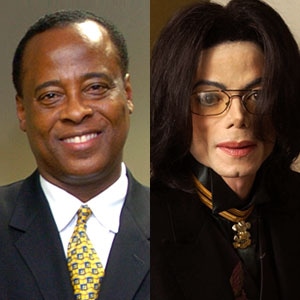 AP Photo/Houston Chronicle, Pool Photographer
The Michael Jackson investigation is zeroing in on Dr. Conrad Murray.
A law-enforcement source has told the Associated Press that the cardiologist, who has become the target of a manslaughter probe, administered the dose of propofol that officials believe ultimately caused the King of Pop's cardiac arrest on the afternoon of June 25.
Authorities have determined that Jackson had for about two years been regularly using the potent anesthetic, which leaves people in a near comatose state, to help him sleep.
Their hypothesis is that Murray administered the final dose sometime after midnight on the 25th, via intravenous drip.
E! News has confirmed that needle marks were discovered on Jackson's neck and arms during the dual autopsies performed on his body, and a source said that toxicology tests performed by the Los Angeles County Coroner's Office found propofol in his blood.
Officials carted off vials of the drug, which is marketed under the brand name Diprivan, following a search of Jackson's Holmby Hills home shortly after his death.
Murray's attorney, Edward Chernoff, declined to comment "on rumors, innuendo or unnamed sources," but he previously told E! News that his client did not prescribe propofol for Jackson or administer any drugs that could have killed the star.
"Things tend to shake out when all the facts are made known, and I'm sure that will happen here as well," Chernoff added in a written statement.
Last week, authorities searched Murray's Houston offices and a public storage space rented in the doctor's name. They seized a number of items, including computer hard drives and tablets of an appetite suppressant and a muscle relaxer, but no propofol.
Coroner's Office spokesman Capt. John Kades told E! News Monday that "nothing has been finalized," as far as setting a date to release the autopsy results goes.
"The bottom line is, he died back on June 25 and at that time we were estimating four to six weeks before we could determine the cause of death. So we're still within that window."
"It was never firm that it would be this week or next week," Kades said, "but every day we get a little closer to understanding" what killed Jackson.
—Additional reporting by Art Harris
(Originally published July 27, 2009, at 4:08 p.m. PT)
________
This is everything we have on Michael Jackson.