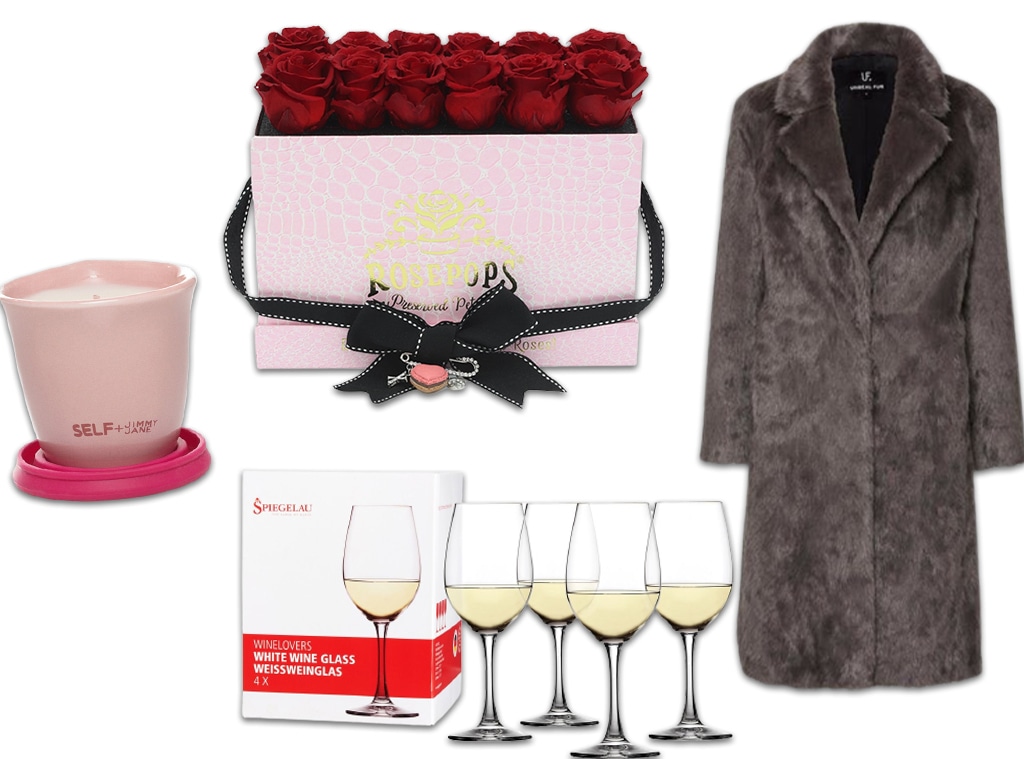 E! Illustration
The brands featured in this article are partners of NBCUniversal Checkout. E! makes a commission on your purchase. Prices are accurate as of publish time. Items are sold by retailer, not E!.
When you're in a long-term relationship, it's easy for gifting to get a little stale. You may be at the point where you live together, you've built a life together, and you're kind of out of ideas for the whole "holiday about dating" thing. After all, do you really need an excuse to celebrate something that's just a regular part of your life?
Uh, yes. Because it's adorable, first of all, and secondly, when things are so commonplace, we're so much more likely to take them for granted. Deciding to celebrate Valentine's Day lovey-dovey style is a sweet (pun only kind of intended) way to honor your relationship. Even if the relationship itself is a given.
Choosing to do it up this year is one thing. But the gifting part? Well, that's the challenge. Once you know everything your partner has, or everything you share as a unit, how do you come up with creative new ideas? 
You don't have to! I did the work for you. No matter how long you've been together, or how large or small you plan to celebrate, here are my picks for Valentine's Day gifts for couples in long-term relationships.
Cast Iron Fondue Set
If you and your beloved are big fans of cooking, this fondue set should jazz up dinner and dessert alike.
Yellowpop Basketball - LED Neon Sign
Maybe you and your boo are big basketball fans. Maybe you just want to show them how much you love and support their annual fantasy team. Whatever the reason you buy it, this neon basketball sign is definitely not something your fave will get for themselves on a whim.
Rosepops The Sweet 'n Flower
Regular roses? So early days. These preserved roses from Rosepops allow you to give the gift of a bouquet that does not require maintenance.
Rains Weekend Bag
Got a big trip on the horizon? This sleek, simple, and sophisticated carryall will encourage your guy to upgrade from his usual beat-up suitcase.
Wine Lover's White Wine Glasses, Set of 4
For the wine lover: A fresh set of glasses, designed for every type of white wine there is. 
Oradina Lightning Bolt Studs
If we learned one thing from a certain beloved sitcom, it's that women rarely wear heart-shaped jewelry as much as men think they do. So show your sweetie that yes, you do pay attention, with these badass lightning bolt studs instead.
Kenny Flowers The Palm Beach
These playfully printed trunks add brightness to your next beach trip, and let's be real, make him a little more Instagram-friendly, too. 
HoMedics Weighted Heating Pad
It's completely understandable if you're going for a more low-key, low-price-point present this year. This weighted heating pad, which can apply to cramps, sore muscles, and more, is a thoughtful (and practical!) gift that they won't see coming. 
Happy Place Weightless Waffle Throw Blanket
Tired of fighting over the blankets during TV time? So over sleeping next to a covers thief? Voila: A brand-new, lightweight, perfect-for-cuddling-up-in throw they can keep for themselves.
Unreal Fur Moon Flower Coat
While dramatic fur coats are a thing of the past, fabulous faux fur ones are a decidedly modern choice.
Joanna Buchanan Moon Porcelain Ring Dish
This darling trinket dish ensures your fave always knows where their keys, rings, and other little things are. Or at least, it will encourage them to keep them all in one place.
Naturopathica Ruby & Dragon's Blood Love Mask
Another lower-key gift that still has plenty of romantic options: A "love mask" skin treatment from Naturopathica.
Hypervolt Bluetooth
We all get knots, sore muscles, and just need a little pampering on occasion. That's why this targeted massage gun from Hypervolt, with its many heavy-duty functions and accoutrements, is the gift that will keep on giving.
Self x Jimmyjane Massage Oil Candle - Bergamot Rose
This candle offers an enticing, soothing scent, and when burned, the wax turns into a versatile oil. What you do with that is entirely up to you.
Our Place Cast Iron Always Pan
If your babe is rocking the kitchen, upgrade their set with this cast iron take on the much-beloved Always Pan from Our Place.